July 18, 2019 | Dalio Follows Celente on the "Gold Bull Run"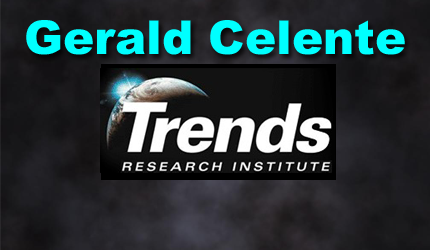 Gerald Celente, who developed the Globalnomic® methodology to identify, track, forecast and manage trends, is a political atheist. Unencumbered by political dogma, rigid ideology or conventional wisdom, Celente, whose motto is "think for yourself," observes and analyzes the current events forming future trends for what they are — not for the way he wants them to be. And while Celente holds a U.S. passport, he considers himself a citizen of the world.
KINGSTON, NY, 18 JULY 2019—Some six weeks after Gerald Celente's Trend Alert® of the "Gold Bull Run," yesterday's big business media news was that Ray Dalio, founder of the world's largest hedge fund, said gold will be a top investment.
Moreover, in making his case for a "paradigm shift" in investing in gold, Dalio singled out what Celente has been forecasting for years: As economies slow, central banks will increase monetary methadone injections in hopes of keeping the cheap-money addicted bull markets running while their currencies devalue.
In his LinkedIn post, Dalio noted that investors are essentially overweight in stocks and other assets which would likely face diminishing returns. "I think these are unlikely to be good real returning investments and that those that will most likely do best will be those that do well when the value of money is being depreciated and domestic and international conflicts are significant, such as gold," the Bridgewater Associates kingpin said.
"Additionally, for reasons I will explain in the near future, Dalio wrote, most investors are underweighted in such assets, meaning that if they just wanted to have a better balanced portfolio to reduce risk, they would have more of this sort of asset. For this reason, I believe that it would be both risk-reducing and return-enhancing to consider adding gold to one's portfolio. I will soon send out an explanation of why I believe that gold is an effective portfolio diversifier."
GOING FOR THE GOLD
For years, Gerald Celente, in scores of Trend Alerts, on his Trends In The News and TREND VISION 2020 broadcasts, and media appearances worldwide, has precisely forecast the Globalnomic® indicators that would first ignite a steady rise in gold prices and then trigger explosive growth.
Most recently, in his 6 June Trend Alert, when gold was $1,332 per ounce, Celente forecast that a series of converging trend lines, including "weakening economic fundamentals and how central banks will address them — from Australia cutting interest rates to new lows, to China inventing money pumping schemes to artificially inflate falling equities and its sagging economies with cheap money" — would ignite the next Gold Bull Run.
AND THEN THERE'S THE DEBT BOMB
Global debt exploded by $3 trillion in the first quarter of 2019 to reach $246.5 trillion. This sharp increase has brought global debt to 320 percent of the world's Gross Domestic Product.
And converging with economic and market trends lines are American war drums loudly beating against Iran and Venezuela. At stake, in addition to the potential of massive loss of life and property, is the price of oil.
Should the conflict escalate, and oil prices spike above the $100 per barrel mark, it will crash both equity markets and economies worldwide.
TREND FORECAST: More monetary central bank stimulus, more economic indicators reflecting sustained downward growth worldwide, diminished currency values and rising prospects for war are the ingredients for gold to shine. We maintain our six-year forecast, that once gold, now hovering around $1,410, sustains value above $1,450 per ounce it will move to $2,000 plus range.
STAY INFORMED! Receive our Weekly Recap of thought provoking articles, podcasts, and radio delivered to your inbox for FREE! Sign up here for the HoweStreet.com Weekly Recap.