July 31, 2019 | Cheap Money Fix Won't Stop Greatest Depression. Are you Prepared?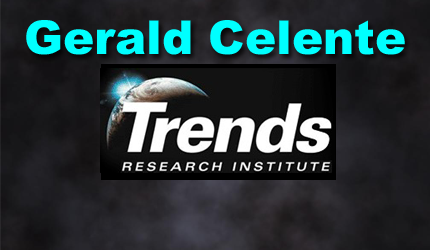 Gerald Celente, who developed the Globalnomic® methodology to identify, track, forecast and manage trends, is a political atheist. Unencumbered by political dogma, rigid ideology or conventional wisdom, Celente, whose motto is "think for yourself," observes and analyzes the current events forming future trends for what they are — not for the way he wants them to be. And while Celente holds a U.S. passport, he considers himself a citizen of the world.
KINGSTON, NY, 31 JULY 2019—With virtually each passing day, the building blocks for the onset of the "Greatest Depression" that Gerald Celente forecasts are being cemented.
Across the globe, central banks are pushing interest rates lower and governments are going deeper in debt as they shovel in more artificial stimulus to pump up equity markets and stave off the pending economic meltdown.
And today, the Federal Reserve is expected to reduce its benchmark interest rate by one quarter percentage point… its first interest rate cut since the Panic of '08.
As the Trends Journal has detailed, it was on 4 January 2019, when Fed Chief Jerome Powell announced that instead of three or four interest rate hikes as signaled for 2019, the Fed would be "patient" in raising them… that a new trajectory aimed at staving off a global economic meltdown had been formed.
This sudden about-face to not hike rates and the likelihood of cutting them to inject more monetary methadone into the cheap-money-addicted financial system, pushed equities up across the globe and propelled US stock indexes to new highs.
Following the Fed's lead, the European Central Bank announced it is "studying" stimulus measures, including new rounds of quantitative easing to purchase government and corporate bonds, to Australia cutting interest rates to historic lows, the trends are clear: "It's monetary insanity that cannot be sustained," said global trend forecaster Gerald Celente.
PRESIDENTIAL REALITY SHOW
Keeping pressure on the Fed to lower rates in hopes of having a strong economy in the run up to the 2020 Presidential Elections, when U.S. second quarter Gross Domestic Product growth increased to just 2.1 percent, down from 3.1 percent in the first quarter, President Trump tweeted: "Q2 GDP Up 2.1% Not bad considering we have the very heavy weight of the Federal Reserve anchor wrapped around our neck."
GDP rates in most countries are in decline, while Purchasing Manager Indexes, especially across Europe and Asia, are increasingly falling below 50, which indicates a contraction in economic growth.
And now, with 10-year U.S. Treasury notes paying less than the 3-month bill yielded, the yield curve inversion is one of a growing number of indicators flashing recession ahead… considering that an inverted yield curve preceded every recession since 1975.
And then there's the global $250 trillion-plus debt bubble created by injecting massive doses of monetary methadone into failing economies, equities and corporations worldwide since the Panic of '08… that will explode.
TREND FORECAST: Gerald Celente forecasts that the money-changer madness and bankster-banditry is about to end and nations across the globe, including the US, will sink into the Greatest Depression.
As these economic/market factors intensify, the value of gold, now hovering around $1,430 per ounce, will increase and the downside risk from current levels is minimal.
Celente, the first to declare the Gold Bull Run on 6 June, maintains his forecast that that once gold hits and sustains above $1,450 per ounce, which it is nearing, gold will steadily move to $2,000 per ounce and higher.
STAY INFORMED! Receive our Weekly Recap of thought provoking articles, podcasts, and radio delivered to your inbox for FREE! Sign up here for the HoweStreet.com Weekly Recap.