July 31, 2019 | Central Banks the PROBLEM! Why?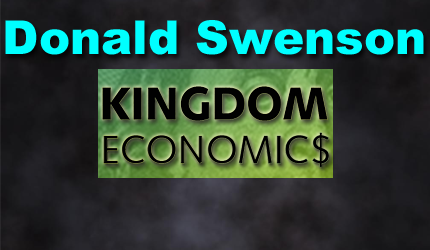 Donald B. Swenson: Born January 24, 1943, Roseau, Minnesota. Graduated H.S. 1961, Moorhead High, Minnesota. Graduated College 1968, Moorhead State University, Minnesota. Designated member of Appraisal Institute (MAI), 1974. Employed with Western Life Insurance Company, 1968 – 71; Iowa Securities Company, 1971 – 73; American Appraisal Company, 1974 – 81. Part-time teacher/valuation consultant/bartender, 1979 – 2008 (taught workshops at Waukesha County Technical Institute, Wi. and Madison Area Technical College, Wi.). Retired 2008 (part time teacher/blogger), AZ. Self educated economist/philosopher/theologian: http://kingdomecon.wordpress.com.
Today, the U.S. Fed (via Chairman Powell) dropped the FFR by 0.25%. This was a meaningless action IMO which reveals the impotence of this institution. Going forward, I expect a further decease in this FFR (federal funds rate) in the September meeting. The next meeting is scheduled for September 17-18 and I now expect a 0.50% reduction at that time.
Our global economy is now deteriorating and this will be felt in U.S. exports going forward. Trade issues will grow as China and Europe slow. This will affect the U.S. markets soon and this means that our Fed will lower interest rates again in September. Watch and notice the slowdown happening in manufacturing, real estate, and consumer spending. Even the Baltic Dry Index is now changing to DOWN.
Central banks are the real problem with commerce today. These institutions have evolved into central planning institutions where select administrator's plan our economy from behind closed doors. The planning, however, is not coordinated globally. Europe does their planning. Japan does theirs. China does theirs…and the USA does theirs. Each central bank acts on data which emerges from the global trading system but each acts independently (as of today).
This independent action of these planning boards will create a race-to-the-bottom situation. Today's article in the Wall Street Journal entitled "The Race-to-the-Bottom Standard" is relevant as it describes what is now happening globally. Our central planning committee's are all fighting to maintain growth as the cycle of growth has changed. After over 10 years of UP growth, the cycle has changed to DOWN growth. This is going to create some change in the coming months.
Will a RESET of the financial system happen soon? This is likely later in 2019 or early 2020. I see no relief in this DOWN cycle going forward. China is slowing. Japan is slowing. Europe is slowing. Our central planners (Powell, Draghi, Kuroda, Carney, Ingves, etc.) will act to prolong asset growth even as the cycle slows significantly. Central planning is all we have today as our markets are computer driven and controlled by central computers within these central banks.
The problem today is that our computer driven markets will respond independently to protect profits (for the big boys) and this means that the computer algorithms will determine the next crash or boom within these markets. Today, as Mr. Powell spoke the algorithms drove the U.S. Dow Index down some 450 points (within minutes) and then changed direction (within minutes). The ending Dow was 333.75 points down. Sentiment is changing gradually and I expect more DOWN algo's as the year continues. Watch September 17-18 for another rate reduction and more weakness in these markets.
There is no solution to our economic problems now that central planners control these markets. All these central planners can do is 'manipulate' asset prices and play with interest rates. None of this will bring us a new growth cycle. Once sentiment crashes and algo's turn south all is over for this current cycle. It could happen prior to year end IMO. We live with computer driven markets and trading via algorithms. Stability is not present.
We need transparency on these central planners who hide behind closed doors within their huge concrete financial buildings. They meet and scheme and then punch computer keys so as to manipulate these computer driven markets. They have no long-term ability to solve our economic issues. Prepare for a serious crash in these cyber markets within the next six months or less. It's bound to happen (at some point) as sentiment changes from UP to DOWN. Algo's will rule over these markets and create the change.
Do your own thinking, but MY view is that the cycle is now pointing DOWN for these cyber driven markets. September 17-18 could reveal this reality to these central planners within our Fed system (as they meet to scheme again on issues of interest rates and quantitative easing). We need transparency on these central planners but this is unlikely for now. All decisions will happen BEHIND CLOSED DOORS. Have a great day!
STAY INFORMED! Receive our Weekly Recap of thought provoking articles, podcasts, and radio delivered to your inbox for FREE! Sign up here for the HoweStreet.com Weekly Recap.