July 15, 2019 | Bid & Ask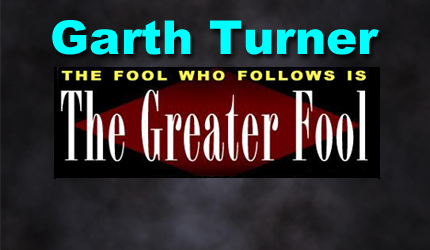 A best-selling Canadian author of 14 books on economic trends, real estate, the financial crisis, personal finance strategies, taxation and politics. Nationally-known speaker and lecturer on macroeconomics, the housing market and investment techniques. He is a licensed Investment Advisor with a fee-based, no-commission Toronto-based practice serving clients across Canada.
By the standards of, say, Lethbridge or Timmins, it ain't much. A 14-foot-wide, 130-year-old row house with a tiny courtyard, an unusable basement, no front yard, no driveway, no parking and a price tag of $1.1 million. But, it's a mere slapshot from Yorkville Avenue, Bloor Street and all the chichi goings-on that bestow value upon a location. There aren't many residences in this hood that come with actual dirt. And they seldom are available.
But $1.1 million was just a tease. The agent said it was an 'aggressive' value, set purposefully low to attract multiple offers. Besides the come-hither listing price, the seller and her agent said no offers would be considered prior to Friday, July 13th. That tactic, they thought, would certainly engender a bidding war through the blind-auction technique. Since no buyer would know what others were offering, all would be motivated to offer high, plunk down a $100,000 certified cheque with the bid, and (naturally) have no conditions. It's a process that irks and disadvantages bidders. But it works.
Until now.
Despite being priced about a quarter million less than comparables within a few hundred feet, no offers materialized on Friday. No war. No sale.
So on Monday the owner cancelled the listing and re-listed for what she really wants: $1,350,000. The trouble now, of course, is that the old price is on the record – clear for any potential buyer to see. The property is tainted and may well sell for considerably less than the seller wants. Greed sometimes costs.
As in Vancouver, but less so, the Toronto real estate market is in trouble. Yes, realtors say sales were up in June, but from a low benchmark, with average prices barely pacing inflation and sitting below 2017 levels. This is remarkable because (a) Canada has just experienced the best job creation in more than 40 years, (b) income growth, corporate profits and financial markets have all been robust and, especially (c) mortgage rates have collapsed. The banks are giving away fivers at 2.8%. There's two-year money around at 1.99%. You can sign up for 10 years at less than 3%. Normally deals like this would stir loins, kindle FOMO and engender endless house lust.
So, huh? What gives? Why would this listing go unsold, and Canada's major markets descend into turgidity?
The mortgage stress test is one solid reason, since new buyers still have to crawl over a 5.34% hurdle to qualify for a home loan. Another is the sense that housing peaked, is in decline, and those who wait will buy more for less later. So far, that's a winning strategy. But a bigger factor may be a standoff between buyers and sellers. Purchasers want to pay prices they think will prevail next year, and vendors want the same money as two years ago. As a result, sales languish and prices drift – despite a plunge in the cost of credit.
Well, what next?
In a couple of weeks US interest rates will go down as the Fed buckles to pressure from President Trump. This is extraordinary, given good economic growth, record low unemployment and stock markets hitting fresh highs. Why would the central bank throw gas on this conflagration?
The result will be inflation. That usually brings higher interest rates. So if you mix in a US-China trade deal and a presidential election, the odds of the Fed reversing course and hiking again are palpable. Meanwhile our central bankers are unlikely to follow the Fed down and, as this pathetic blog has suggested a few times, today's mortgage rates are not a harbinger of better ones to come. This is it, baby. Especially if North America falls into a Trumpian wage-price spiral.
Of course, Canada has an election coming, too. In three months – with the potential to rock the political landscape. Currently the Cons lead the polls (36%) with the Libs at 29%, the Dippers with 15% and Liz's Greens at 10%. Mad Max is nowhere. Liberals have run big deficits every year in office, despite record low rates and a growing economy. Government largess means four in ten families receive more money directly from Ottawa than they pay in taxes. Now a new report from the Institute of International Finance shows Canada is among the top three countries for ballooning its public debt in the past year. The fear is any rate cut will exacerbate that. Today's debt is tomorrow's taxes. Residential real estate is a prime target, now that so much net worth has been concentrated there. Just look at what BC's doing. If the Cons win, look for leaner government. If there's a Lib-Green coalition, look out.
What does all this have to do with a pricey row house in Yorkville?
Ch-ch-ch-changes, as Bowie said. Expect a lot in the next year. The housing market is far weaker than is being revealed. Changes to the economic, monetary and political environment will create even more uncertainty, dampening demand and widening the gulf between bid and ask. The row house story has one moral: buyers are wiser than you think.
STAY INFORMED! Receive our Weekly Recap of thought provoking articles, podcasts, and radio delivered to your inbox for FREE! Sign up here for the HoweStreet.com Weekly Recap.