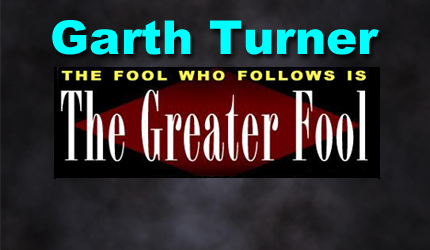 A best-selling Canadian author of 14 books on economic trends, real estate, the financial crisis, personal finance strategies, taxation and politics. Nationally-known speaker and lecturer on macroeconomics, the housing market and investment techniques. He is a licensed Investment Advisor with a fee-based, no-commission Toronto-based practice serving clients across Canada.
Let's have a post without mentioning Trump. Oops. Too late.
While we're on the topic, then, Mr. Tariff Man's wild attack on Mexico surprised markets, hammered stocks and sent investors in the US and Canada scurrying under the protective skirts of government bonds. As equity values sagged, bond prices jumped – the best bond rally in ages. As bonds get more expensive, they pay less. So yields have been falling faster than Jagmeet Singh's profile.
Remember when the five-year Government of Canada bonds was surging towards the 2% mark a few months ago? Well, check this out. Tariff Man has clobbered that rate.
Gov't bond yield plops, mortgage rates follow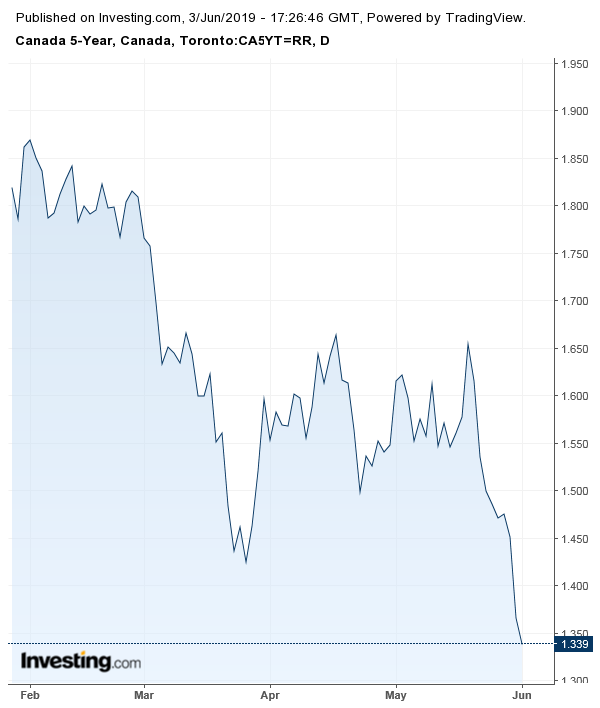 The result is an inverted yield curve, which sounds painful. That's when short rates are higher than those paid by long bonds. Sometimes it forecasts recession, but not always. However plunging bond yields also bring cheaper mortgage rates – and that is exactly what's happened. Combined with the ongoing war for new business among desperate lenders, it means you can now borrow money for five years at barely more than the inflation rate. Some brokers are dishing up loans in the 2.6% range, with sub-3% pretty much the norm for good customers everywhere.
Meanwhile a senior Fed official said Monday he thinks the US central bank will have to cut rates later this year – a dramatic reversal of what was expected just six months ago. Swelling tariffs and hotter trade wars will certainly slow American economic growth, fuel market uncertainty and possibly hasten a recession. Unless Tariff Man tweets that it was all fake news. What a way to run the world.
CAUTION: Below is a question from yet another moister with hundreds of thousands of dollars. Since this irritates the juice out of struggling GenXers with their mortgaged slanty semis and crappy LifeCo mutual fund group RRSPs, feel free to skip the following paragraphs.
"I've been reading your blog for a few years now – a nightly ritual after the kids are in bed," says Brad. "It has helped me resist the siren song of the GTA property market on numerous occasions. As a result, my wife and I – both mid-thirties – have ~$400k spread between pensions, RRSPss, and TFSAs along with big money spent on multiple masters degrees/professional certifications. Appreciate all the advice you've provided on this blog. (Enough of an obligatory suck up?)"
Yes, fine. You may continue.
"So I'm starting to see a lot of value in rate reset preferreds again with dividends now in the 6% range and many decent ones changing hands at 25-40% discounts. I know you would recommend buying through an etf, but curious if you're also seeing a buying opportunity. I see these as being a minimal risk long term with a realistic shot at double digit returns given the discount/low government bond rate. Make sense?"
Brad's a smart little moister, and he's spotted one of the potentially best bargains around. Preferreds have been hammered for a while as rates weaken, but as the price falls, yields pop. Not only that, but Mr. Market may be pricing in something which is unlikely to happen – a rate cut in Canada. In any case, for investors looking for fat yield and happy to buy stuff on sale, this is one of those moments.
I asked my portfolio manager pal Ryan for a few words on the subject, between Porsche waxings. Herewith:
It's been a rough start to the year for the Canadian preferred share market with prefs down 1.4% including dividends versus the TSX up 13.4%. The main driver of the recent weakness has been the big decline in government bond yields with the Government of Canada (GoC) 5-year yield falling from 1.90% at the start of the yield to 1.33% currently. Like 5-year Canadian fixed mortgage rates, the GoC 5-year yield is the key benchmark interest rate for the Canadian pref market. Now what's interesting is the Canadian overnight benchmark rate sits at 1.75% currently, well below the GoC 5-year yield of 1.33%. To me this says that the bond market is pricing in interest cuts in the coming months, which we don't believe is in the cards. My view is the Bank of Canada keeps rates steady versus actually cutting them, which if correct, could lead to a rise in government bond yields and a recovery in the pref market. Essentially, the bond market has priced in a much slower economy/recession, which we believe is unlikely to occur over the next 9-12 months.
With the steep decline in the GoC 5-year yield it has created a lot of value in the Canadian pref market, in our view. Currently the Canadian pref market is yielding 4.95%, which is the highest level since late 2016 and is 360 bps above the GoC 5-year yield. It gets even better. Since preferred shares pay dividends, which are taxed at a lower rate than interest income, when you put them on an interest equivalent basis (multiply the current 4.95% dividend yield by roughly 1.32% to account for the preferential tax treatment of dividends) you get a bond equivalent yield of 6.50%. Compare that to government bonds yielding roughly 1.3%, GICs yielding 2% to 2.5% and corporate bonds around 3%.
So with the recent pref weakness you're getting a nice juicy yield of roughly 5% plus the potential for some capital appreciation should the bond market be incorrectly pricing in a slowdown/recession and the GoC 5-year yield starts to rise as we expect. Not a bad risk reward right now.
Canadian Prefs Are Offering the Highest Yields Since 2016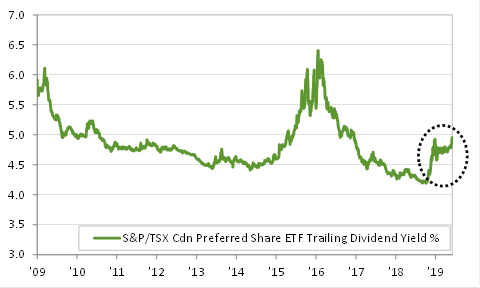 Well, as excited as Ryan gets about prefs, remember they are but one class of assets that a well-diversified and balanced portfolio should contain. In the model we've discussed here often, they make up about half of the fixed-income (40%) component.
STAY INFORMED! Receive our Weekly Recap of thought provoking articles, podcasts, and radio delivered to your inbox for FREE! Sign up here for the HoweStreet.com Weekly Recap.