June 20, 2019 | Will Facebook's Latest 'Big Idea' Fly?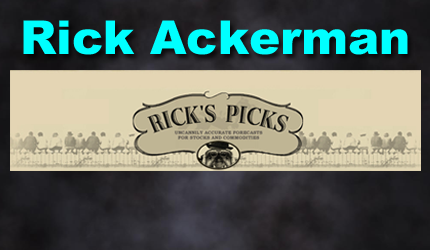 Rick Ackerman is the editor of Rick's Picks, an online service geared to traders of stocks, options, index futures and commodities. His detailed trading strategies have appeared since the early 1990s in Black Box Forecasts, a newsletter he founded that originally was geared to professional option traders. Barron's once labeled him an "intrepid trader" in a headline that alluded to his key role in solving a notorious pill-tampering case. He received a $200,000 reward when a conviction resulted, and the story was retold on TV's FBI: The Untold Story. His professional background includes 12 years as a market maker in the pits of the Pacific Coast Exchange, three as an investigator with renowned San Francisco private eye Hal Lipset, seven as a reporter and newspaper editor, three as a columnist for the Sunday San Francisco Examiner, and two decades as a contributor to publications ranging from Barron's to The Antiquarian Bookman to Fleet Street Letter and Utne Reader.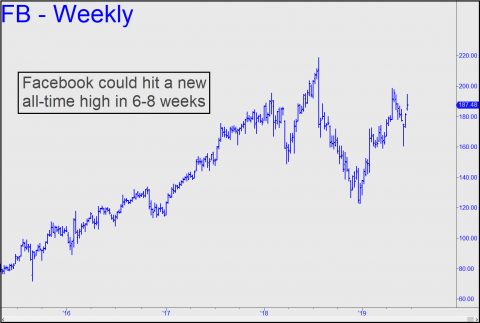 With two billion users, Facebook will be sorely challenged to hold onto them as the company tries to re-invent itself. The social media giant has been scrambling to find a new motherlode of revenues to insure against the day when privacy zealots will rightfully bludgeon them into submission. Perhaps even more threatening is the hardly remote possibility that subscribers will one day desert the platform because it has become uncool.
Zuckerberg's initial feint several months ago was toward facilitating small-group interactions and encrypted messaging for a fee. The jury is still out on that idea, although, as Facebook's stock chart would seem to attest (see above), investors have treated it as though it were a stroke of genius. Even if this new business model were to take root, which is hardly a given, it seems unlikely to generate the kind of profits Facebook has reaped from selling out subscribers six ways from Sunday.
Libra's Drawbacks
What to do? Zuckerberg's latest Huge Idea is Libra, a cryptocurrency that would be tied to a basket of global currencies to keep it stable. Even so, its value would still fluctuate from day to day, making it less useful perhaps than existing digital payment systems. Apple offers a popular one — and so do, for that matter, Visa, Master Card et al. Who needs block-chain money when conventional payment systems are doing the job, especially in the small-transactions universe that Libra would target? Facebook says its initial foray into cryptos would be geared toward money transfers from the U.S. to elsewhere, but that is inviting hard scrutiny from the regulators who will decide whether Libra gets off the ground.
There is also the trust factor. How would you regard money that, in a manner of speaking, had Zuckerberg's face on it rather than that of Washington, Hamilton or Ben Franklin? Speaking for myself, I place Zuckerberg somewhere between Vladimir Putin and Lori Loughlin on the moral/ethical scale. Of course, Libra will be sold to regulators as entirely detached from Facebook the Social-Media Dominator. Does anyone actually believe that Zuckerberg could resist using the information he possesses on two billion subscribers  to 'enhance' the value of Libra? Such concerns will make it a tough sell to regulators. Wall Street for its part seems unconcerned, since all Facebook news these days — even lurid guilt-and-contrition stories — is being treated as good news.  The stock could easily hit new record-highs by mid-summer if the damn-the-torpedoes madness that has gripped Wall Street persists.
STAY INFORMED! Receive our Weekly Recap of thought provoking articles, podcasts, and radio delivered to your inbox for FREE! Sign up here for the HoweStreet.com Weekly Recap.