June 8, 2019 | Trading Desk Notes – June 8th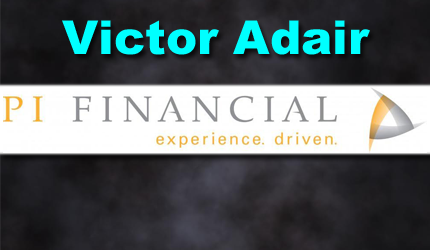 Senior Vice President and Derivatives Portfolio Manager. Victor began trading financial markets over 45 years ago and has held a number of senior executive positions during his career as a commodity and stockbroker. Over the years he has provided considerable market analysis via radio and television and at financial conferences. His primary brokerage business is providing corporate accounts with risk management services using exchange traded derivatives. He actively trades currencies, interest rates, precious metals, stock indices and commodities for his own accounts.
US interest rates have dropped like a stone since last November...with the rate of decline dramatically accelerating the last 4 weeks. The bond market has rallied hard as investors have done a HUGE "180" in terms of their interest rate expectations…have increasingly anticipated an economic slowdown…rate cuts from the Fed…and as capital has sought "safety" from volatile equity markets and erratic political drama.
This December 2019 Eurodollar futures chart shows how dramatically interest rate expectations have changed since November. Eurodollars trade at a discount to "par" so rising prices mean lower interest rates. In early November 2018 when the market was anticipating at least 2 x ¼ point increases from the Fed in 2019 this contract traded ~96.70. This week the contract traded 98.10…meaning that the market is now pricing rates to be ~140bps lower this coming December that what was expected in November of last year. If the Fed was to get "in line" with market expectations we could see 3 x 25bps cuts over the next 6 months…say a ¼ point cut in each of June, September and December. The next Fed meeting is June 18 & 19.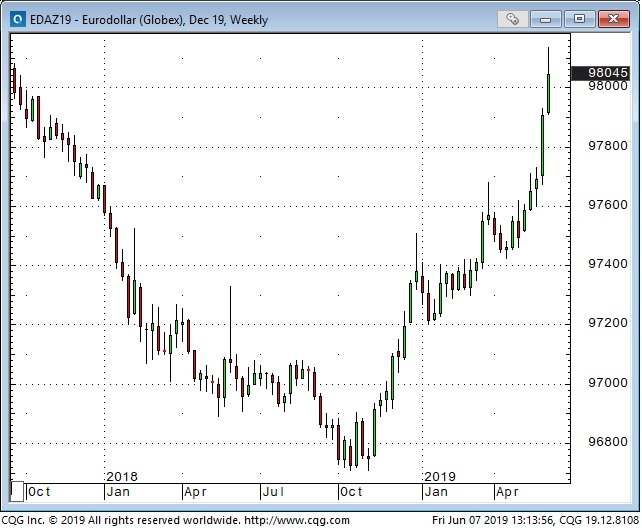 The S+P 500 Index rallied every day this week creating a Weekly Key Reversal Up on the charts. This rally has recovered ~2/3 of the losses suffered in the 7% decline from the May 1st All Time Highs to this week's lows hit June 3rd.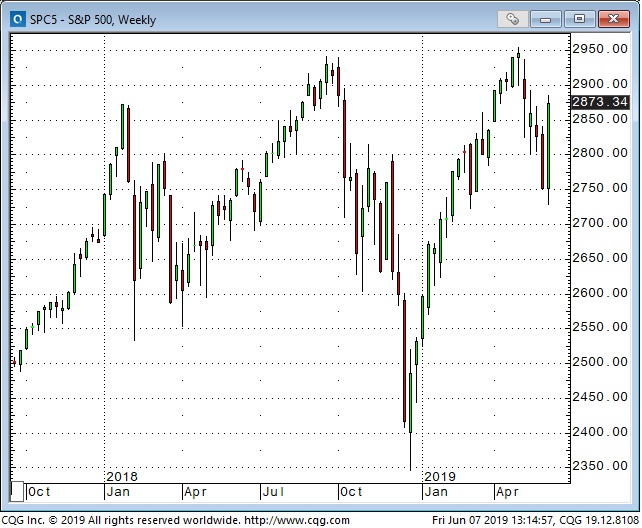 The US Dollar Index fell sharply this week after trading near 2 year highs the last couple of weeks. For the past 2 – 3 weeks I have been trading on the expectation that the USD was going to "back off" from its highs.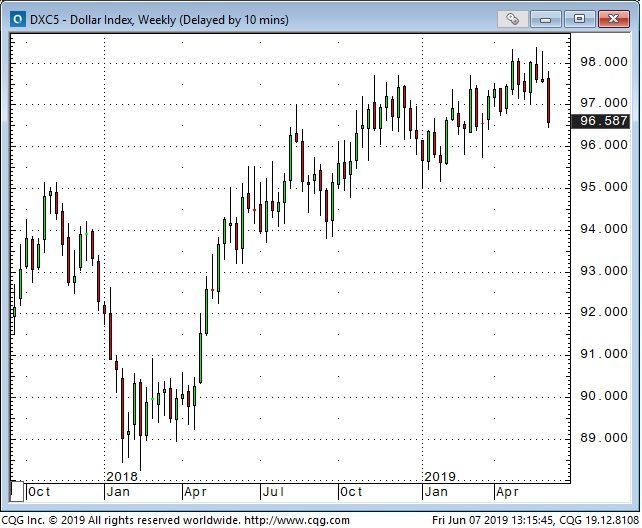 Gold closed this week above $1340 for the first time in 14 months…jumping >$70 the last 7 days as the USD and real interest rates fell.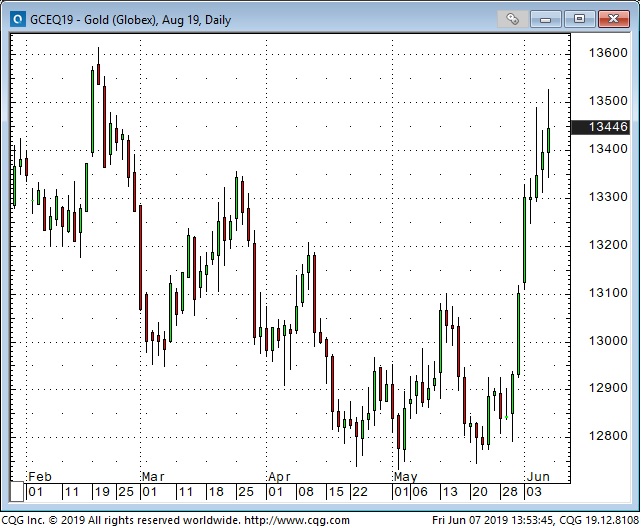 The Canadian Dollar had its best weekly close since February...breaking out of the narrow/choppy range it's been in for the last 6 weeks. Weakness in the big dollar, a 2nd stronger than expected Canadian employment report and diverging central bank expectations (the Fed's going to cut but the BofC probably won't) helped lift the CAD.
WTI crude oil hit a 5 month low below $51 mid-week down ~23% from the April $66 highs. Anticipation that a slowing global economy would mean less demand for crude was a bearish factor as was rising American inventories and production. (US domestic production hit All Time Highs at 12.4mbd.)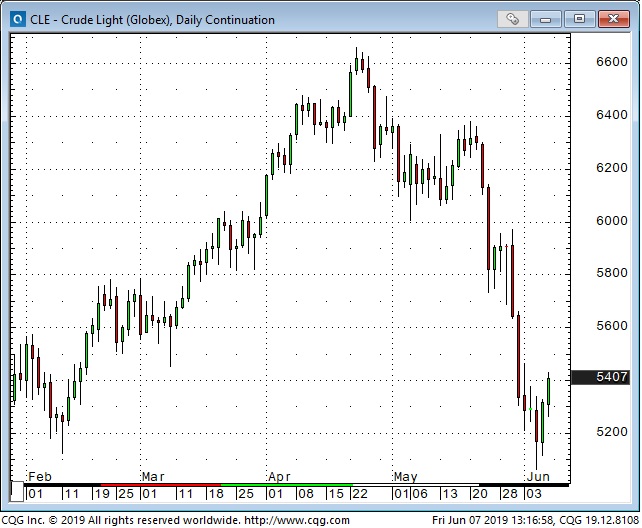 My short term trading: I came into this week long AUD as a play on my idea that the USD was topping out. AUD had been in a strong downtrend since January 2018…had fallen over 3 cents since mid-April…speculators were heavily short and AUD seemed to be turning higher. I bought CAD on Monday for much the same reasons. I semi-hedged those positions by shorting a half position Yen…both CAD and AUD had fallen against Yen for months and I thought Yen might weaken while CAD and AUD would rally if stock markets rallied. I closed all those positions by the end of the week…lost a little money on the Yen…more than made up for that with gains in AUD and CAD. I will look for opportunities to buy currencies against the USD next week.
I sold short dated OTM WTI puts on Wednesday when crude prices tumbled following the inventory reports. I thought WTI was extremely o/s and the implied volatility on the puts was nearly 50%! (A 50% IV on WTI has happened maybe 5% of the trading days the past 3 years and the put/call skew was HUGELY bearish…meaning people were paying a huge premium to buy puts over what they were paying to buy calls.)  The S+P had been up 3 days in a row while WTI had been falling like a stone. I've seen WTI and the S+P trade "in sync" a lot so I essentially put on a bottom picking trade looking for crude to rally. At Friday's close the put premium has shrunk ~80% from where I'd sold it so I was nicely ahead on the trade.
One of my favorite sayings from the Chicago floors was, "You never have enough on when you're right" which fits well with my experience that it often hurts more to miss taking a trade than it does to lose money on a trade. Three weeks ago I covered a short gold position when it dipped below $1270 but couldn't stay below that level. I figured that gold had passed up an excellent chance to break down to new lows for the year…but didn't take it…so I didn't want to stay short. A few days later, with my mindset being that the USD was looking toppy I figured that if gold broke above $1290 it was a buy. I should have had a resting order in the market…but I didn't…and when gold broke above $1290 it kept going but I didn't want to chase it…I couldn't find a spot to buy it where I was comfortable with the risk I would have to take…so I missed taking the trade…left money on the table! But…as an old friend likes to remind me…it's not a game of perfect…and there's a rumor going around that the markets will be open again next week!
PI Financial Corp. is a Member of the Canadian Investor Protection Fund. The risk of loss in trading commodity interests can be substantial. You should therefore carefully consider whether such trading is suitable for you in light of your financial condition. In considering whether to trade or the authorize someone else to trade for you, you should be aware of the following. If you purchase a commodity option you may sustain a total loss of the premium and of all transaction costs. If you purchase or sell a commodity futures contract or sell a commodity option or engage in off-exchange foreign currency trading you may sustain a total loss of the initial margin funds or security deposit and any additional fund that you deposit with your broker to establish or maintain your position. You may be called upon by your broker to deposit a substantial amount of additional margin funds, on short notice, in order to maintain your position. If you do not provide the requested funds within the prescribe time, your position may be liquidated at a loss, and you will be liable for any resulting deficit in your account. Under certain market conditions, you may find it difficult to impossible to liquidate a position. This is intended for distribution in those jurisdictions where PI Financial Corp. is registered as an advisor or a dealer in securities and/or futures and options. Any distribution or dissemination of this in any other jurisdiction is strictly prohibited. Past performance is not necessarily indicative of future results
STAY INFORMED! Receive our Weekly Recap of thought provoking articles, podcasts, and radio delivered to your inbox for FREE! Sign up here for the HoweStreet.com Weekly Recap.