June 29, 2019 | Trading Desk Notes June 29, 2019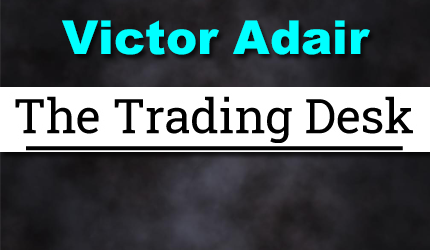 Victor Adair, author of The Trading Desk Notes, began trading penny mining shares while attending the University of Victoria in 1970. He worked in the mining business in Canada and the Western United States for the next several years and also founded a precious metals trading company in 1974. He became a commodity broker in 1977 and a stock broker in 1978. Between 1977 and his retirement from the brokerage business in 2020 Victor held a number of trading, analytical and senior management roles in Canada and the USA. Victor started writing market analysis in the late 1970's and became a widely followed currency analyst in 1983. He started doing frequent media interviews in the early 1980's and started speaking at financial conferences in the 1990's. He actively trades his own accounts from The Trading Desk on Vancouver Island. His personal website is www.VictorAdair.ca.
June 2019 market performance highlights: Gold up ~$140 (11%) from late May lows, closing higher for 5 consecutive weeks, hitting a 6 year high,  WTI up ~$9 (17%) from early June lows, closing higher 11 of the last 12 days, CAD up ~2.5 cents (3.3%) from late May lows, hitting 8 month highs…strongest of the G10 currencies against the USD, USDX down 2% from 12 month highs made in May, S+P 500 Index up ~200 points (7.5%) for the best June performance is over 50 years, and US 10Y yields dropped below 2% for the first time in 2 years…closing lower for 10 of the last 11 weeks.
If there was a "common cause" to all of this performance it was what I referred to last week as the "irresistible force" of  increasingly aggressive repricing (lower) of future interest rate expectations. Last October the market was pricing in 3 future RAISES from the Fed, now the market sees a very good chance of 4 CUTS from the Fed over the next 12 months.
Last week I thought the exponential repricing rush was over…for now…and I would look for "return to the mean" trading opportunities…which essentially meant look to fade some of the things people had rushed to buy in a FOMO state of mind. I've been cautious about that, however, bearing in mind some very valuable advice I got from Bill Fleckenstein many years ago when I was interviewing him on the Moneytalks Radio show. Bill was a famous short seller and I described him to our audience as a guy who made money by shorting stocks that he thought were WAY overvalued…Bill quickly corrected me, "No…that's not right…stocks that are WAY overvalued can get WAY-WAY overvalued…I only short stocks that I have good reason to believe are going down…and I like to short them when they are already going down!"
"Don't Fight The Fed" also kept me cautious…David Rosenberg (and other highly respected forecasters) think we are in the midst of a major turning point in monetary policy…that the Fed will be taking FF to zero, that the UST 10Y yield will fall below 1%…that the move to lower interest rates is just getting started. (I highly recommend David's interview this week on www.realvision.com .)
The Trump/Xi Friday night meeting also kept me (and it seems everybody else) cautious give the potential for Sunday GAP openings.
My short term trading: I came into this week with small positions short CAD and Yen. I covered them early in the week for small losses. I shorted the S+P Monday and covered it Wednesday recovering the money I'd lost on the currencies. I shorted TNotes Wednesday but got stopped for a small loss Thursday. Net: I lost a little money on the week trying to fade some of the big recent moves that were (in part) inspired by the dramatic rush to reprice future interest rate expectations. I'm flat at the end of the week.
A different perspective: I read a lot of market research/comment…most of that is just to stay current but every once in a while I get a perspective that helps me see trading opportunities more clearly. I often find analysts who "agree with" market views I already have…but the more useful analyst is the one who makes a good case against my current views…by making me re-examine my reasons for seeing things the way I do. For instance, I mentioned David Rosenberg in the Don't Fight The Fed paragraph above…his perspective that the UST bull market has a long way to run made me re-consider my top-picking short position in TNotes. I had good reasons for being short, and (like Bill Fleckenstein) I waited for the market to start falling before I went short…but I kept my stops tight…just in case David was right!  A good trader understands that there is nothing wrong with being wrong except staying wrong.
Holiday week: I'm not going to comment on individual markets this week…please take a look at last week's Trading Desk Notes for my current thinking and charts on different markets. Best wishes for a great Canada Day weekend…and for my American friends, best wishes for a great Independence Day celebration!
PI Financial Corp. is a Member of the Canadian Investor Protection Fund. The risk of loss in trading commodity interests can be substantial. You should therefore carefully consider whether such trading is suitable for you in light of your financial condition. In considering whether to trade or the authorize someone else to trade for you, you should be aware of the following. If you purchase a commodity option you may sustain a total loss of the premium and of all transaction costs. If you purchase or sell a commodity futures contract or sell a commodity option or engage in off-exchange foreign currency trading you may sustain a total loss of the initial margin funds or security deposit and any additional fund that you deposit with your broker to establish or maintain your position. You may be called upon by your broker to deposit a substantial amount of additional margin funds, on short notice, in order to maintain your position. If you do not provide the requested funds within the prescribe time, your position may be liquidated at a loss, and you will be liable for any resulting deficit in your account. Under certain market conditions, you may find it difficult to impossible to liquidate a position. This is intended for distribution in those jurisdictions where PI Financial Corp. is registered as an advisor or a dealer in securities and/or futures and options. Any distribution or dissemination of this in any other jurisdiction is strictly prohibited. Past performance is not necessarily indicative of future results
STAY INFORMED! Receive our Weekly Recap of thought provoking articles, podcasts, and radio delivered to your inbox for FREE! Sign up here for the HoweStreet.com Weekly Recap.