June 22, 2019 | Trading Desk Notes June 21, 2019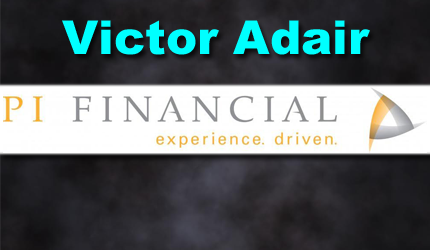 Senior Vice President and Derivatives Portfolio Manager. Victor began trading financial markets over 45 years ago and has held a number of senior executive positions during his career as a commodity and stockbroker. Over the years he has provided considerable market analysis via radio and television and at financial conferences. His primary brokerage business is providing corporate accounts with risk management services using exchange traded derivatives. He actively trades currencies, interest rates, precious metals, stock indices and commodities for his own accounts.
The irresistible force that moved all markets the past couple of months has been the increasingly aggressive repricing of future interest rate expectations. With the market now pricing a 90% chance of 75 bps of cuts from the Fed over the next 6 months…with a good chance of 50bps in July alone…I believe the exponential repricing rush is over…for now…and I will be looking for "return to the mean" trading opportunities.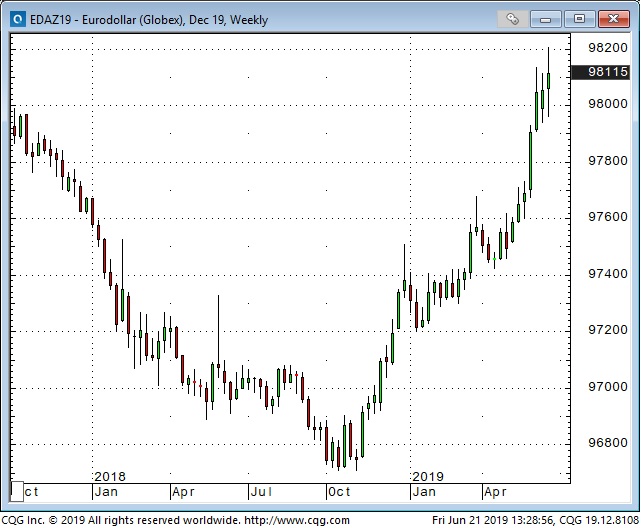 Signs that the repricing may have gone too far too fast: An ATH $13T in negative yielding gov't paper, huge drops in global gov't bond yields with many countries now at record low rates, inverted yield curves, massive capital flows ($127Bn YTD) into bond funds, bond vol at 3 year highs, German gov't yields negative all the way out to 19 years, ECB and FED both indicating lower rates ahead in the same week, US T-Note futures higher 9 of last 10 weeks, and the DJIA up >2,000pts…in just 3 weeks. It's been a Goldilocks "Just Buy Everything" kind of market!
The gold market soared to a 6 year high of $1415 this week, up ~$140 (10%) from its May lows…a 5 standard deviation move…as the USD and real interest rates fell and especially as US/Iran geo-political stress ramped up BIG TIME. Gold option vol increased to a 3 year high…open interest is up >30% in 3 weeks to the highest levels since the Brexit summer of 2016…the gold/silver ratio is out to a multi-year high (gold WAY outperforming silver)…and the GDX gold share index is at its highs of the last 2 years (gold outperforming gold stocks.) Gold bullish sentiment is extreme at +95%.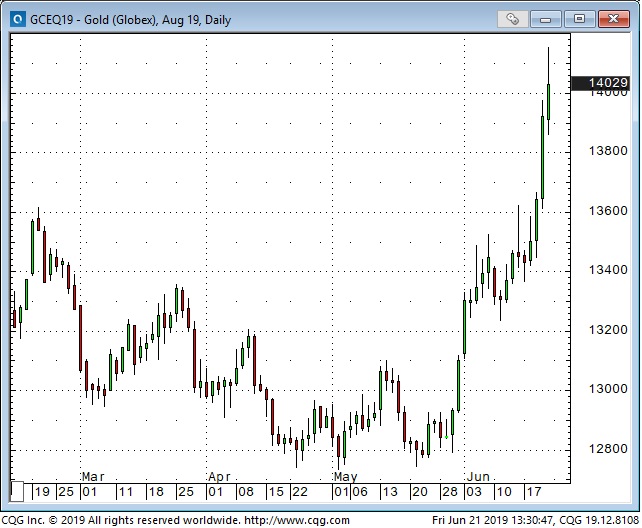 Gold jumped WAY more this week than is justified by USD weakness (usually the key flipside of the gold price) so the bulk of the rally is due to 1) geo-political stress, 2) spec buyers stampeding into a previously ignored market and, 3) sharp recent declines in real interest rates. (Trump threatening Powell is also bullish for gold but that doesn't matter much relative to the US/Iran stress. Gold may also be sniffing out a secular turn towards higher inflation…if MMT really is coming our way gold and real assets will be bought as a hedge against falling currencies.) Historically, when gold spikes on geo-political stress, the price falls back if there is no "follow-through" but…the current prospect of greater US/Iran stress certainly makes it hard to be short gold here!
The S+P 500 and the DJIA hit ATHs this week with the S+P currently registering its best June since 1955. It's interesting to see these indices at ATHs while the CNN Fear and Greed index is at 50% and while money managers are maintaining a higher-than-normal cash position. The corporate buyback blackout period starts today (Quad witching day) ahead of upcoming earnings reports.
The US Dollar Index broke below its 200 day MA this week…falling to a 3 month low after hitting 2 year highs in May. I've been thinking recently that the USD was looking toppy after a great run from the Jan 2018 lows. The prospect on the FED aggressively cutting interest rates is definitely USD bearish.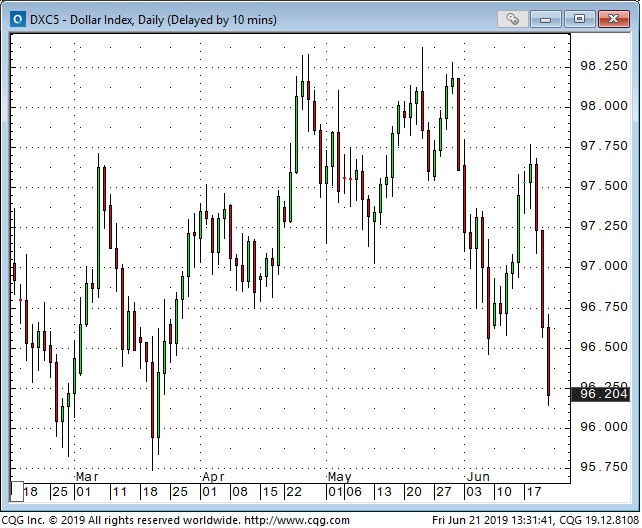 If this is THE turn in the USD then there will be "ripple" effects across markets. For instance, people from all over the world who benefited from the currency gains they made when they invested in the USA may reduce, or reverse, their American investments. Emerging market securities, which have been marked down to some extend because they had a rising USD risk, might go bid. I've traded FX for more than 40 years and I've seen currency trends last far longer than seemed to make any sense…but when the currency trend finally turns it is often a "Vee" shaped turn as sentiment also turns and "leads and lags" go into reverse.
The Canadian Dollar is up ~2 cents from its May lows…and traded above 76 cents this week for the first time in 4 months. The rally off the May lows has been very choppy compared to the range bound trade of the last few months. The main driver of the recent CAD gains has essentially been the thought that the Bank of Canada will NOT be matching the FED cut for cut over the next few months…that "divergent CB policies/actions" will benefit the CAD. Adding to the CAD bullish narrative is general USD weakness, a jump in crude oil prices and the prospect that speculators who have been net short CAD in the futures markets for over a year will have to start covering those positions…helping to drive CAD higher.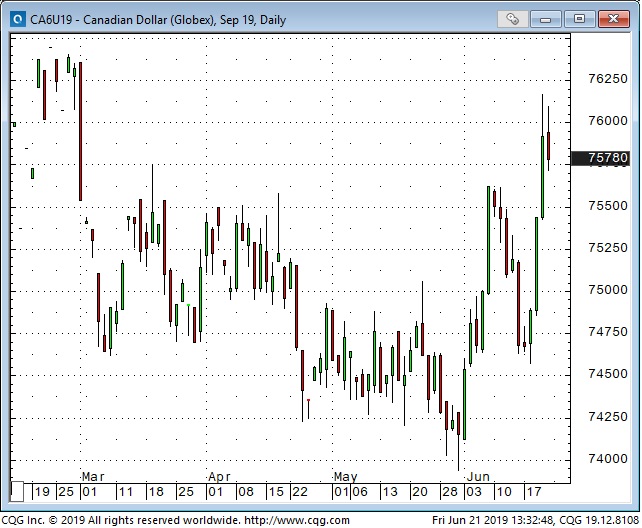 WTI crude oil rallied to a $58 high this week after trading below $51 last week. The rally was clearly driven by geo-political stress…ship attacks, the drone shooting and possible retaliations…as well as by inventory drawdowns and a weaker USD. Lower interest rates are also bullish for crude in as much as they may boost economic growth and hence demand for crude oil.
My short term trading: I started the week short CAD and long gold puts established the previous week. I covered both those positions for small gains Monday (and was very happy to have done that given how CAD and gold rallied the rest of the week!) Markets were very quiet Monday ahead of the Tues/Weds Fed meeting and I decided I didn't want the risk of holding my positions into the FED meeting.
Early Tuesday morning Draghi surprised the markets with his "easing is coming" remarks which got the "risk on" juices flowing. There was actually a rather muted reaction to the Fed announcements/presser on Wednesday…but it was risk positive. Wednesday O/N action kicked off the strong North American bid for stocks and bonds on Thursday. Gold rallied Thursday/Friday on the drone attack and possible retaliation.
I shorted gold Tuesday when it couldn't sustain O/N gains but got stopped quickly for a small loss. I shorted CAD Thursday when it fell back from 4 month highs but got stopped for a wash. I re-shorted CAD Friday thinking a 1 ½ cent rally in 3 days was too much too fast. I shorted Yen Friday after it fell back from (essentially) 14 month highs. I'm going into the weekend short CAD and Yen with tight stops.
I pay attention to how markets react to "news" but I trade price action. I fully expect to lose money on more than half the trades I make. I always know where I want to get out of a trade, if it goes against me, before I put the trade on. If a trade is going my way I will try to add to it and I will definitely move my stops…I can't stand having a trade that once showed good gains turn into a loser.
I use stops on futures and I will definitely exit an option trade if the underlying futures contract trades through a pre-determined price. I write down why I'm making a trade. I will buy options from time to time to limit risk although I don't like fighting the clock and with options you're trading price, time and vol and you usually have to get all of those things right. I rarely write naked options because of the open-ended risk and if I'm right on a market direction call I want to be rewarded with more than the option premium. I understand that some people do very well selling options although they occasionally blow up.
I think managing risk is by far and away the most important thing in trading. I rarely use much leverage and I try to forgive myself for missing trades and making mistakes.
PI Financial Corp. is a Member of the Canadian Investor Protection Fund. The risk of loss in trading commodity interests can be substantial. You should therefore carefully consider whether such trading is suitable for you in light of your financial condition. In considering whether to trade or the authorize someone else to trade for you, you should be aware of the following. If you purchase a commodity option you may sustain a total loss of the premium and of all transaction costs. If you purchase or sell a commodity futures contract or sell a commodity option or engage in off-exchange foreign currency trading you may sustain a total loss of the initial margin funds or security deposit and any additional fund that you deposit with your broker to establish or maintain your position. You may be called upon by your broker to deposit a substantial amount of additional margin funds, on short notice, in order to maintain your position. If you do not provide the requested funds within the prescribe time, your position may be liquidated at a loss, and you will be liable for any resulting deficit in your account. Under certain market conditions, you may find it difficult to impossible to liquidate a position. This is intended for distribution in those jurisdictions where PI Financial Corp. is registered as an advisor or a dealer in securities and/or futures and options. Any distribution or dissemination of this in any other jurisdiction is strictly prohibited. Past performance is not necessarily indicative of future results
STAY INFORMED! Receive our Weekly Recap of thought provoking articles, podcasts, and radio delivered to your inbox for FREE! Sign up here for the HoweStreet.com Weekly Recap.