June 15, 2019 | Trading Desk Notes June 15, 2019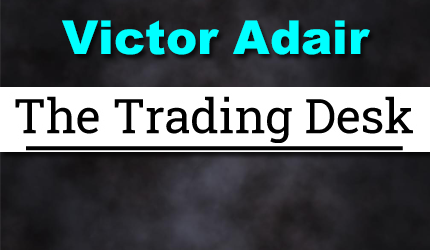 Victor Adair, author of The Trading Desk Notes, began trading penny mining shares while attending the University of Victoria in 1970. He worked in the mining business in Canada and the Western United States for the next several years and also founded a precious metals trading company in 1974. He became a commodity broker in 1977 and a stock broker in 1978. Between 1977 and his retirement from the brokerage business in 2020 Victor held a number of trading, analytical and senior management roles in Canada and the USA. Victor started writing market analysis in the late 1970's and became a widely followed currency analyst in 1983. He started doing frequent media interviews in the early 1980's and started speaking at financial conferences in the 1990's. He actively trades his own accounts from The Trading Desk on Vancouver Island. His personal website is www.VictorAdair.ca.
The US Dollar surged higher this week...after "backing off" the last 3 weeks. All of the major Eurozone currencies plus CAD, AUD and NZD tumbled with AUD and NZD now near multi-year lows. The GBP was especially hard hit as it looks like Boris (hard exit) Johnson will become the new PM. It was interesting to see the USDX bounce off the 200 day moving average for the 4th time YTD. For the last few weeks I'd been trading on the expectation that the USD would fall back from the 2 year highs it made in April and May…this week I was looking for the USD to rally.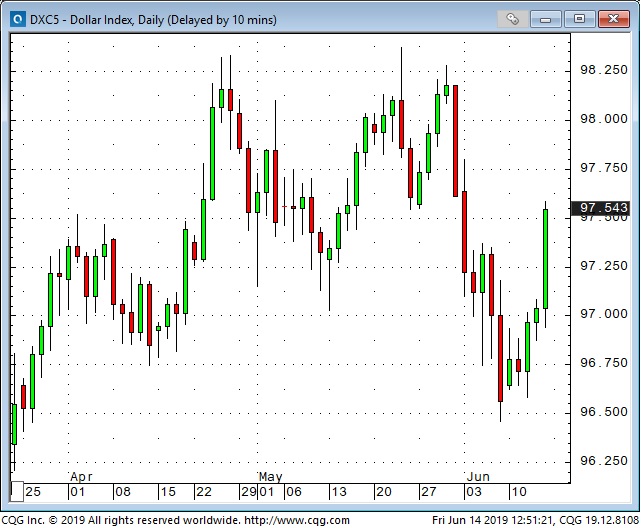 The Canadian Dollar rallied nearly 2 cents from late May to close last Friday at its best levels in 3 months. I took profits on a long CAD trade last Friday. The CAD rally was, in part, the "flip side" of the USD falling against nearly all currencies during that time period. The CAD got an extra upside kick last Friday on the strong employment data…but this week the CAD fell nearly a full cent as the USD  surged higher. The expectation that the BofC will not match the Fed cut for cut did not give the CAD any support this week. I sold CAD short when it had no follow through from last week's gains and the USD looked to be turning higher.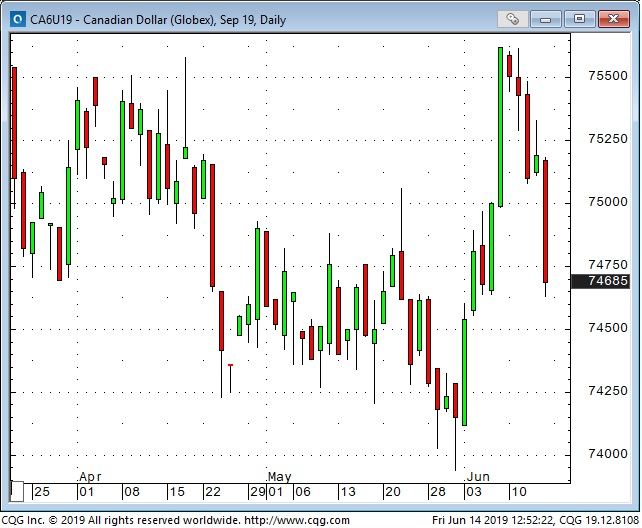 Gold and the USD both rallied this week. Gold jumped ~$35 from Tuesday's lows to Friday's highs but soared against most other currencies. It was very interesting to see gold rallying later in the week while the EUR was tumbling. So much for the "gold goes as the EUR goes" lockstep relationship! Gold has jumped ~$80 since late May (and real rates have tumbled) as markets have been anticipating "more and more" cuts from the Fed.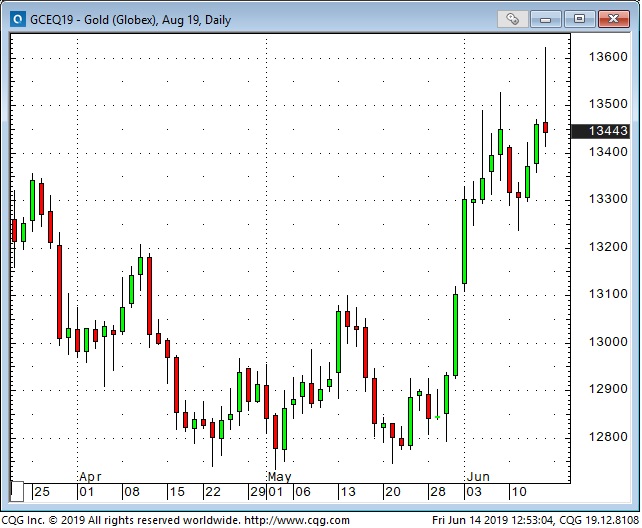 The major US stock indices were modestly higher this week after scoring big gains last week. If you're inclined to be bullish you see market action in May as just a small (7%) correction following the HUGE rally from the Christmas lows…with last week's strong rally signaling an enthusiastic resumption of the bull market. If you're inclined to be bearish you see that the major indices have made a triple top over the last 18 months (with a lot of intervening volatility!) and  sooner or later they will respond to the memo from the bond market and take a run at last December's lows…you think that the market is running on fumes in the hope that the Fed cuts aggressively…your message to the bulls is that rate cuts are great until you realize why rates are being cut!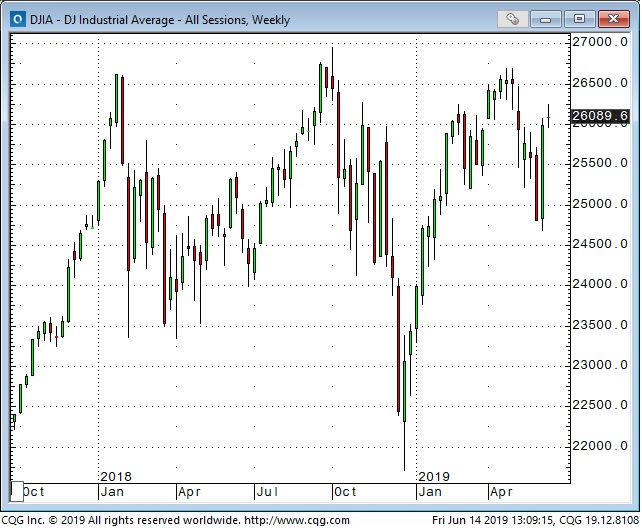 The bond market wobbled this week but managed to sustain the huge rally it had the past 6 weeks.
The Fed meets this coming Tuesday and Wednesday with the market expecting (demanding?) at least some solid indication that a rate cut is coming…the market is currently pricing nearly 90bps of cuts from the Fed within the next 12 months with >85% expectation of a 25bps cut in July.
WTI crude oil hit a high near $55 Monday but then tumbled $4 by Wednesday afternoon on more negative inventory data. Overnight news on ship attacks in the Gulf of Oman caused prices to spike $2.50 Thursday. The market closed the week ~$53…its lowest weekly close in 4 months.
Consensus thinking: 1) the Fed is going to be cutting rates aggressively as, 2) American and global economic growth slows which means that, 3) the USD is going to fall and, 4) stock prices will fall as earnings fall because of the weakening economy although they will get a lift from Fed cuts and also from the inevitable "beautiful deal" that Trump will make with China to ensure his re-election…which means that, 5) Treasury bonds are a good place to be and corporate bonds should be avoided and, 6) Tariff Man will probably take a swipe at somebody else.
My short term trading:  I like to take the "opposite side" of a market when I think it's gone too far too fast. I try to wait for it to actually start to turn rather than just thinking, "Its gone far enough…I can start fading it now."  I think the market has gone too far too fast in terms of expecting aggressive cutting from the Fed. If that's the case, and we'll see, then the USD is probably a buy and bonds are probably a short.
I started the week short OTM WTI puts I had sold last week when prices tumbled on the 2nd negative inventory report and implied volatility soared to nearly 50%. I covered that early Tuesday after WTI rallied >$2 and captured about 75% of the premium. I sold WTI futures Tuesday morning and covered Wednesday afternoon after WTI fell >$1 barrel.
I sold CAD when it rolled over from last week's strong close and the USD looked to be headed higher. I remain short CAD at the end of the week.
I bought S+P puts a couple of times thinking the market had run out of steam after last week's huge rally…but closed those trades at a wash. I also sold T-Notes thinking they had rallied too far too fast but closed that trade at a wash.. I bot Yen thinking it might rally when the stock market looked weak but covered that for a wash when I realized the more powerful force was a rising USD.
I looked hard at shorting AUD but couldn't find a spot to pull the trigger…it just kept falling without any bounce to sell and…I was already short CAD so there was a concentration risk. I sold the MEX Tuesday after it had rallied Monday when the tariffs were cancelled but covered that for a wash when it didn't fall when most other currencies were falling. (No point being short something that isn't falling.)
At the end of the week I bought gold puts after, 1) gold hit a 14 month high on the day and started to fall back, 2) gold had rallied >$35 from Tuesday's lows, but 3) the USD was rallying strongly, 4) silver had given back all of its day's gains, and 5) everywhere I looked I was seeing "Gold is breaking out and will soar"  stories which had caused, 6) open interest to jump ~15% in the last 3 weeks as spec net buying soared and, the cherry on top, 7) there's nothing like tanker ships being attacked in the straits of Hormuz to generate retail bids in the gold market. I bought puts rather than selling gold futures or gold calls because I like the limited risk on the trade. If gold goes higher I'll close the trade for a loss and move on. I'm just putting on one of those trades that fits with the old saying from the Chicago floors, "When they're yelling you should be selling!"
I'm going into next week short CAD and long gold puts.
PI Financial Corp. is a Member of the Canadian Investor Protection Fund. The risk of loss in trading commodity interests can be substantial. You should therefore carefully consider whether such trading is suitable for you in light of your financial condition. In considering whether to trade or the authorize someone else to trade for you, you should be aware of the following. If you purchase a commodity option you may sustain a total loss of the premium and of all transaction costs. If you purchase or sell a commodity futures contract or sell a commodity option or engage in off-exchange foreign currency trading you may sustain a total loss of the initial margin funds or security deposit and any additional fund that you deposit with your broker to establish or maintain your position. You may be called upon by your broker to deposit a substantial amount of additional margin funds, on short notice, in order to maintain your position. If you do not provide the requested funds within the prescribe time, your position may be liquidated at a loss, and you will be liable for any resulting deficit in your account. Under certain market conditions, you may find it difficult to impossible to liquidate a position. This is intended for distribution in those jurisdictions where PI Financial Corp. is registered as an advisor or a dealer in securities and/or futures and options. Any distribution or dissemination of this in any other jurisdiction is strictly prohibited. Past performance is not necessarily indicative of future results
STAY INFORMED! Receive our Weekly Recap of thought provoking articles, podcasts, and radio delivered to your inbox for FREE! Sign up here for the HoweStreet.com Weekly Recap.