June 2, 2019 | Tough Guys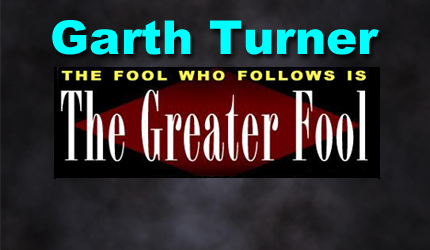 A best-selling Canadian author of 14 books on economic trends, real estate, the financial crisis, personal finance strategies, taxation and politics. Nationally-known speaker and lecturer on macroeconomics, the housing market and investment techniques. He is a licensed Investment Advisor with a fee-based, no-commission Toronto-based practice serving clients across Canada.
The latest inflation is 2%. If you strip gas out (prices went down last month), the cost of living rises to 2.3%. When the impact of the carbon tax is known (it was just imposed in a few provinces, including Ontario), expect a bump.
In other words when you can borrow money to buy real estate at 2.74% and lock that in for five years, why wouldn't you? Is it not almost free financing? And surely you can do better than that with the rate of return on your investments.
However, people are still perplexed by this. Like Jeff, out there in the flatlands.
Love the blog. Read it every day. My wife comes for the financial advice, but stays for the puppy pics. (My wife's beloved pup of over 15 years was unfortunately put down a few days ago. After a slow decline and health issues, it was an act of mercy, but heart breaking nonetheless.)

Just following up on a question from another reader about using a smaller down payment in order to keep more money invested. We have been discussing this as well, after being 20% down sticklers we may be seeing the light. We are in the Paris of the Prairies. Looking for houses around $500K, or about 2.9x our current combined income. We have the ability to put 20% down and still meet your Rule of 90. We are 33 and 37 and $100K is 28% of our total investments. But it seems to me to be much smarter to lock in a mortgage under 3% with a smaller down payment and keep more invested. I'm not thinking the Saskatoon market is going to appreciate much if at all in the next 5 years unless there's a big resource turn around, so I'd prefer not to lock too much away in a stagnant asset. And over the life of the mortgage the investment income on the portion of the $100k not used for a down payment, $45-50K, easily covers the extra interest, CMHC insurance, and provides a tidy profit. Is my math right or am I missing something?
Not a thing. Except the emotional part. People aggressively pay down mortgages when interest rates are at rock-bottom levels not out of logic, but insecurity. They think real estate is a nest, a refuge, a sanctuary from the instability of modern life, and any debt makes it less of a fortress. Bunk. In reality it's cash flow that provides security and independence. Meanwhile debt which comes at such a low cost can be the ideal tool to get a home without gutting the liquid portfolio everybody needs. Especially in weird times.
It matters not having a paid-for home in later life if you can't afford the utilities, property taxes, insurance and maintenance plus all of life's other expenses. Remember GreaterFool's Truism #2 – you can always rent accommodation. You can't rent cash flow.
Over the last eight years a balanced and diversified portfolio has returned about 7%, through times of lean and fat. In fact, stock markets have delivered about the same for decades. A fair assumption then that capital invested will give you a nice premium over the cost of money borrowed. After five years use some of that gain to pay the mortgage down upon its renewal. Have your Prairie Paris cake and eat it too, Jeff. Sorry about the pooch. They all end up in heaven.
$     $     $
Now what could derail this? Trump, of course. Last week's Mexico tariff tantrum was enough to careen markets lower, send bonds higher, invert the yield curve and make reasonable men wonder what kind of rash he must have. The US boss has now attacked America's No.3 trading partner (we're No.2), made a mockery of the new NAFTA (that's us) and at the same time wildly escalated the trade war with the No.1 partner (China).
On Sunday Beijing released a paper stating, plainly, that the war "has not made America great again." After inflating socks, swelling corporate profits and boosting employment, Trump's working hard to unravel that, since the war is increasing consumer prices and jumping manufacturing costs. That will slice the GDP and chill job growth. It's a wild gamble that China will cave or Mexico fold before the US economy gets whacked. At least that's what the stock market is worried about.
Said the dudes running the world's second biggest economy: "The Chinese government rejects the idea that threats of a trade war and continuous tariff hikes can ever help resolve trade and economic issues. Guided by a spirit of mutual respect, equality and mutual benefit, the two countries should push forward consultations based on good faith and credibility in a bid to address issues, narrow differences, expand common interests, and jointly safeguard global economic stability and development."
Mexicans and Chinese do not pay American tariffs on their exports. Americans do. Mexico won't pay for a border wall with a 5% levy. Trump has just imposed big taxes on his own people, and glossed it over as being punitive on other countries. The outcome will be lower revenues and higher costs for US corporations. Lower profits. Dropping stock prices. Less hiring.
This is the biggest economic threat of 2019. One man. The defence of him in the comments section Friday was a sad thing to read. Donald Trump certainly gets full marks for having duped millions.
Having said that, Jeff, we will endure. Global growth will be dinged but not derailed. America is bigger than the White House. Moderation and respect must eventually prevail.
If not, it'll be quite the implosion. You will – trust me – want to be liquid.
STAY INFORMED! Receive our Weekly Recap of thought provoking articles, podcasts, and radio delivered to your inbox for FREE! Sign up here for the HoweStreet.com Weekly Recap.