June 14, 2019 | The Gap (so far)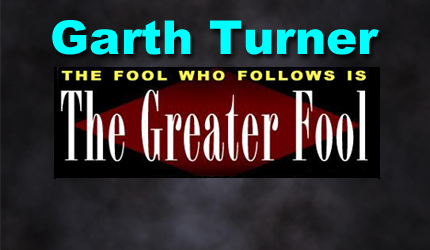 A best-selling Canadian author of 14 books on economic trends, real estate, the financial crisis, personal finance strategies, taxation and politics. Nationally-known speaker and lecturer on macroeconomics, the housing market and investment techniques. He is a licensed Investment Advisor with a fee-based, no-commission Toronto-based practice serving clients across Canada.
Somehow this turned into another Misery Week. So let's put it out of its… misery… with another miserable post. And what could possibly be more depressing that Generation Squeeze?
This consortium of professional whiners, moaners and wannabe adults, comprised of uber-educated basement-dwelling moisters who spend their days tweeting and texting about systemic age-related genocide have (naturally) turned into media darlings. So, you'll hear a lot more about them in the future. And their agenda. If you're older than 40 with real estate assets, hang on. Your world is gonna be rocked.
The GS manifesto is a widely-reported report called 'Straddling the Gap.' But it's not about straddling, rather a wealth redistribution based on higher levels of tax and an inevitable assault on real property values. This is not too surprising, since most young people are flaming socialists and the current crop has birthed the 'sharing economy' concept, Many believe their elders won the housing and birth lotteries, while they're squished like bugs on the windscreen of global capitalism. That's cool. Rebellion's a time-honoured badge of youth. The irony is these kids don't want to change the world. They just want to become their parents.
Here's the story.
It's all about real estate, which now dominates our society. Millennials can't afford what they want, or feel entitled to. The Gap report quantifies this, creating a storyline which was irresistible to the MSM. Typical coverage (CBC)…
On average, Canadian millennials would need to nearly double their average income in order to bridge the gap, according to the study. Either that, or the average price for a house would need to come down by half. "These are massive numbers," said the report's lead author, Paul Kershaw, who described the numbers as a "troubling portrait."

The report said the chasm between money made and money needed is widest in B.C. and Ontario, particularly in Vancouver and Toronto. The price of a house in the West Coast city is quadruple what any millennial could "safely" afford, and triple their budgets in the Six. In Vancouver, millennials would need to make $200,400 every year in order to afford the average home. Torontonians would need an annual salary of $150,000.
As we all realize, employers are not about to start paying younger employees double their current wages – unless hyper-inflation develops – nor will average house prices fall by 50% – unless there's a depression. The fatal flaw in the report is that it assumes people making average money and without any real estate exposure should be able to buy the average property. But that's not the way the real estate markets have worked for generations. Typically people have climbed on the property ladder with 'starter' homes in cheaper locales, then moved higher as they gained equity momentum. That allowed the Vancouver phenom to develop – wherein families with modest incomes end up living in houses they could never afford to buy.
So what happened?
The Boomers didn't do this. Forget that. Cheap rates brought big debt and higher prices. Sellers got greedy. Developers stopped building affordable accommodation since the profits weren't there. And, convinced valuations would rise forever making prices irrelevant, buyers borrowed big, suffered FOMO and went nuts.
Over time this will heal itself (the process started two years ago in some markets and earlier in others). But, now forming families, the moisters can't wait. Besides, many are angry. They're convinced their parents got a free ride thanks to a bubbly, inflated economy, and they're destined to have less. Hence, Generation Squeeze stirring emotions by saying average house prices need to halve, and government has a critical role to play in leveling out the playing field between the kids and the wrinklies.
This is a demand you should take seriously. They're comin' for you. Justin is listening.
"This is a reminder that housing first has to be a place to call home," the report's author cries.. "Not a stock market, not a way to launder money, not a backyard that protects you from all other changes in the neighbourhood, and generally not a strategy to get rich."
Among the demands and proposals:
More public money should be directed to Mills to pay for their child care, parental leaves, transit and student debt. (Yes, higher taxes.) That wil free up income for real estate.
Rents should be "aligned with local incomes." So, more controls.
Real estate gains should be taxed. "Estimates show that that non-taxation of capital gains from principal residences will cost the federal coffer around $6 billion in 2019, with corresponding losses to provincial coffers as well. These tax shelters have encouraged the commodification of housing in Canada." Now you know why the principal residence tax exemption registry was established. It never had anything to do (as stated) with offshore money.
Governments should force house prices lower, as is happening in BC. "It is highly unlikely that local earnings in many major urban centres will rise enough to restore housing affordability by 2030. This means that a better, redesigned housing system must anticipate home prices falling over the next decade, especially after adjusting for inflation."
Now imagine a Parliament dominated by Millennials. With all major party leaders in their forties and two barely out of their thirties, we're not far off.
You may need a bigger fence.
STAY INFORMED! Receive our Weekly Recap of thought provoking articles, podcasts, and radio delivered to your inbox for FREE! Sign up here for the HoweStreet.com Weekly Recap.