June 18, 2019 | Suck, Blow, Fail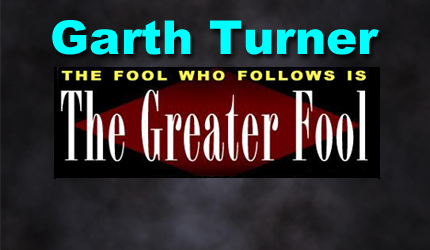 A best-selling Canadian author of 14 books on economic trends, real estate, the financial crisis, personal finance strategies, taxation and politics. Nationally-known speaker and lecturer on macroeconomics, the housing market and investment techniques. He is a licensed Investment Advisor with a fee-based, no-commission Toronto-based practice serving clients across Canada.
Remember Generation Squeeze? The needy little moister org is demanding a host of things from government, including cheap day care, transit subsidies and student loan forgiveness as well as a wealth tax on Boomer real estate, so fairness may be restored to the nation. Yeah, fat chance. But they do have the attention of the troubled Trudeau Libs.
Government's involvement in the housing market has been an unmitigated disaster. Suck and blow. On one hand governments encourage real estate investing and on the other crush it. We have two reports.
First, the suck.
The shared-equity mortgage was announced back in March as a Shiny New Thing in the federal budget. The idea was rad – the government will take over part of your mortgage, so monthly payments will be lower and you have more cash flow for weed, tats and slow fashionwear. It was the Trudeau response to Millennial angst in not being able to afford a condo in Van or a rental in downtown Toronto.
But the program, it turns out, is a sham.
When details were announced this week by minister Jean-Yves Duclos (me neither) it became apparent this is going to help nobody get a house, while increasing costs for lenders, government and taxpayers. The program comes into effect September 2nd and is supposed to put a hundred thousand Mills into real estate – which would certainly have a market-humping effect.
However, any smart kid will steer clear. First, the 5%  Justin-mortgage-helper limits the borrowed amount to four times the income of the borrower ($120,000 or less), which is less than the banks now offer every day. The formula also limits the purchase price to around $500,000, which buys a nice garage in Kits. But the worst aspect of this plan is the pay-back.
Once a borrower signs on for a shared-equity mortgage they're obligated to share any gain with the feds after 25 years, or when the property's sold. Since the purchase price is low, odds are the kids are buying fixer-uppers and will pour a lot of extra cash into renos over the next few years. Add in any market appreciation, and you can see the problem. A 5% helping hand on the original low purchase price can turn into a big cheque to Ottawa upon the sale a decade or two later – coming right out of the tax-free principal residence capital gains exemption.
Now, why would anyone sign on for that? And yet will federal advertising for this program – leading up to a vote in which the Libs desperately need the moisters – help create more demand and fuel prices, just as mortgage rates drop?
The best thing politicians can do is stand back and left Mr. Market figure it out.
And BC gives us the best example of that. Things there are being blown to bits.
Almost two-thirds of people in metro Vancouver (the actual number is 64%) own real estate. That's pretty close to the national average, suggesting people there have dealt for years with a premium on the cost of housing. We also know BC has a negative savings rate – evidence citizens have been willing to trade liquid wealth for the privilege of having a roof of their own.
But people also elected the NDP, which views real estate wealth as ill-gotten, elitist and worthy of destruction. As a result there's a plethora of anti-property taxes now in place which have crushed  sales and crashed prices. Of course as values fall more, buyers retreat further. So rather than encouraging a healthy market the Dippers artificially depress it. No sane person would now jump in, given that the bottom is nowhere in sight.
A constructions material company president, writing in the local MSM the other day had some valid points to make. Naturally he's out to protect his own interests (aren't we all?), but facts are facts. And these puppies are ugly.
Lost real estate equity (in one year) after Comrade Horgan became premier: $90 billion.
Amount of annual total local economic output this represents: 65%.
Loss per each resident of metro Vancouver: $40,000.
Number of proposed housing units postponed because of the downturn: 5,000
If Canadians ever need a concrete example of how taxes erase public wealth, rob an economy and yet provide no social benefit, here she be. The BC market was rolling over before the anti-Liberal vote that installed a self-proclaimed Green-NDP coalition junta. Sales were declining steadily and prices moderating. As average prices exceeded the ability of average families, a correction was inevitable. But, instead, a bunch of amateurs took the wheel and headed straight for the ditch.
Politicians may be well-meaning blowhard crusaders, or just opportunistic vote-sucking narcissists, but the best thing they can do when it comes to real estate is stand aside. The worst thing is to listen to the kids.
STAY INFORMED! Receive our Weekly Recap of thought provoking articles, podcasts, and radio delivered to your inbox for FREE! Sign up here for the HoweStreet.com Weekly Recap.