June 8, 2019 | Precious Metal Prices Capped at 10:30 a.m. in New York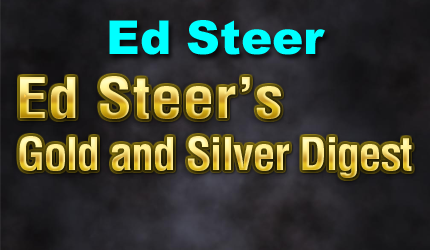 "Ed wrote the daily precious metal commentary for Casey Research starting in 2008. His stand-alone column became their most highly-rated blog [either free or paid] almost from the outset—and remained that way until he started his own subscription-based website in June of 2015."
08 June 2019 — Saturday
YESTERDAY in GOLD, SILVER, PLATINUM and PALLADIUM
The low and high ticks for gold were recorded by the CME Group as $1,334.30 and $1,352.70 in the August contract.
Gold was closed in New York on Friday at $1,339.90 spot, up only $5.10 on the day.  Net volume was enormous once again at just under 321,000 contracts — and there was just under 12,500 contracts worth of roll-over/switch volume in this precious metal.
The silver price didn't do much of anything in Far East trading on their Friday — and volumes were noticeably on the light side.  The price pattern starting at the London open was a carbon copy of what happened with gold, so I shan't bother with the rest of the play-by-play.  But the high tick in silver…back over $15 briefly…came at the same precise moment as the high tick in gold.
The low and high in this precious metal was recorded as $14.84 and $15.15 in the July contract.
Silver was closed at $14.97 spot, up 10 cents from Thursday.  Net volume in silver was very heavy once again at just over 86,500 contracts — and there was a pretty healthy 21,500 contracts worth of roll-over/switch volume out of July and into future months.
The price pattern in palladium was mostly the same as it was for platinum, including the price-capping shortly before 10:30 a.m. in New York.  It was sold lower until 1 p.m. in COMEX trading — and didn't do much of anything after that.  Palladium was closed at $1,338 spot, up 6 bucks from Thursday.
There's no telling how far the dollar index would have fallen, nor how high the precious metals would have risen, if the PPT hadn't been working overtime in all markets yesterday…including the equity markets.
I had a brief chat with Keith Neumeyer, the Grand Poobah over at First Majestic Silver yesterday afternoon — and I asked him about the short position in his company's shares — and why the precious metal equities were performing so poorly.  His answer shocked me, although it shouldn't have.  He says that this happens on all rallies in the silver stocks, as all the same people that are short the metal in the COMEX futures market, short the shares as the rally progresses, knowing full well that precious metal prices are going to be hammered lower [by them] in the not-very-distant future.  So not only are they making a killing in the futures market, their cleaning up in the silver and gold stocks as well…including GDX.
And if you're looking for proof, all you have to do is look at the share price action in the HUI and the Silver 7 Index since Monday…with Friday's price action being the perfect poster boy for that.
---
Here are a couple of charts from Nick that show what's been happening for the week, month — and year-to-date.  The first one shows the changes in gold, silver, platinum and palladium for the past trading week, in both percent and dollar and cents terms, as of their Friday closes in New York – along with the changes in the HUI and the Silver 7 Index.
As I've pointed out in this space over the last few weeks — and again today, the shorting of the precious metal equities…mostly silver, will certainly be rocket fuel during the next big rally in that precious metal.  With gold overbought, I expect a 'correction' of some type [courtesy of JPMorgan et al] in the not-too-distant future, but it will only prove to be a temporary setback.
---
One thing I did notice in the above report was that JPMorgan issued 250 palladium contracts from its own account for delivery on Tuesday.  There were ten long/stoppers in total, with JPMorgan picking up 49 contracts for its client account.
So far in the June delivery month…just one week old…only 361 gold, plus 309 silver contracts have been delivered.  June is not a typical delivery month in silver — and gold deliveries for June are proceeding very slowly, with a huge number of short/issuers exiting their short positions once called upon for delivery for physical gold that they most likely didn't have.
---
I don't know if these counterintuitive withdrawals are masking large deposits on those same days or not.  But as Ted mentioned in yesterday's column, both ETFs are owed physical metal, so it's a given that the authorized participants in both these ETFs are now shorting the shares in lieu of depositing physical metal.  That makes it even more obvious that physical gold and silver in any size is just not available — and I know that Ted will certainly have something to say about all this in his weekly review this afternoon.
Month-to-date the mint has only sold what I reported on Monday…1,000 troy ounce of gold eagles — 1,000 one-ounce 24K gold buffaloes — and 223,500 silver eagles.
---
The hoard consists of six silver, circular brooches. Five of the brooches are made entirely of silver; the sixth brooch was created with a copper alloy base and a silver overlay. There are two single brooches, which include the largest and smallest items of the hoard, and two non-identical pairs. The pairs are similar in layout, but have different decorative details. All brooches are centrally arranged in a cross-shaped pattern. The smallest brooch, stylistically, belongs to the late 8th century. The five larger brooches can be dated to the early ninth century. All items in the hoard are intricately decorated in the Trewhiddle style. The brooches were in very good condition when they were discovered. Evidence suggests that all the brooches were made in the same workshop. All of the brooches except for the smallest were complete, with intact pin, spring and hinge components.
---
They arrived at that number by selling 4,599 long contracts — and increasing their short position by 8,805 contracts.  It's the sum of those two numbers that represents their change for the reporting week.
Under the hood in the Disaggregated COT Report, it was all Managed Money traders, plus a whole bunch more, as they increased their long position by 7,310 contracts, plus they covered 11,161 short contracts…all at a loss.  It's the total of those two numbers…18,471 contracts…that represents their change for the reporting week.
And as is always the case, it was the traders in the other two categories that made up for the difference between what the Managed Money bought — and the Commercial traders sold, in this case…18,471 minus 13,404 equals 5,067 contracts.  Both categories decreased their net long positions during the reporting week…the 'Other Reportables' by 4,505 contracts — and the 'Nonreportable'/small traders by 562 contracts.  Those two numbers add up to 5,067 contracts…the difference between what the Commercials and the Manged Money traders did during the reporting week, which they must do.
The Commercial traders in the Producer/Merchant and Swap/Dealer category both increased their net short positions and added to long positions to the tune of 13,404 contracts mentioned earlier.
The Commercial net short position in silver is back up to 61.4 million troy ounces.
You'd never know it by looking at the Producer/Merchant category of yesterday's COT Report, but the companion Bank Participation Report tells a completely different story — and my discussion on that is a bit further down.
Of course the Commercial net short position in silver is even larger now since the Tuesday cut-off, most likely significantly so.  But by how much, won't be know until the COT Report next Friday.
---
They arrived at that number by selling 58,773 long contracts — and they also added 3,849 short contracts.  It's the sum of those two numbers that represents their change for the reporting week.
Under the hood in the Disaggregated COT Report, it was all Managed Money traders, plus more as they added 40,349 long contracts — and they also reduced their short position by 29,559…all for big losses.  The sum of those two numbers…69,908 contracts…represent their change for the reporting week.
The difference between that number — and the commercial net short position…69,908 minus 62,622 equals 7,286 contracts, was made up…as it has to be…by the traders in the other two categories.  The 'Other Reportables' didn't do much during the reporting week, decreasing their net long positions by 481 contracts.  It was the traders in the 'Nonreportable'/small trader category that did most of the heavy lifting, as they reduced their net long position by 6,805 contracts.
Of course the commercial traders in the Producer/Merchant and Swap/Dealers category, increased their net short positions by a considerable amount, with the traders in the latter category doing the largest percentage of that amount.
The commercial net short position in gold is back up to 17.26 million troy ounces.
Like in silver, the commercial net short position in gold has grown even larger since the Tuesday cut-off.  But by how much, remains to be seen.
---
For the current reporting week, the Big 4 traders are short 99 days of world silver production, which is unchanged from last week's report – and the '5 through 8' large traders are short an additional 61 days of world silver production, down 1 day from last week's report – for a total of 160 days that the Big 8 are short, which is a bit over 5 months of world silver production, or about 373.4 million troy ounces of paper silver held short by the Big 8.  [In the prior week's COT Report, the Big 8 were short 161 days of world silver production.]
In the COT Report above, the Commercial net short position in silver was reported as 61.4 million troy ounces.  As mentioned in the previous paragraph, the short position of the Big 8 traders is 373.4 million troy ounces.  The short position of the Big 8 traders is larger than the total Commercial net short position by a chunky 375.7 minus 61.4 equals 314.3 million troy ounces.
The reason for the difference in those numbers…as it always is…Ted's raptors, the 41-odd small commercial traders other than the Big 8, are net long that amount.
As I mentioned in my COT commentary in silver above, Ted stated that JPMorgan's long position in silver remains around the 5,000 contract mark.  But, as I commented further up, the proof of that lies in the discussion on silver in the Bank Participation Report that follows.
The Big 4 traders now in that category are short, on average, about…99 divided by 4 equals…24.75 days of world silver production each — and at least one of them still comes from the ranks of the Managed Money category, despite the increase in short covering during the reporting week.
The four traders in the '5 through 8' category are short 61 days of world silver production in total, which is 15.25 days of world silver production each.
Ted's of the opinion that there are most likely three Managed Money traders with short positions  still large enough in the COMEX futures market to inhabit the Big 8 category.
---
The June Bank Participation Report covers the time period from May 8 to June 4 inclusive.
This BPR in gold shows a gross long position of 8,163 contracts held by these five U.S. banks — and I would suspect that JPMorgan holds that entire amount — and they could hold a fairly chunky short position now as well.  Citigroup and HSBC USA would also hold substantial short positions in gold as well.  But as to who other two U.S. banks might be that are short in this BPR, I haven't a clue, but it's a given that their short positions would not be material.
Also in gold, 28 non-U.S. banks are net short 76,122 COMEX gold contracts, which is a bit under three thousand contracts per bank.  In the May BPR, these same 28 non-U.S. banks were net short 55,851 COMEX contracts…so the month-over-month change is up a lot as well…20,271 contracts.
However, as I always say at this point, I suspect that there's at least two large non-U.S. bank in this group, including Scotiabank.  It's certainly possible that it could be the BIS in No. 1 spot.  But regardless of who this second non-U.S. bank is, the short positions in gold held by the remaining 26 non-U.S. banks are immaterial.
At the low back in the August 2018 BPR [for July] these same non-U.S. banks held a net short position in gold of only 1,960 contacts!  So they're back to being short big time — and almost a record short position to boot.  The non-U.S. banks haven't been this short gold since back in June of 2017.  And it's a given that they're at a record now since the Tuesday cut-off.
To give you an idea of how low this short position for these 4 U.S. banks is, this is the smallest net short position held by these banks since November 2014 — and the second smallest U.S. bank short position on record going back to 2011!
But JPMorgan could also be shorting the silver market as well — and it wouldn't be obvious here, as traders in the Producer/Merchant category [i.e. banks] can be long and short the COMEX futures market in silver at the same time…a luxury that other traders aren't allowed.  But the take-away from this is that JPMorgan is hanging onto its long position in silver — and may even be adding to it at every opportunity, despite the fact that it has been going short this silver rally all the way up.
And whoever the remaining U.S. bank may be of the 4 U.S. banks in total, their short position, like the short positions of the two smallest banks in gold, is immaterial as well.
Also in platinum, 19 non-U.S. banks are net short 7,095 COMEX contracts in the June BPR, which is down a lot from the 11,487 COMEX contracts they were net short in the May BPR.  [Note: Back at the July 2018 low, these same non-U.S. banks were net short only 1,192 COMEX contracts.]
This big decline is not surprising considering the engineered price decline in this precious metal during the current reporting period.
Also in palladium, 15 non-U.S. banks are net short 923 COMEX contracts-which is also up a bit from the 687 COMEX contracts that these 15 non-U.S. banks were short in the May BPR.
When you divide up the short positions of these non-U.S. banks more or less equally, they're completely immaterial…especially when you compare them to the positions held by the 4 U.S. banks.
And just as a point of interest, these 4 U.S. banks hold 89 percent of the total short positions held in palladium by all the worlds' banks combined.
This certainly wasn't a very happy BPR in gold.  Silver appeared to be the surprise with a slight decrease from the May BPR, but it was coming off a major price low back on May 28 — and virtually all of that improvement was lost by the time the BPR came out a week later on June 4. If we could see a Bank Participation Report as of the COMEX close on Friday, it wouldn't make for happy reading in either metal.
But will they?  They answer is…I don't know, nor does anyone else.
CRITICAL READS
For once, ADP was right.
… this was not only the worst print since the shocking 56,000 February report, but also 100,000 below the consensus number of 175,000. It was also below the lowest Wall Street forecast, and 4-sigma below consensus as not  one of the 77 Wall Street analysts guessed a lower number, confirming broader economic weakness and boosting calls for a rate cut as President Trump's trade wars hit the U.S. economy.
The two-month revision subtracted a total of 75,000 jobs, as March was revised down from +189,000 to +153,000, and the change for April was revised down from +263,000 to +224,000, making it a net zero for the month and suggesting some serious deceleration in the labor market amid the trade war.
---
… thanks to a surge in credit card debt as the latest revolving credit print was a whopping $7 billion injection, up from a draw of $2 billion in March, and not only more than all the credit card debt issued in the first three months of the year but the highest since last November.
Meanwhile, as credit card debt soared, non-revolving credit – auto and student loans – posted a surprisingly soft print, with only $10.5 billion in new debt created. This was $2.5 billion below last month's print, and the lowest since June 2018.
And while April's sharp rebound in credit card use may ease concerns about the financial stability and propensity of the U.S. consumer to spend, one place where there were no surprises, was in the total amount of student and auto loans: here as expected, both numbers hit fresh all time highs with a record $1.6 trillion in student loans outstanding, a whopping increase of $30 billion in the quarter, while auto debt also hit a new all time high of $1.16 trillion, an increase of $8.3 billion in the quarter.
In short, whether they want to or not, Americans continue to drown even deeper in debt, and enjoying every minute of it.
---
May was the first month of the Fed's new plan of slowing QT and altering it in other ways. And suddenly, everything is in flux: It shed Treasury securities at a slowing pace, as announced, but for the first time – and not part of the pre-announced plan for May – the Fed replaced some longer-term Treasuries with short-term Treasury bills, thus doing the opposite of its QE-era "Operation Twist." And it shed the most Mortgage Backed Securities since the QE unwind started.
Total assets fell by $42 billion in May, as of the balance sheet for the week ended June 5, released this afternoon. This was the balance-sheet week that included May 31, the date when Treasuries rolled off. This drop reduced the assets to $3,848 billion, the lowest since October 2013. Since the beginning of the "balance sheet normalization" process, the Fed has shed $613 billion. Since peak-QE in January 2015, the Fed has shed $669 billion:
According to the Fed's new regime, announced in March, the maximum amount of Treasury securities that would be allowed to roll off when they mature would be cut in half, to $15 billion in May. And that's about what we got.
The Fed doesn't sell its Treasury securities outright. Instead, when they mature at mid-month or at the end of the month, it just doesn't replace them.
On May 15, three issues of Treasuries matured, and on May 31, three more issues matured, for a total of about $58 billion. The Treasury Department redeemed these securities and paid the Fed for them. And Fed reinvested most of this money into a new batch of Treasury securities but allowed the remainder to roll off without replacement. The balance of Treasuries dropped by $14 billion, to $2,110 billion, the lowest since October 2013.
---
I have posited that the Fed's balance sheet could swell to $10 TN during the next crisis. When the current Bubble bursts, the Fed and global central bankers will see no alternative than to flood the global financial system with central bank Credit. This is a terrible, reprehensible prospect.
I warned a decade ago that QE was a slippery slope. After a decade, central bankers would surely today prefer to rebrand QE as a "conventional" – and elemental – part of their arsenals. But it will not be until the next bursting Bubble phase before there is a modicum of a "body of evidence" (from only one cycle) for assessing the effectiveness of history's most radical monetary experiment. Today, global securities markets are eagerly anticipating the return of zero rates and more QE. Chairman Powell, Draghi and others are conveying the message that they are getting their arsenals ready.
Powell, Draghi, Kuroda and the like fully appreciate that a decade of ultra-loose monetary policies have fueled dangerous Bubbles. But they've thrown in the towel; a fight they are afraid to confront. The Fed has not only abandoned "normalization," it has deserted its primary responsibility for safeguarding financial stability. We're witnessing nothing short of a historic failure in the Bernanke inflationary policy doctrine, today masked by precarious Speculative Dynamics throughout the risk markets and a historic melt-up in global sovereign bond prices.
History has never experienced such powerful financial Bubbles on a globalized basis. The scope of international trend-following and performance-chasing finance is unprecedented (many tens of Trillions). And with these Bubbles at risk of bursting, central bankers are resolved to employ "whatever it takes" monetary stimulus to hold dislocation at bay. The upshot is only further emboldened market participants, more intense speculation, a greater accumulation of speculative leverage and even more precarious "Terminal Phase" Bubble excess.
Draghi's replacement will suffer the same fate as Bernanke's successors. Once you've pulled out the monetary bazooka, there will be no dropping it from the arsenal. Nothing in fact will suffice but a bigger bazooka. Bigger Bubble Demands Bigger Bazooka. And global bond markets are these days priced for a Horde of Jumbo Bazookas. Yet there's more to this story than central banks held hostage by speculative Bubbles. More than trade wars, weak global manufacturing and even the fragile European banking system, the vulnerable Chinese Bubble is a potential catalyst that could rather abruptly panic global markets and central bankers alike.
---
As the economy softens, the feds prepare to make their next mistake.
Recall that monetary policy is really just a series of mistakes.
First, they keep rates too low for too long – thus creating a dangerous bubble.
We are now, apparently, at the tippy-top of a giant bubble that the feds created after the panic of 2008-2009. This time, they added some $12 trillion in monetary and fiscal stimulus, not to mention negative real lending rates during almost the entire time.
This produced the weakest recovery ever – with trailing 10-year GDP growth rates only about 1.5% – barely half the rate of the late 1990s. And it sent all the key, traditional relationships into bizarre and unhealthy territory.
---
It used to be that America was a country of free thinkers.
It's much more like the world of 1984 where everything is "double think." You need to think twice before you say something in public. You think three times before you say something when you're standing in an airport line.
Regrettably, the U.S. is no longer the land of the free and the home of the brave. It's become the land of whipped and whimpering dogs that roll over on their backs and wet themselves when confronted with authority.
Now, why are Americans this way? Let me give you two reasons-though there are many more.
When people think of virtues today they think of faith, hope, charity-which are not related to the word's root meaning. These may pass as virtues in a religious sense. But, outside a Sunday school, they're actually actually vices. This deserves a discussion, because I know it will shock many. But I'll save that for another time.
---
It would appear that Trump's tariff threat worked.
It would seem Chuck Schumer's claim that Trump's tariffs were a bluff are proved wrong.
---
Citigroup Inc. and Barclays Plc are among global banks fined a total of 90 million Swiss francs ($91 million) by Switzerland's competition regulator for their roles in colluding on foreign-exchange rates.
Barclays was fined 27 million francs, Citigroup 28.5 million francs and JPMorgan Chase & Co. was hit with a 9.5 million-franc penalty, Switzerland's Competition Commission said Thursday. UBS Group AG avoided a fine because it helped reveal the existence of the cartel.
The Swiss sanctions come after years of investigation by regulators on both sides of the Atlantic into how traders used chat rooms to fix leading currency exchange rates. Five of the banks agreed last month to pay 1.07 billion euros ($1.2 billion) to resolve a European Union probe into forex collusion.
Traders at Barclays, Citigroup, JPMorgan, Royal Bank of Scotland Group Plc and UBS ran online chatrooms to share sensitive information over six years in a cartel that was known as the "Three-way banana split," according to Comco. Traders at Barclays, MUFG Bank, RBS and UBS operated the so-called Essex Express, named for the commuter train they all took, to fix trades in a similar manner between 2009 and 2012, according to the Swiss regulator.
---
I didn't find any precious metal-related stories that I thought worth posting.
The PHOTOS and the FUNNIES
STAY INFORMED! Receive our Weekly Recap of thought provoking articles, podcasts, and radio delivered to your inbox for FREE! Sign up here for the HoweStreet.com Weekly Recap.