June 29, 2019 | Osaka Summit: Promotes Global Rules, Digital Economy, Centralization!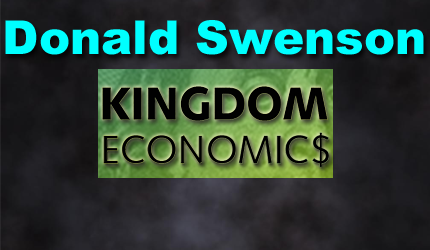 Donald B. Swenson: Born January 24, 1943, Roseau, Minnesota. Graduated H.S. 1961, Moorhead High, Minnesota. Graduated College 1968, Moorhead State University, Minnesota. Designated member of Appraisal Institute (MAI), 1974. Employed with Western Life Insurance Company, 1968 – 71; Iowa Securities Company, 1971 – 73; American Appraisal Company, 1974 – 81. Part-time teacher/valuation consultant/bartender, 1979 – 2008 (taught workshops at Waukesha County Technical Institute, Wi. and Madison Area Technical College, Wi.). Retired 2008 (part time teacher/blogger), AZ. Self educated economist/philosopher/theologian: http://kingdomecon.wordpress.com.
How can American's support this leader of Saudi Arabia who engineered the Khashoggi killing? I am shocked at the image above of our leader, Mr. Trump!
After listening to the video presented about the Osaka Summit, June 28-29, the words of our leaders (including Mr. Trump) reveal that everyone is on board to promote globalization and a world economic system under a digital/virtual/centralized regime. The World Trade Organization will act as the central authority over all global trade and this new digital economy in the making. Protectionism (nation state control over trade) will be eliminated/discouraged as the global rules must prevail for everyone. It's shocking!
As of today, some 78 nations have bought into this digital/virtual monetary system which now reflects some 90% of all global GDP (gross domestic product). Mr. Trump voiced his support for this new system (listen to his words in the video below) which is expected to be fully functional by 2020 (the next G-20 meeting in Saudi Arabia). The video which welcomes all the leaders reveals the goals of this summit (called the Abe track). Mr. Shinzo Abe is behind this new global/centralized monetary/trade system. I would call this the NEW WORLD ORDER system of the coming Anti-Christ.
What all this means is that the 'Mark of the Beast' financial system is here now. The implementation of this digital/virtual system will be over the next couple of years. I do not think that our current fiat monetary system (with some 175 unique currencies) will be allowed to continue much longer. This means that a RESET will occur prior to the next G-20 meeting (scheduled for November 2020). Digital money is what these global leaders desire for our planet. It will happen soon! This means that a financial crash of our current system could happen at any time.
To implement a global digital/virtual monetary system these leaders will need to promote a single global digital currency. I don't see how our current fiat system (with 175 competing currencies) could work for a centralized system of trade and finance. At some point we will need a RESET of the system and one digital currency for the planet. My sense is that all this is emerging rapidly and prior to this RESET some type of financial crash must occur. The crash will provide for the environment of change to occur. Our Deep State elites desire a centralized/global system with standard rules for everyone.
I am surprise that Mr. Trump and his advisers can not discern what is happening (or do they support this change). The stage is being set for the 'Mark of the Beast' financial system. It is obvious to me. This prophesied system of digits, numbers, and identity codes will be enforced upon the entire planet (all of us). It's totally diabolical and corrupt IMO. We all become slaves to a system of control and a system of allegiance to this centralized/global monstrosity (which I call the BEAST). It's corrupt at the core. Personally, I can not support any of this philosophy of our Deep State elites.
Listen to the video and all the speeches to discern what I am saying. I have listened a couple of times and the message seems clear. The world (our elites) desire a system of control over the masses and all the markets. To survive economically will require giving one's allegiance to this BEAST system. It's Satanic at the core IMO. Why would I desire to become enslaved to a computer driven system administered by a central authority (over in Europe)? The WTO (world trade organization) is located in Geneva, Switzerland. This central organization will be given enormous power if all this is implemented!
Those who desire to understand what is now happening globally, need to get educated on what our Deep State elites are saying and doing. Capitalism has changed into this digital economy which our central banks administer via the computer. We live with a speed of light computer driven economy. I call it a CYBER economy which operates within cyberspace (our extended consciousness). It is totally diabolical and corrupt when fully understood. We all become digits/numbers so that computers can manipulate our behavior. Freedom is transferred to a central body which controls all the computers.
At 77 years of age, I may not be here to fully know the ramifications of this BEAST system. But if all happens within a couple of years, I may be here to experience the beginning of this diabolic system of finance. I will continue to learn more about what is happening and then pass my wisdom on to those with a desire to learn. Prophecy is being fulfilled as I write and at some point our Creator will step into the mix to implode this system of Satan. That is my view on the matter. Have a great day! Listen to those who speak English if you do not speak Japanese in the following video:
STAY INFORMED! Receive our Weekly Recap of thought provoking articles, podcasts, and radio delivered to your inbox for FREE! Sign up here for the HoweStreet.com Weekly Recap.