June 22, 2019 | Confidence Now Collapsing Globally! What Does This Mean?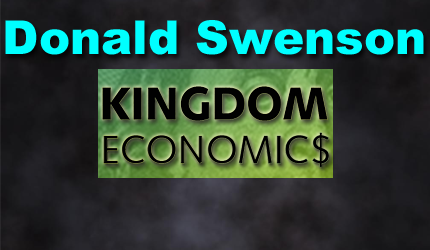 Donald B. Swenson: Born January 24, 1943, Roseau, Minnesota. Graduated H.S. 1961, Moorhead High, Minnesota. Graduated College 1968, Moorhead State University, Minnesota. Designated member of Appraisal Institute (MAI), 1974. Employed with Western Life Insurance Company, 1968 – 71; Iowa Securities Company, 1971 – 73; American Appraisal Company, 1974 – 81. Part-time teacher/valuation consultant/bartender, 1979 – 2008 (taught workshops at Waukesha County Technical Institute, Wi. and Madison Area Technical College, Wi.). Retired 2008 (part time teacher/blogger), AZ. Self educated economist/philosopher/theologian: http://kingdomecon.wordpress.com.
The up and down of financial confidence! It's a fragile internal concept of our mind!
Our real markets (production of goods) is starting to collapse and decline. This is evident in Europe and also globally. Fear is developing within the halls of our central planners. The talk is now about sustaining the bull market in stocks for as long as possible (hoping that this will rekindle confidence). Mr. Draghi, Europe's central planner, is talking about more stimulus come July. Mr. Powell, America's central planner, is thinking of the same. Central bankers in Australia and India have lowered rates to promote more stimulus in their economies. China is doing the same.
The fear among our central planners leads me to the view that a major financial crash is near. We could get the start of this crash in the month of JULY. Events can happen quickly and suddenly given our virtual/digital markets (now operating at near the speed of light). Computer driven markets (all electronic) can turn (direction) within seconds from Bull to Bear. Our central banks recognize this and they may decide to add stimulus (via lower rates and more QE soon). I sense this fear within the halls of banking and it is growing.
The American Fed has a major influence on all our global markets. If this central planner decides to lower rates and add QE (official counterfeiting of money units) this is a sign that the confidence game is waning rapidly. When confidence goes investors seek SAFE-HAVENS. Treasuries, gold, silver, cash, and maybe bitcoin will be the choices. This could happen suddenly and I would not be surprised if JULY 2019 starts the collapse in investor confidence. I witness the fragile nature of investor confidence as I watch the markets in real-time (now).
You may want to prepare now for this collapse in confidence which is evolving. Money is a confidence game and psychology plays a huge role in what happens. Think of Venezuela as an example. This market lost investor confidence in 2018 and it is now in a serious depression. Cuba is also heading towards a depression. Iran is in serious trouble (given the U.S. sanctions). Europe is also in trouble as the negative interest rates have run there course (mostly). Mr. Draghi now talks about injecting more stimulus to rekindle demand.
Latin America is in trouble financially as Brazil and Argentina are declining economically. The Middle East is in turmoil and Africa can go from boom to bust within weeks. We live in a very fragile world. Our financial world lives within our consciousness (it's mostly an inner financial world). Few comprehend this inner world. Our global society is going cashless and virtual. This means that our financial world is INNER. Money and investments live within cyberspace (our inner extended consciousness). Few seem to comprehend this reality.
Watch all our financial media as they predict events from their computer screens. I watch CNBC, Bloomberg, and Fox Business daily. A computer screen sits in front of each media pundit as they talk and predict. This reveals that all our finances are now living within CYBERSPACE. The computer screen reveals what is within cyberspace. Cyber money lives within the cyber cloud. The cyber cloud is part of my/your extended consciousness. Amazing. All this has evolved mostly since the financial crisis of 2008.
With inner money and inner investments, this means that psychology plays a huge role. Psychology is now shifting from exuberance and confidence to skepticism, caution, and fear. All this means that the business cycle is changing from the prior 10 year BULL to a BEAR. It all happens in real-time (within our computer screens). Watch the month of JULY for signs of a major crash in our stock markets. Events could happen quickly and suddenly given the nature of today's electronic system. Have a good day and watch these fragile markets as change is in the AIR.
P.S. The Trump/Xi meeting at the G-20 this coming week could also be significant (psychologically) for our markets. We live under a top/down financial system governed by central planners and politicians (who operate mostly behind closed doors). Inner decisions create our money flows. It all happens in milliseconds within cyberspace!
STAY INFORMED! Receive our Weekly Recap of thought provoking articles, podcasts, and radio delivered to your inbox for FREE! Sign up here for the HoweStreet.com Weekly Recap.