May 5, 2019 | Weed Wire: Miracle Cures, Big Bucks … and CBD Oreos?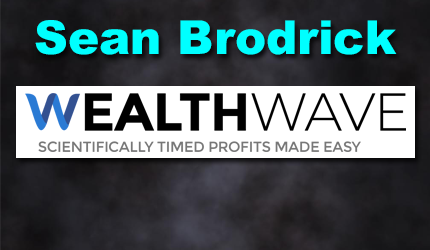 Sean is the natural resource analyst for Weiss Ratings. You can read his thoughts on gold, oil, cannabis, uranium and other natural resources at Wealth-Wave.com
There is so much going on in the marijuana space, it's like trying to drink from a firehose at full blast. As much as you can catch, you'll miss a lot, too.
So, to help keep you up-to-date and give you the best opportunity to cash in, I'm doing TWO things for you.
First, I'm holding an urgent cannabis stock briefing on Wednesday, May 8th. If you've already signed up, great! If not, you need to do so now before the sign-up deadline. It's free for Wealth Wave readers. And it's quick.
Just click here once, and we'll promptly send you instructions for attending. Then, be sure to join me at the briefing on Wednesday, May 8th at 2 P.M., where you will learn …
How to use our cannabis stock rankings to generate an average of $20,000 in spendable cash per month.
The NAMES and details of three cannabis stocks that are at the top of our rankings right now.
How to avoid the cannabis stocks hyped up by others but most likely to be big disappointments.
The landmark event coming very soon that could make cannabis stock investing five times more profitable.
But you do have to register to join.
Second, for this alert, I've put together my list of "Wow" stories from the week. And many have some very real profit potential.
Wow story #1
Is Cannabis the New Penicillin?
I've given you abundant evidence of how various cannabinoids — the hundreds of active ingredients in cannabis — have medical properties. I told you about CBD. I told you about CBN. The potential developments in health and marijuana are jaw-dropping.
So much so that the former chief drug adviser of Great Britain, David Nutt, is publishing articles in prominent journals to encourage physicians to "embrace cannabis like penicillin."
Nutt, a neuropsychopharmacologist — try saying that under the influence, eh? — got the ax for criticizing the British government's drug policies. That hasn't slowed him down, though. Now, Nutt is pounding the table, calling for doctors to embrace medical cannabis treatments. And he's railing against professional "ignorance" on the subject.
"About 70 years ago, another natural medicine came into the medical arena," Nutt said of penicillin. "This was welcomed enthusiastically by UK doctors even though there had been no placebo-controlled trials of its efficacy, because it was seen to fulfill a major clinical need."
My take: The future in cannabis-derived medicine already looks big. But maybe it's even bigger.
Wow Story #2
Hey, Canadians. Toke 'em if You Got 'em, eh?
What will happen in the U.S. after full, federal legalization is anyone's guess. But if Canada is a guide, legal use could surge. Take a look at this chart I snagged off my Bloomberg terminal …
According to a Canadian government report released Thursday, first-time marijuana use is surging. Half of the new users were 45 and older. As I've explained before, the fastest-growing segment of marijuana users is older folks. Many are dumping their opioids down the toilet and choosing to use marijuana instead.
Also, about 47% of Canadians who used marijuana bought it from legal sources in the first quarter, more than double the proportion a year earlier. That's a reminder to keep the red tape and taxes to a minimum.
Looking at you, California!
Wow Story #3
Market Estimates Go High … Higher!
Investment bank Barclays just put out a new report. It estimates the U.S. weed market would be $28 billion if legalized today, growing to $41 billion by 2028.
Interestingly, the analysts found that marijuana tax revenues are already ahead of alcohol tax revenues in Colorado, Washington state and Nevada. If you think that doesn't leave the beverage companies quivering in fear, think again.
I believe this will drive MORE mergers and acquisitions in the space, as beverage makers add pot to their lineups.
Another factoid from Barclays: At $41 billion, the cannabis market "could generate almost $28 billion of tax revenues across all levels of government," if taxed at the same level as tobacco.
You know what the most addictive drug in the world is? Tax revenue! Ha! I kid, but seriously, you know governments want their slice of that high-speed chicken feed.
Wow Story #4
CBD-Infused Oreos? Shut Up and Take My Money!
All right, everybody just calm down. But apparently, Mondelez International (MDLZ) — the maker of Oreos and other delicious treats that my wife thinks I don't know are hidden in the house — is thinking of adding CBD oil to snacks in its product line.
The company's product line includes Oreos, Chips Ahoy cookies, Nilla Wafers and Nutter Butter cookies … and Cadbury chocolate.
Dang, even Cadbury's? They found my kryptonite.
But wait! Mondelez CEO Dirk Van de Put said the company ISN'T adding CBD to its current offerings. Instead, it may add new, CBD-infused snacks alongside the products it already has on the shelf.
Van de Put predicted CBD will hit the mainstream food market in the "not-so-far future."
So how do you think the big food companies will do that? Will they reinvent the wheel? Or will they snap up existing makers of CBD-infused food and drinks for what is basically pocket change for these companies?
I know how I'm going to bet on this. And I know some companies that could do well.
I'll have more for you on this and other stories as they develop. Have a great weekend, and I'll talk to you next week.
All the best,
Sean
STAY INFORMED! Receive our Weekly Recap of thought provoking articles, podcasts, and radio delivered to your inbox for FREE! Sign up here for the HoweStreet.com Weekly Recap.