May 30, 2019 | U.S. Interest Rates Coming Down. Will it Stop Recession?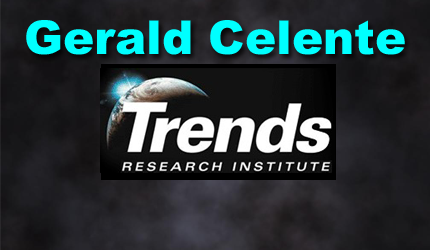 Gerald Celente, who developed the Globalnomic® methodology to identify, track, forecast and manage trends, is a political atheist. Unencumbered by political dogma, rigid ideology or conventional wisdom, Celente, whose motto is "think for yourself," observes and analyzes the current events forming future trends for what they are — not for the way he wants them to be. And while Celente holds a U.S. passport, he considers himself a citizen of the world.
KINGSTON, NY, 30 MAY 2019—In our 27 March Trend Alert we forecast that a global economic slowdown and weakening corporate earnings in the U.S., coupled with the fading positive effects of President Donald Trump's tax bill, would compel the U.S. Federal Reserve "to lower interest rates before economic conditions markedly deteriorate."
The global and national economies are deteriorating. From Emerging markets to developed nations, equity markets are falling and the great corporate stock buy-back trend that dramatically boosted the U.S. stock markets is now slowing as corporations are buying back less of their stocks.
As evidenced by recent data, U.S. durable goods orders and capital spending have declined. A recent IHS Markit survey revealed a "notable slowdown" in the services sector while manufacturing fell to a 9-year low in May.
On the retail front, sales dropped for the second time in three months, sliding 0.2 percent from the previous month in April. On the home buying front, despite mortgage rates declining, existing home sales posted their 14th straight month of annual declines in April.
And now, with the 10-year Treasury note yield falling to 2.26 on Wednesday while the 3-month bill yielded 2.36 percent, the yield curve inversion is seen as a warning sign by Wall Street of recession on the horizon considering that an inverted yield curve preceded every recession since 1975.
FOLLOW THE TRENDS: NO RECESSION, YET!
We have forecast that markets and corporate earnings have peaked and more tepid growth could be expected through 2019. However, minus wild card events such as spiking oil prices, war, terror strikes, etc., no recession will hit the U.S. until later in 2020.
With the Presidential Reality Show® revving up, the Trump administration will increase pressure on the Federal Reserve to cut rates, which will boost economic activity and markets in the short-term.
TREND FORECAST: Beyond rate cuts, we forecast Trump will also push the Federal Reserve for more quantitative easing measure. And, world economies are also under pressure to pump more liquidity into their slumping economies and financial systems.
The Trends Journal continues to stress that more artificially induced stimulus measures will further inflate the $250 trillion global debt bubble, leaving economies more vulnerable to severe downturns that will crash markets and economies.
How severe is the current market turmoil? Watch gold, the safe-haven asset. Stuck in the high $1,200 per ounce trading range, it is not signaling danger ahead. When gold spikes above $1,450 per ounce it will signal true market fears.
STAY INFORMED! Receive our Weekly Recap of thought provoking articles, podcasts, and radio delivered to your inbox for FREE! Sign up here for the HoweStreet.com Weekly Recap.