May 25, 2019 | Trading Desk Notes – May 25th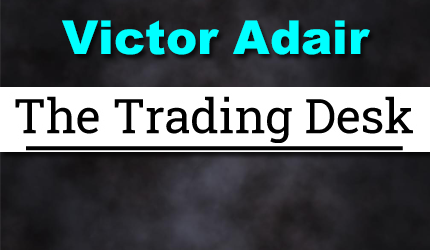 Victor Adair, author of The Trading Desk Notes, began trading penny mining shares while attending the University of Victoria in 1970. He worked in the mining business in Canada and the Western United States for the next several years and also founded a precious metals trading company in 1974. He became a commodity broker in 1977 and a stock broker in 1978. Between 1977 and his retirement from the brokerage business in 2020 Victor held a number of trading, analytical and senior management roles in Canada and the USA. Victor started writing market analysis in the late 1970's and became a widely followed currency analyst in 1983. He started doing frequent media interviews in the early 1980's and started speaking at financial conferences in the 1990's. He actively trades his own accounts from The Trading Desk on Vancouver Island. His personal website is www.VictorAdair.ca.
Global financial markets were driven more by fear than by greed this week…but there was no real panic…well maybe a little in the energy markets…with WTI tumbling ~13% in 3 days…but the S+P 500 Index is only down ~5% from its May 1st ATH and is still up ~20% from its December lows. Equity trading volumes have been normal and implied volatility has fallen back to ~14% from the 18% spike high made 3 weeks ago. The Treasury market has extended the rally that began last November with the US 10 year yield now at an 18 month low of 2.3% while the German bund is yielding a minus 12bps. The Australian 10 year hit a record low yield of 1.52% with the market expecting rate cuts from the RBA.
The "Game Changer" in terms of sentiment has come from market's assessment of the China/USA relationship. Before Trump announced major tariff increases on Chinese imports the market assumed the trade talks were going along "ok"…both sides would see the benefit in getting a deal done. Since then both sides have become more belligerent…Huawei has become an issue…and headlines have gone "trade talks" to "trade war" to "cold war." (Google "Thucydides's Trap" for a perspective on cold war.)
Investors also began to believe the "slowing global growth" idea…which meant stocks were offered and bonds were bid. The yield curve inverted. The December 2019 Eurodollar (interest rate) contract is now a full 1% higher than where it was in November when the market was pricing 2 x 25bps increases from the Fed…it's now pricing 2 x 25bps cuts from the Fed.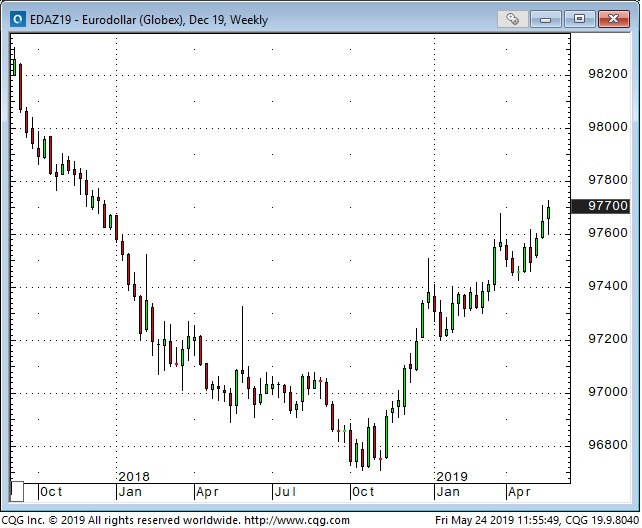 The US Dollar Index (USDX) briefly hit a 2 year high mid-week and then dropped sharply. The much broader US Dollar trade weighted index came close to a 25+ year high and then reversed. It was very interesting to see that nearly all currencies turned higher against the USD late in the week. The Chinese CNH had been falling like a stone for 3 weeks but rallied back to its best in a week. The Norwegian Krone and the Russian Ruble both rallied despite the hard break in energy prices. The Euro spiked to a 2 year low against the USD on Thursday but reversed hard ahead of the EU parliamentary elections due to wrap up this weekend. I see the elections as a litmus test…how popular are the populists? If they have a stronger than expected showing that probably means a weaker Euro…if they don't get a lot of votes the O/S Euro may rally.
Speculators recently built their net USD bullish positioning in the futures market to a 4 year high…perhaps the USD is simply vulnerable to a correction.
Gold hit a 5 month low at the beginning of May as the S+P hit ATH but then rallied $40 as the S+P and the USDX tumbled into mid-month lows. Gold fell back $40 as fear diminished and as the dollar rallied. I shorted gold as it rolled over from its mid-month highs but covered that trade when it couldn't sustain a break under $1270.
The energy market got clobbered this week…WTI dropped > $6.50 from its highs creating a Weekly Key Reversal on the charts.  In my May 11th notes I wrote that WTI had its "As good as it gets" moment on April 23 and I was looking for an opportunity to get short. This week's break move so far so fast that I just couldn't find a spot to put on a trade. Sometimes missing a trade hurts worse than losing money on a trade.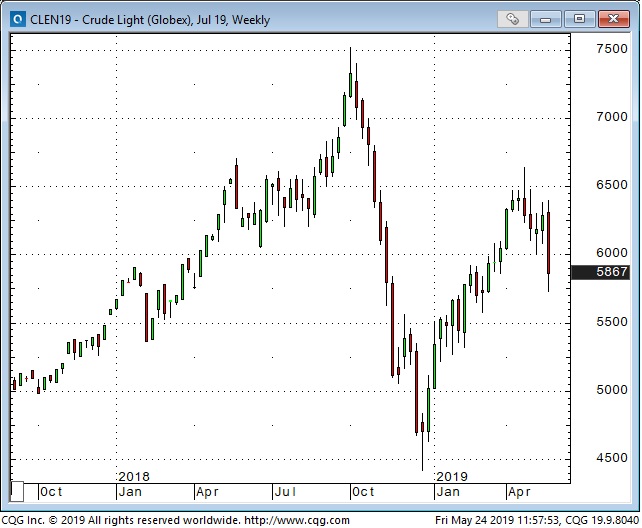 The Canadian Dollar has chopped around mostly inside a ½ cent trading range for the past month. Interest rate spreads Vs. the US have narrowed in Canada's favor (but US 2 year rates are still 50 bps higher)…the market is expecting NO cut from the BoC while expecting the Fed to cut at least once…but WTI has been a drag. Futures market speculators have remained net short CAD for the past year. If the USD starts to fall against other currencies CAD could rally.
Prices on Friday's close are always important…perhaps the most important price of the week as they are the prices traders are willing to "live with" over the weekend. Given we're headed into the 3 day Memorial Day weekend…and given all the "surprises" we've seen the past few weekends…this Friday's closing  prices will be very important.
My short term trading: I took profits on my short gold and short Yen early in the week…I bought a  "basket" of currencies…EUR, CHF, AUD and YEN on Thursday looking for those currencies to pop against the USD. I've got tight stops on the positions.
PI Financial Corp. is a Member of the Canadian Investor Protection Fund. The risk of loss in trading commodity interests can be substantial. You should therefore carefully consider whether such trading is suitable for you in light of your financial condition. In considering whether to trade or the authorize someone else to trade for you, you should be aware of the following. If you purchase a commodity option you may sustain a total loss of the premium and of all transaction costs. If you purchase or sell a commodity futures contract or sell a commodity option or engage in off-exchange foreign currency trading you may sustain a total loss of the initial margin funds or security deposit and any additional fund that you deposit with your broker to establish or maintain your position. You may be called upon by your broker to deposit a substantial amount of additional margin funds, on short notice, in order to maintain your position. If you do not provide the requested funds within the prescribe time, your position may be liquidated at a loss, and you will be liable for any resulting deficit in your account. Under certain market conditions, you may find it difficult to impossible to liquidate a position. This is intended for distribution in those jurisdictions where PI Financial Corp. is registered as an advisor or a dealer in securities and/or futures and options. Any distribution or dissemination of this in any other jurisdiction is strictly prohibited. Past performance is not necessarily indicative of future results  
STAY INFORMED! Receive our Weekly Recap of thought provoking articles, podcasts, and radio delivered to your inbox for FREE! Sign up here for the HoweStreet.com Weekly Recap.