May 11, 2019 | Trading Desk Notes – May 11th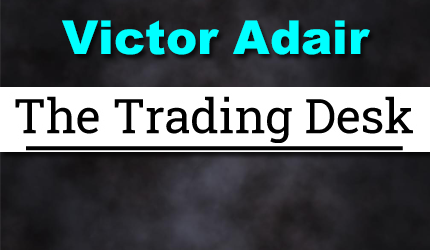 Victor Adair, author of The Trading Desk Notes, began trading penny mining shares while attending the University of Victoria in 1970. He worked in the mining business in Canada and the Western United States for the next several years and also founded a precious metals trading company in 1974. He became a commodity broker in 1977 and a stock broker in 1978. Between 1977 and his retirement from the brokerage business in 2020 Victor held a number of trading, analytical and senior management roles in Canada and the USA. Victor started writing market analysis in the late 1970's and became a widely followed currency analyst in 1983. He started doing frequent media interviews in the early 1980's and started speaking at financial conferences in the 1990's. He actively trades his own accounts from The Trading Desk on Vancouver Island. His personal website is www.VictorAdair.ca.
The S+P 500 stock index fell hard this week…after closing at all-time highs last week…as sentiment about progress on the China/USA trade talks swung from coming-along-ok to total-breakdown. The market was ripe for a hit given bullish sentiment on the major stock indices had at been at extreme levels the past couple of weeks…and immediately after Trump's Sunday afternoon tweets the DJIA futures contract tumbled  ~500 points from last week's highs…and was off as much as 1,200 points at Friday's lows. Stock index option volatility spiked to 4 month highs and inter-day headline driven price action was nasty/choppy.
My bias had been that the rally off the December lows was a bear market rally…notwithstanding the fact that we'd seen a sea-change in Fed policy back in December and that the indices had been WAY oversold at the Christmas lows…so I couldn't bring myself to buy into the bullish story but my risk management override kept me from making any serious bearish bets (I did buy some OTM puts a couple of times, and briefly saw daylight on those trades, but the BTD momentum quickly turned those winners into losers.)
Is this week's price action the bearish inflection point I've been looking for?  It could be…the possibility of a failed trade deal and ramped up belligerence between the USA and China (not to mention Iran and North Korea) seems to be the essence of the fear that knocked prices back from all-time-highs…but…if you closed your mind to the "news" and just looked at the price chart you might say this was just a healthy (20%) correction to the rally we've seen since Christmas. No big deal. I've seen 3 or 4 stiff BTD intra-day rallies this week…and if we get a day with a higher close we could see prices pop as momentum traders think we've seen the lows. If that happens and the indices rally back towards their recent highs…but roll over without making new highs…(making an "M" shaped pattern with the right shoulder lower)…then I'll have better evidence that we've seen a bearish inflection point. If the major indices rally to new all-time-highs…well then it's a bull market, baby, and it will keep going until it stops!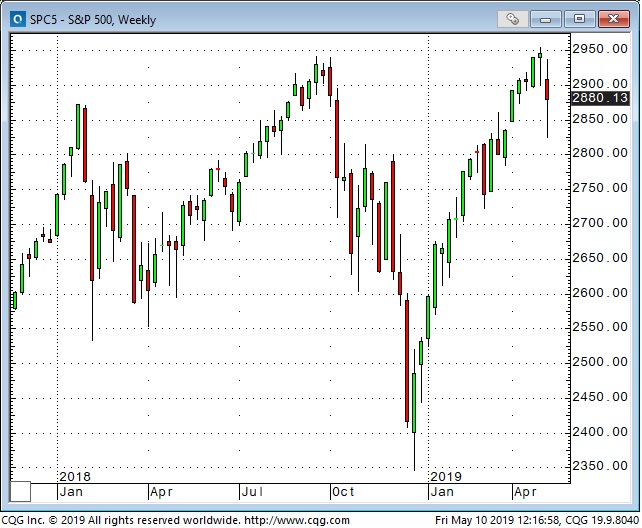 The currency markets had a split personality this week…the Eurozone currencies remained in a choppy narrow range against the USD but in the Asian currency zone the Chinese Renminbi and the Korean Won tumbled…the Yen caught a safe-haven bid and the AUD dipped to new multi-year lows. COT data showed futures market speculators (as of April 30) the most net long USD they have been for over 3 years. (This chart is USDRMB so rising prices show USD rising / Renmimbi falling.)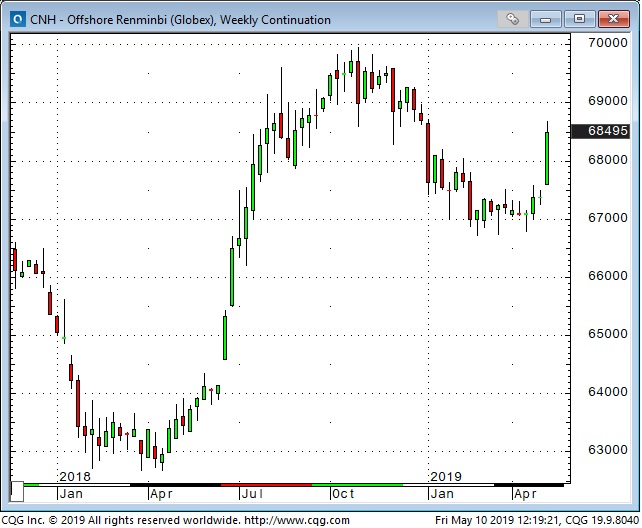 Crude oil prices had their "As Good As it Gets" moment on April 23 when WTI traded above $66 as the US moved to totally block Iranian exports…and Saudi Arabia was reluctant to say that they would increase production to make up for any resulting shortages. Nine days later WTI traded fell to $60 (a 9% drop)…finding support at the March highs.  COT data shows that net buying by futures market speculators (who had thrown in the towel on their bullish bets last fall when WTI prices tumbled from ~$75 to ~$44) has increased by about ¼ Billion barrels the last couple of months…bringing their net bullish bets to ~ ½ Billion barrels. If WTI breaks below the $60 support level and keeps dropping below $58 you can expect these recent buyers to turn sellers.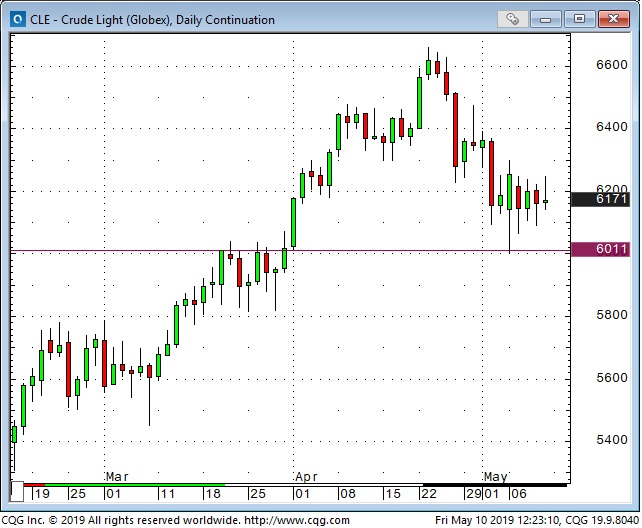 Comex gold hit a YTD low of $1267 last week ($90 below the February highs) but rallied as high as $1293 this week…catching a safe-have bid when the stock indices were tumbling…but gold hasn't been able to close above $1290 in nearly a month…$1290 being the "neckline" of a bearish 4 month Head and Shoulders chart pattern which targets a fall to ~$1225. If gold can convincingly trade up through $1290…trading above $1,300, for instance…the bearish H+S pattern would be broken (as would the 3 month downtrend) and prices could rally. Catalyst? Top of the list would be a weaker USD, but a geo-political flare-up could trigger a rally in both USD and gold.
My short term trading: I started the week flat, after making a little money in April, but struggled to find any new trades that had a decent risk/reward ratio. I looked at short selling OTM stock index puts mid-week when volatility spiked and a huge bearish skew made them amazingly expensive (you have to think that some bullish investors were really paying up for puts for insurance against their book) but I didn't make the trade…I saw too much uncontrollable risk in being naked short puts if the market gapped lower over the weekend. I bot OTM S+P calls Friday as the market rallied back after making new lows for the week…making a modest bet that if the market turns green on the day then it could pop higher next week. My risk management worst case is that the calls can only drop to zero!
PI Financial Corp. is a Member of the Canadian Investor Protection Fund. The risk of loss in trading commodity interests can be substantial. You should therefore carefully consider whether such trading is suitable for you in light of your financial condition. In considering whether to trade or the authorize someone else to trade for you, you should be aware of the following. If you purchase a commodity option you may sustain a total loss of the premium and of all transaction costs. If you purchase or sell a commodity futures contract or sell a commodity option or engage in off-exchange foreign currency trading you may sustain a total loss of the initial margin funds or security deposit and any additional fund that you deposit with your broker to establish or maintain your position. You may be called upon by your broker to deposit a substantial amount of additional margin funds, on short notice, in order to maintain your position. If you do not provide the requested funds within the prescribe time, your position may be liquidated at a loss, and you will be liable for any resulting deficit in your account. Under certain market conditions, you may find it difficult to impossible to liquidate a position. This is intended for distribution in those jurisdictions where PI Financial Corp. is registered as an advisor or a dealer in securities and/or futures and options. Any distribution or dissemination of this in any other jurisdiction is strictly prohibited. Past performance is not necessarily indicative of future results
STAY INFORMED! Receive our Weekly Recap of thought provoking articles, podcasts, and radio delivered to your inbox for FREE! Sign up here for the HoweStreet.com Weekly Recap.