May 9, 2019 | Trade Wars Won't Sink Markets. Cheap Money Will Keep Them Rising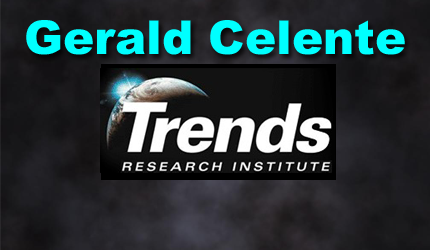 Gerald Celente, who developed the Globalnomic® methodology to identify, track, forecast and manage trends, is a political atheist. Unencumbered by political dogma, rigid ideology or conventional wisdom, Celente, whose motto is "think for yourself," observes and analyzes the current events forming future trends for what they are — not for the way he wants them to be. And while Celente holds a U.S. passport, he considers himself a citizen of the world.
KINGSTON, NY, 9 MAY 2019—It never ends. For over three years, the nearly constant refrain from the business media for equity market pull backs have been "Trade Wars." Rarely, however, have they attributed the record breaking S&P and Nasdaq to trade initiatives because, in fact, it's earnings, stock buy backs and low interest rate/cheap money that keeps the markets rising.
Yes, markets across the globe are falling this week following President Donald Trump's threat to impose 25 percent tariffs on some $200 billion worth of Chinese goods and an additional $325 billion worth of Chinese goods would also be hit with 25 percent tariffs if a deal was not struck.
However, we maintain our August 2018 trend forecast: "A full blown trade war will not occur. We concluded that Trump's imposed tariffs, and threats of escalating them, are characteristic of his 'Art of the Deal' negotiation strategy."
The U.S. economy, the largest in the world, is also the strongest. And considering the size of the overall U.S. trade deficit, which hit a record $621 billion in 2018, we forecast China and other nations will negotiate with the U.S. to even the grossly imbalanced trading field rather than destroy their profit streams.
Further, the media noise that U.S. tariffs are responsible for China's slowing economy is unsubstantiated since the current U.S. tariffs cut only an estimated 0.8 percent from China's Gross Domestic Product last year.
"IT'S THE ECONOMY STUPID"
With the 2020 U.S presidential election campaign revving up, the economy will emerge as a core issue. Indeed, although President Trump's approval rating is at 46 percent (around the same as Obama had at this point during his presidency) his rating on his handling of the economy has hit a new high at 56 percent. Thus, since winning another term is a Trump priority, just as the administration may have pressured the U.S. Federal Reserve to hit the pause button on interest rate hikes for 2019, which triggered equity market spikes… as evidenced by current administration pressure to lower rates at least 50 basis points, we forecast should equities dramatically decline, the Fed will lower rates even more.
And on the trade war front, which will also be a 2020 campaign issue, Democratic Presidential Reality Show candidate Bernie Sanders is calling for even tougher trade policies, denouncing Trump "to keep your campaign promises," and "Go back to the drawing board on NAFTA … the treaty that Trump re-negotiated with Mexico will still allow companies like General Motors to send our jobs to Mexico."
TREND FORECAST: Remember "The Golden Rule." If trade wars were likely to significantly impact the global economy, the price of gold, the ultimate safe-haven asset, would be rising. Instead, gold has been trading essentially flat slightly above $1,280.
Thus, we maintain our forecast that gold's downside is $1,200 per ounce, which has proven accurate, and that gold would have to break above $1,450 per ounce to leap back to the $2,000 range it neared in 2011.
STAY INFORMED! Receive our Weekly Recap of thought provoking articles, podcasts, and radio delivered to your inbox for FREE! Sign up here for the HoweStreet.com Weekly Recap.