May 3, 2019 | Time and Money: Two 'concepts' which we can Eliminate!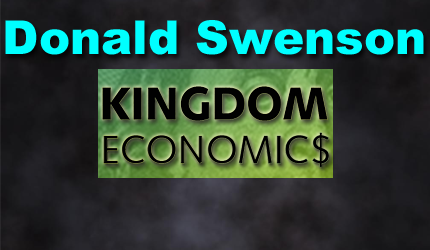 Donald B. Swenson: Born January 24, 1943, Roseau, Minnesota. Graduated H.S. 1961, Moorhead High, Minnesota. Graduated College 1968, Moorhead State University, Minnesota. Designated member of Appraisal Institute (MAI), 1974. Employed with Western Life Insurance Company, 1968 – 71; Iowa Securities Company, 1971 – 73; American Appraisal Company, 1974 – 81. Part-time teacher/valuation consultant/bartender, 1979 – 2008 (taught workshops at Waukesha County Technical Institute, Wi. and Madison Area Technical College, Wi.). Retired 2008 (part time teacher/blogger), AZ. Self educated economist/philosopher/theologian: http://kingdomecon.wordpress.com.
Today, at the clubhouse, my two philosopher friends and I talked about two concepts which have lost their meaning and which we can eliminate from our real-time reality going forward. The two concepts are TIME and MONEY. Let's think about these two concepts and try to comprehend why they can be eliminated from our real-time view of reality. It could happen within my lifetime! It could happen within the next 10 years. Think on this idea!
TIME:  what is 'time' in reality? My philosopher friends agree with me that 'time' is an imaginary concept of the mind which has no concrete existence (or relevance) for living our life. In reality, I and you experience reality as 'successive moments of NOW'. The NOW moment (and successive moments of Now) is how we all live our lives. Time does not exist as a 'thing' within our universe. Where is it? TIME is not motion. TIME is not a 'thing'. Time is an 'invented' concept which helps bring 'order' to our experiences. But TIME does not exist as a reality (outside the mind). TIME is inner and within our mental self. Our experiences are lived as 'successive moments of Now' (always). TIME could be viewed as irrelevant. It has no meaning for living our lives. Let's redefine this concept as a NOW experience. Living in the NOW reveals what is real and what is relevant for living. I live in the Now continually and always. You do the same. Think on this concept as you experience this day. It could be eliminated via education! Our world is now virtual and digital and we are all connected via the internet (in the Now). Let's eliminate this archaic concept called TIME. Replace the concept with this concept called NOW!
MONEY:  the other concept which has changed meaning in recent years is this concept called 'money'. What is 'money' in reality? Where is 'money' in reality? In reality, 'money' is another 'invented' concept. It has changed in meaning these past 6,000 years. Money was 'invented' (originally) to serve a purpose within commerce. It's original purpose was to serve as a reference point for 'value' (value in exchange). Today, this purpose has been removed from our markets. Today, we live with an 'imaginary' number (it's valueless) as our money unit. This imaginary number ($1) has no existence within our universe (outside the mind). This imaginary number ($1) is totally 'within' our inner self (our mental self). Look anywhere or everywhere…where is 'money'. It does not exist as a 'thing'. Money is 'invented' from our mental self and given relevance by select rulers (authorities). Money, today, is virtual/digital. It gets created from the mind of select administrators (called banksters). We could eliminate this concept from our real-time reality with the punch of a computer key (the delete key). Think on this idea. Money could be eliminated and a volunteer society could replace money. Commerce could grow as people contribute to our production (directly). Most power centers, corrupt politicians, drug cartels, criminal enterprises, and all banksters could be eliminated and they could become productive citizens within commerce. Money can be eliminated (globally) as it is not relevant for a 'people' centered society. What should come first within commerce? Should PEOPLE come first? I think so! Money (this archaic historical tool of rulers) can be eliminated from our reality. It's derived from our imagination! Sooner the better IMO.
Give some thought to these TWO concepts of our current system which could be eliminated as irrelevant for our new interconnected world internet system. We now live in a interconnected world of commerce. Smart phones and computers rule over our system. Artificial intelligence can be used to promote 'just-in-time' production. Goods and services can be distributed via volunteers who desire to contribute to the system (in the Now). A volunteer society could create a NEW world of prosperity, freedom, and happiness. THINK on this for a day! Enjoy!
All I (you) have is the NOW moment. Reality should be interpreted in the NOW (always)! We can eliminate concepts which create division and privilege by accepting only concepts which promote the NOW. Money and Time are no longer necessary! They are archaic concepts of our prior system. Think on this!
I am: https://kingdomecon.wordpress.com. Pass this missive on to anyone and everyone!
STAY INFORMED! Receive our Weekly Recap of thought provoking articles, podcasts, and radio delivered to your inbox for FREE! Sign up here for the HoweStreet.com Weekly Recap.