May 15, 2019 | The Prelude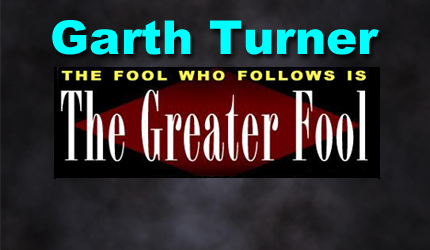 A best-selling Canadian author of 14 books on economic trends, real estate, the financial crisis, personal finance strategies, taxation and politics. Nationally-known speaker and lecturer on macroeconomics, the housing market and investment techniques. He is a licensed Investment Advisor with a fee-based, no-commission Toronto-based practice serving clients across Canada.
Only twice in the last 21 years have house prices failed to rise during an April. One was during the financial crisis of 2009. And one was last month.
On the surface, it's odd. Mortgage rates have plunged again, thanks to a war among desperate, deal-starved lenders. The economy turned out more than a hundred thousand new jobs last month – the best performance…ever. Stock markets and portfolios have roared ahead in 2019, increasing family wealth. And house prices have stabilized or dropped in most major markets, especially BC.
So a spring housing season with this kind of activity means something's afoot. Something significant.
In addition to that Teranet-National Bank finding, there's much more to consider this week.
Capital Economics – always a little extreme but fairly prescient – says Ottawa is seriously underestimating the impact of a national housing slowdown. It will end up stilling construction, it claims, costing jobs. As a result the economists figure the Bank of Canada will chop interest rates twice by the end of 2019. Few others agree. They say one cut within a year is more like it. But, still, that's a big deal since the central bank has obviously failed in its bid to normalize the cost of money.
In BC, quelle mess.
April sale across that sorry, smoky province were down about 19% from 2018, which also kinda sucked. For the year, the decline in deals is 25% but listings have popped up by a third. Classic prelude to price drops. On Wednesday CREA pegged that at about 6% across the province and 9% in Vancouver so far this year. Here's what the realtors' economist had to say:
"Sales activity is stabilizing among Canada's five most active urban housing markets," said Gregory Klump, CREA's Chief Economist. "That list no longer includes Greater Vancouver, which fell out of the top-five list for the first time since the recession and is well into buyers' market territory. Sales there are still trending lower as buyers adjust to a cocktail of housing affordability challenges, reduced access to financing due to the mortgage stress-test and housing policy changes implemented by British Columbia's provincial government."
By the way, did you see this chart from the stat freaks at Zoocasa? Months-of-inventory has exploded higher in the course of the past year. The burbs are hurtin' bad.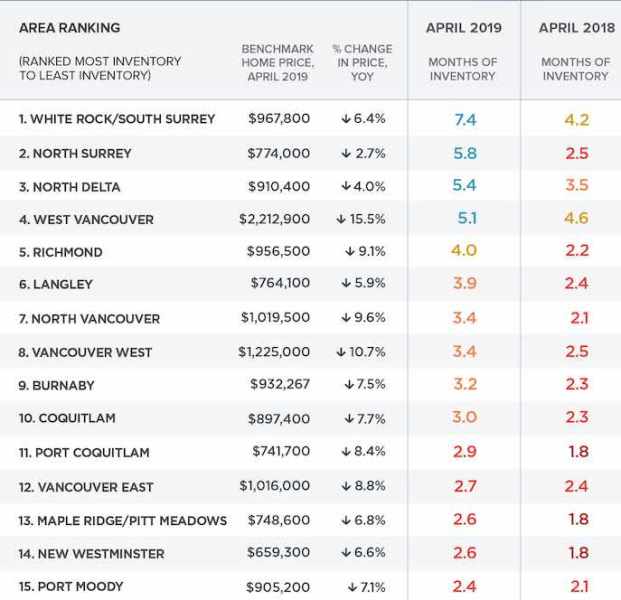 – Zoocasa
In Ontario, sales are also down, but prices have pretty much flatlined after taking a tumble in 2018. Meanwhile (as in BC) offshore buyers have fled along with local speckers as market conditions worsen. The latest provincial stats show foreign buyer levels dropped from about 4.5% to only 1.8% in the GTA. From basically irrelevant, in other words, to completely inconsequential. When history is written, corrected and understood, it will show Canadians created a real estate bubble pricing each other out of decent accommodation and indebting an entire generation. A few savvy offshore guys just went along for the ride. But, for now, denial and ignorance will continue to finger others for our own reckless actions.
So what to make of all this?
Given the lack of momentum and buyer confidence in most (not all) markets this spring, the summer of '19 is likely to be brutal. More inventory, fewer transactions, falling values – despite the cost of money retreating again. If the job creation numbers of April turn out to be illusory, the Bank of Canada could nip rates. But will a quarter point decrease restore vitality to a market now in retreat? Don't count on it. There are better places to put your money.
Finally, there are affordable places to live. There are cities where prices have bottomed, or nearly so. There are communities where people have decent jobs and pay four times their incomes for a property – not twelve times. Where families can trash their debt an build retirement wealth.
In a time when geography's increasingly irrelevant with online, remote employment going mainstream – what's stopping you from seeking a better place? Especially if you're young? Is it not more constructive to move and get what you seek, instead of staying put and cursing circumstance?
Every time this blog talks about the sanity of markets in Halifax, Montreal, Ottawa, Quebec, Windsor, Calgary or Edmonton, the wailing starts. Millions cannot conceive of leaving their psychological womb. And, thus, prices in Toronto or Vancouver will never halve. They will continue to enslave.
A poignant reminder that life is about choices.
STAY INFORMED! Receive our Weekly Recap of thought provoking articles, podcasts, and radio delivered to your inbox for FREE! Sign up here for the HoweStreet.com Weekly Recap.