May 5, 2019 | The Big Shed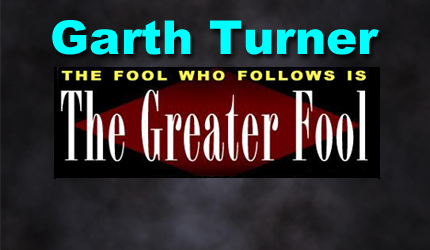 A best-selling Canadian author of 14 books on economic trends, real estate, the financial crisis, personal finance strategies, taxation and politics. Nationally-known speaker and lecturer on macroeconomics, the housing market and investment techniques. He is a licensed Investment Advisor with a fee-based, no-commission Toronto-based practice serving clients across Canada.
Monday afternoon central bank boss Stephen Poloz will deliver a speech titled, "The Future of Canada's Mortgage Market." Big tingles. Will he announce the stress test is being gutted?
Not. A. Chance. In fact the big guy will reinforce why the test is working – cooling off real estate in an orderly fashion (the melt we keep talking about), without a crash. It's exactly what policymakers want. Slowly cheaper houses, falling sales and gaunt, emaciated realtors. Dumping B-20 just when there's a mortgage rate war, Poloz will warn, would do nothing but froth up housing, hurt affordability and lead to more rate hikes to cool it off. So, ain't happening. Election or no election.
As detailed here last week, real estate is losing altitude fast, especially at the top end. Particularly in Vancouver. Prices have toppled 20-30% in the leafy hoods, with some mansions giving up half their value from 2017. The stress test didn't do that, of course. Few moisters are borrowing money to buy $5 million digs. The culprit is taxes, and the message being sent that rich people are no longer welcome in the Socialist Collective of BC.
Of course stiff taxes – on foreign buyers, on people from Alberta or Ontario, on second homes, on part-time homes, on expensive homes, on renovators or speckers – are not enough to satisfy the masses. The eat-the-rich genie is out of the bottle, and BC's NDP government openly encourages people to think housing costs too much because the market's been manipulated by evil 1%ers.
This past weekend a noisy gaggle of protestors took to the streets of Point Grey – home to YVR's priciest mansions – to demand the wealth gap be closed. They honked, tooted, yelled, chanted, waved flags and blocked driveways of the locals. The cops got lost.
"When we look at wealth inequality in B.C., it's out of control," Alex Hemingway of the lefty Canadian Centre for Policy Alternatives told CTV. Here's the rest of the story…
The most expensive home on Belmont is valued at some $65 million. Buying a property like that with a mortgage would mean making monthly payments of around $250,000. That's the price of a modest studio apartment in Vancouver. "At the rate I make, I would probably have to work my entire career to save up that much money, if I'm lucky," said retail worker Steve Nielsen.

The growing wealth has brought with it a dark side: Working people are being pushed further out by the lack of affordable housing while in some cases opulent properties in Vancouver sit empty. And Nielsen said that's costing those people much more than money. "If you're commuting two hours a day, you can't have family life. You can't have civic life. It's enormously destructive and it needs to change. School tax, speculation tax – but we're only scratching the surface of the sheer size of that real estate wealth."
Now, imagine the citizens of Toronto converging on the Bridle Path to protest outside the long, long line of mansions built there. Or SoHo in New York. The Hamptons. Potrero Hill in San Francisco. Outside Bill Gates' house in Seattle.
Nope. In most cities there are enclaves where the well-heeled congregate on big lots, in grand houses, behind gates. Usually those people are entrepreneurs, company owners or founders, corporate executives or occasionally old-money inheritors. Collectively they employ masses of people, pay the mortgages on untold numbers of employee houses, fork over huge property tax and shovel millions into the economy building their castles. In Canada, moreover, the rich get to hand over half their incomes to the government – a tax bill which could be slashed if they moved an hour to the south. In short, these are the kind of people you'd want in your city. They sure seem to in Seattle.
The BC government is busy turning a real estate correction into something more intense. Supporters think prices can be taken down by 50% and there'll be no economic consequences. How naïve.
Of course, the agenda is more about attacking wealth than making housing affordable. The empty houses tax, the so-called speculation tax on second homes and the uber property tax on top-end properties all have one thing in common. They target the rich. And polls show that's perfectly fine with the locals. It's the same sentiment federal super-minister Chrystia Freeland voiced last week – that without more taxes on the successful, we will have a "crummy, crummy society" in which democracy eventually fails.
Will BC be the first province to bring in a wealth tax? Are the federal Libs thinking the same? To date we've primarily taxed what Canadians earn, not what they own. Crossing that bridge would open up a tax creep with the potential to erode pension savings, retirement plans and investment portfolios – as well as the market value of your house.
To the hooters and hollerers in Point Grey, that would be wonderful. Because they don't have any. So they want yours. Like, how's that not fair?
STAY INFORMED! Receive our Weekly Recap of thought provoking articles, podcasts, and radio delivered to your inbox for FREE! Sign up here for the HoweStreet.com Weekly Recap.