May 13, 2019 | Psychological Markets React to Trump Tariff Policies and Tweets!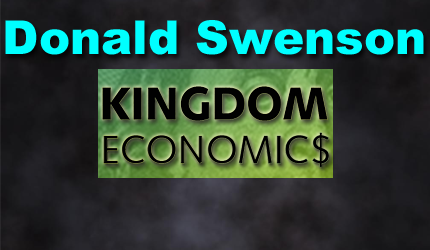 Donald B. Swenson: Born January 24, 1943, Roseau, Minnesota. Graduated H.S. 1961, Moorhead High, Minnesota. Graduated College 1968, Moorhead State University, Minnesota. Designated member of Appraisal Institute (MAI), 1974. Employed with Western Life Insurance Company, 1968 – 71; Iowa Securities Company, 1971 – 73; American Appraisal Company, 1974 – 81. Part-time teacher/valuation consultant/bartender, 1979 – 2008 (taught workshops at Waukesha County Technical Institute, Wi. and Madison Area Technical College, Wi.). Retired 2008 (part time teacher/blogger), AZ. Self educated economist/philosopher/theologian: http://kingdomecon.wordpress.com.
Mr. Trump says that tariffs are paid for by China. But his adviser, Mr. Kudlow, says the opposite. Who pays for the tariffs on China's products? I would suggest that the company importing Chinese goods will pay the tariff and then this increase will likely be passed on to the consumer. So who pays? Ultimately it is the American consumer who will pay a higher price for these Chinese products.
China will get hurt as their exports will likely drop. They might play with their yuan/dollar currency ratio to off-set some of their loss in exports. We could see the yuan getting weaker. As I write the ratio is 6.8793 (this is weaker than last week). So China is already playing the FX game to off-set the tariffs with the USA. Our virtual currencies are the real problem as these units can be manipulated daily by our central banks.
We could witness the yuan/dollar ratio going over 7.0 in a few weeks. China can play the FX game as Mr. Trump plays the tariff game. The monetary system is now so corrupt that nothing can fix it without a complete Reset of the system. This is coming at some point down the road. As I write the Dow Index is down over 500 points. Will Mr. Trump create a tweet to bring this market up? I would think that he will at some point.
Watch the tweets of Mr. Trump as these words do create immediate changes in our psychological/virtual index markets. Since our markets are now virtual/digital this means that words from any key authority will affect these markets. Our markets are inner and totally psychological. Our dollar is 'tied' to mere inner words which are derived from one's consciousness. This is totally unsound and promotes unnecessary volatility.
Ask yourself this question? What is a virtual/digital currency unit (such as the dollar)? What is it (in reality)? Where does it come from? Is it a 'thing' which exists within our material world of nature? If not, what is it? I would suggest that a virtual money unit ($1.00) is a unit of my mind (also called my consciousness). Can this type of unit offer any stability within our trading system? Personally, I don't think so!
Our problem today is our virtual money units. These units derive from our consciousness and this means they are units of our 'imagination' (nothing). They get 'typed' into the computer screen and then circulate as our legal tender. But, in reality, these units are nothing but pure imagination (numbers/math/symbols/mental abstractions). They can not work to stabilize prices or values. Impossible!
We need a Reset of the entire international monetary system. Those who desire money going forward need to stabilized the currency units by 'tying' each unit to some 'thing' which exists (like silver or gold). The dollar needs to be 'defined' in terms of silver or gold and then made convertible at the discretion of the holder. Without this 'tie' of a virtual unit to some 'thing' we have no stability (mere inner/subjective manipulation). Give this idea some thought at your leisure. Have a great day!
Tweets affect our virtual/psychological markets! Watch for some positive words coming from the Donald to pump-up our virtual/digital markets. I am: https://kingdomecon.wordpress.com.
STAY INFORMED! Receive our Weekly Recap of thought provoking articles, podcasts, and radio delivered to your inbox for FREE! Sign up here for the HoweStreet.com Weekly Recap.