May 21, 2019 | Is China Suppressing/Manipulating the Gold Price?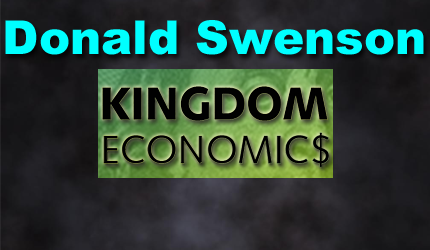 Donald B. Swenson: Born January 24, 1943, Roseau, Minnesota. Graduated H.S. 1961, Moorhead High, Minnesota. Graduated College 1968, Moorhead State University, Minnesota. Designated member of Appraisal Institute (MAI), 1974. Employed with Western Life Insurance Company, 1968 – 71; Iowa Securities Company, 1971 – 73; American Appraisal Company, 1974 – 81. Part-time teacher/valuation consultant/bartender, 1979 – 2008 (taught workshops at Waukesha County Technical Institute, Wi. and Madison Area Technical College, Wi.). Retired 2008 (part time teacher/blogger), AZ. Self educated economist/philosopher/theologian: http://kingdomecon.wordpress.com.
https://www.realvision.com/tv/shows/gold/videos/the-gold-manipulation-question
Check out the above link which covers the issue of Gold Manipulation and Suppression.
James Rickards says that China may be manipulating the gold price. This seems somewhat plausible as China is a huge buyer of gold. Rickards says that China may want to suppress the price as they desire to increase their supply to match the USA. Reportedly, the USA has over 8,000 tons of gold. The Daily Reckoning says that China may now have 7,000 tons or more.
"By my calculations China could be sitting on more than 7,000 tonnes of gold, today. A lot of which comes from "stealthy" acquisitions that the mainstream won't dare talk about: stealthy exporting, potential nationalization of the citizens gold, and gold transfers from mining buyouts, just to name a few."
The above link gives you a comprehensive overview of what experts think on this issue of price suppression/manipulation. My view is that the likely culprit is this entity called the Exchange Stabilization Fund. The ESF comes under the authority of the U.S. Treasury and this fund could be suppressing the gold and silver price so as to create confidence in the fake 'virtual/digital' dollar (now floating with no tie to gold). I have written on this issue before.
As I write, the spot gold price is $1284.50 and the spot silver price is $14.89. Silver miners are hurting today as their 'all-in-sustaining-costs' (AISC) are in the neighborhood of $17 to $21/ounce. This means that most silver producers are losing big time as they mine their product and sell it for less than $15/ounce. My favorite silver miners are all losing money and the stock prices are down some 70% in the past five years.
Endeavor Silver, Impact Silver, Great Panther Silver, Fortuna Silver, and First Majestic Silver have dropped some 70% in recent years (the stock price). All this is because there is no real free market in the precious metals commodities today. Experts blame the Comex, the Bullion banks, the Fed, the Exchange Stabilization Fund, and now China. Personally, my portfolio of silver/gold miners is also down some 70% since 2013. Why all this suppression and manipulation? Do we still have Capitalism?
My sense is that our Treasury Department has a policy to suppress these prices. Dr. Paul Craig Roberts (a Reagan administration policymaker) educated me on this idea back in 2012. James Rickards, however, is also an expert on these types of issues and his view that China could be suppressing these prices may have some credibility. China is buying gold to increase their stock and this could provide them with an incentive to buy via a price suppression scheme. Their ethics have never been at a high level IMO.
Today, trading in futures can be done with a programmed 'algorithm'. I could design an 'algorithm' to trade futures contracts on an electronic exchange so that the price is suppressed continually. My 'algorithm' could also bracket the price so that supply/demand has no impact on these prices. My sense is that this is precisely what is being done. An 'algorithm' is controlling the silver/gold price on our 24/7 electronic futures markets. This is my view on the matter.
We now can trade all our markets 24/7 and from any venue on our planet. So anyone with a high frequency trading computer could be behind the price suppression scheme. Someone from China could act to suppress these prices and also someone at the ESF in Washington D.C. could also act to suppress and manipulate these prices. Our trading currency today is a digit within our computer screen. So price manipulation (of nearly any product or commodity) could be manipulated and/or suppressed.
There seems to be a growing body of pundits which are now thinking that these precious metals prices are being suppressed/manipulated. I follow this website on a regular basis for new information on this issue:
Check out the above link which also gives us the views of many experts. We live in a world of central planning where select elites desire to manage prices so as to promote their global agenda. Will the markets eventually prevail on all this? My sense is that our markets will prevail at some point. But we first need the stock markets to crash so that attention is given to all these corrupt practices. Think for yourself. Have a good day!
STAY INFORMED! Receive our Weekly Recap of thought provoking articles, podcasts, and radio delivered to your inbox for FREE! Sign up here for the HoweStreet.com Weekly Recap.