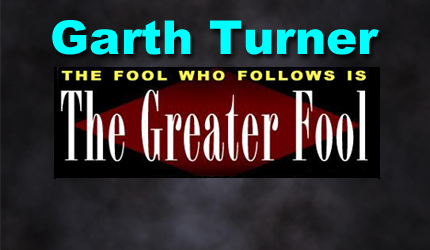 A best-selling Canadian author of 14 books on economic trends, real estate, the financial crisis, personal finance strategies, taxation and politics. Nationally-known speaker and lecturer on macroeconomics, the housing market and investment techniques. He is a licensed Investment Advisor with a fee-based, no-commission Toronto-based practice serving clients across Canada.
Let's hope you didn't buy Uber stock. The app-on-wheels filed an IPO last week suckering in lots of investors at $45 a pop. Now that they've shed 15% of their money in a few days, many are bailing.
Uber, of course, is a complete pooch. Losing gobs of money. Gong show management team. And a business model based on an unproven technology – driverless cars. On what planet is this outfit worth $100 billion?
Just another example of why it's always a gamble buying individual equities. Especially initial public offerings. And specifically tech stuff. Us old salts have seen this before, in technicolour, as investors paid a huge premium to own dot-com companies with no profits and cool CEOs on skateboards. In the end, when the '90s tech bubble burst, the average Internet stock lost 80% of its value. Sure, the whole world is online now. But companies that make no money are usually no place to put yours.
Uber picked a sorry moment to launch, too. Trump saw to that. The American president ramped up his trade war with China last week increasing tariffs on $200 billion worth of goods in the middle of trade talks, begging for retaliation. That came Monday. And so it escalates.
Financial markets had been pricing in a new US-China trade deal. And for good reason. The tariff war ain't helping the US one bit. Manufacturing costs are up. Farmers are whacked. Washington's spending billions in compensation. The Trump war is a destructive, costly exercise based on the flawed premise that America has to 'win' at international trade and that walls work. They don't. Mr. Market knows that. More tariffs mean less profits. Down she goes. Six hundred points on the Dow.
But investors also bet Trump wanted a China deal badly doing into the 2020 election cycle. It would be a significant feather in his orange mop, and ignite further market gains. Since the president uses the Dow as a proxy for his achievements, it was assumed he would negotiate a deal, not blow it up.
Well, word is the Chinese think they're winning now. When Trump whined about the Fed and said he wanted more stimulus and a rate cut, that was taken as a sign the American economy needs gas to avoid a recession. Then North Korea fired a missile, proving the US had no influence on Kim. Iran is a big, ugly, dangerous distraction. Pompeo and Bolton look like two nutjobs in search of a war. So, Beijing figures, recession and turmoil might be closer than anticipated in the States. Why give in to the bully?
As you could tell from what happened Monday, investors hate this. Stocks went down hard. Bond prices shot up. Yields fell. FAANG stocks tumbled. Uber was run over. Investors with balanced and diversified portfolios were not immune, but certainly beat the market. In terms of worst-day-ever performance, Monday was not in the Top 20. Not even close.
Is it another buying opportunity, like last Christmas when the steerage section of this pathetic blog was awash in tears and blood? Maybe. Perhaps not. The best possible strategy is just to ignore it all, stay invested and understand this is more noise. Economies will ebb and flow. Rates rise and fall. Markets gyrate. Politicians come and go. It takes courage and experience to understand what happens on one day, in a single month or over the course of a year hardly matters a whit in the sweep of a lifetime. Invest when you have money, stay invested and use the tools you've been given – like a tax-free investment account, retirement vehicles and huge tax breaks on investment income or interest deductibility. No matter what you read here, nor the advice from advisors trying to scare you into their arms, remember the 10 rules.
Never sell into a storm.
Ditch your emotions.
Be disciplined. Stick to a plan.
Don't time the market.
Never chase returns.
Use tax shelters.
Start early. Never stop.
Invest, don't gamble. No speculation.
Be balanced and diversified.
And don't be a cowboy.
A rational conclusion is Trump will end this. The biggest reason to vote for the guy next year is the economy. MAGA. Jobs. Wages. Opportunity. Not recession, unemployment and loss. So, relax. Have a beer. Hire an Uber. Big tip.
STAY INFORMED! Receive our Weekly Recap of thought provoking articles, podcasts, and radio delivered to your inbox for FREE! Sign up here for the HoweStreet.com Weekly Recap.