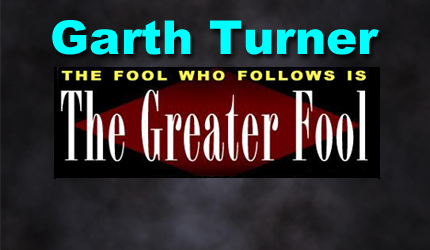 A best-selling Canadian author of 14 books on economic trends, real estate, the financial crisis, personal finance strategies, taxation and politics. Nationally-known speaker and lecturer on macroeconomics, the housing market and investment techniques. He is a licensed Investment Advisor with a fee-based, no-commission Toronto-based practice serving clients across Canada.
After roughly one dog's age (ten years) of writing this pathetic blog, two things have clarified. (a) The real estate market is broken, and (b) we're cusping on a political crisis – because of housing.
Look at recent events. The Greens, all leafy and osmotic, just won a federal by-election. The Tory vote stayed the same. Libs and Dippers were tilled into fertilizer. Yes, it was in BC, which is one strange place on the best of days, but this election result is seismic. Like the one in PEI – all red before the recent vote which installed a Con-Green rabble in power. Now the Conservatives nationally are seven points ahead of the Trudeau guys. It's possible a majority Liberal government will be a one-term wonder – extraordinary in Canadian history. But it's also possible Liz May's none-of-the-above movement will see an unprecedented surge. People want change. They have no idea where else to get it.
In Canada real estate is intimately associated with the growing wealth divide, which means it's political. Check out the comment section most days. The fact average people in major cities cannot afford average houses has created chasms – between owners and renters, moisters and GenXers, Boomer and everybody else. As oft repeated here, governments just make it worse. In BC they're trying to kill the market with taxes, which will lead to disaster. In Ottawa the latest budget measures subsidize buyers (shared-equity loans, RSP gifts) thereby inflating prices more. Suck & blow.
The biggest divide in the nation is debt. Wealthy people, high-income dudes and 1%ers don't have much. The other 99% are apparently drowning in it. Mortgages account for two-thirds of the $2+ trillion in household borrowing. Every month we take on more, rather than pay it off. The pile grows, now iced with hundreds of billions in home-equity loans. A quarter of those debtors pay nothing monthly. Are we loan addicts, or is this just a way of enslaving folks?
What's the solution?
The Bank of Canada's boss, Stephen Poloz, came out with one a few days ago – longer mortgages. Like, really long. Decades.
As you know, 30-year mortgages have been a fixture in the US, but so has been the ability to deduct mortgage interest from taxable income. Borrowers can refinance whenever rates fall, dropping their payments, but are protected during times of increases. The situation in Canada is different, since the Interest Act makes all mortgages open after five years. Lenders' costs fluctuate, since they use five-year GICs to finance fixed-rate mortgages, and are heavily influenced by the five-year government bond yield.
Meanwhile the average time people have a mortgage before they move or renegotiate is less than four years. So the penalty to break a ten or 20-year mortgage would be prohibitive. Plus, longer loans cost more, and given the fact we're already picked in debt, would many people opt for a higher rate now in return for more certainty in a decade or two?
Nah. Unlikely. The idea of a 'forever house' is largely kaput. That's why almost nobody opts for existing 10-year terms, though the rate premium over five-year loans is slim. So unless there's a real carrot in here somewhere – like exempting people from the stress test if they agree to a mortgage lasting their entire adulthood – fugedaboutit. Besides, is diddling with debt really the way out of this mess?
That was the idea behind the Trudeau gang's shared-equity mortgage, due to come into effect this autumn. The feds will take on up to 10% of a loan, reducing monthly payments, but also seize a stake in your home equity (and any capital gains). Poloz said last week this is a good idea. He's also in favour of the securitizing private mortgages. You know – the process which helped create the US  financial crisis with mortgage-backed securities, credit default swaps and steaming piles of toxic assets. Great thinking, SP.
If this seems a bit tinged with desperation, well, you get it. Governments of all stripes plus agencies like CMHC, the central bank and the financial regulator, OSFI, are making it up as they go along. There's a patchwork of policies now in place, often working against each other. Meanwhile we have a demographic time bomb in place, with millions of Boomers about to retire with houses they can't afford to discount and an equal number of moisters craving homes they can't afford to buy.
This is a recipe for political change and relative chaos. Count on inexperienced leaders trying to 'fix' this with the blunt instrument of tax. Once the kids get the keys to the Camaro, in other words, everything changes.
I'm sticking with this advice: live quietly among the masses.
STAY INFORMED! Receive our Weekly Recap of thought provoking articles, podcasts, and radio delivered to your inbox for FREE! Sign up here for the HoweStreet.com Weekly Recap.