May 30, 2019 | Capitalism Ended (2008), Agenda 2030 is the Blueprint Now (2016)!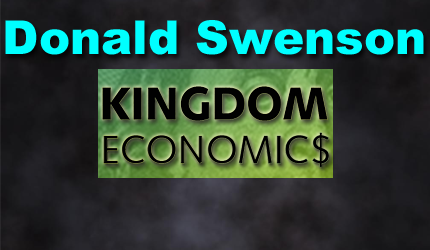 Donald B. Swenson: Born January 24, 1943, Roseau, Minnesota. Graduated H.S. 1961, Moorhead High, Minnesota. Graduated College 1968, Moorhead State University, Minnesota. Designated member of Appraisal Institute (MAI), 1974. Employed with Western Life Insurance Company, 1968 – 71; Iowa Securities Company, 1971 – 73; American Appraisal Company, 1974 – 81. Part-time teacher/valuation consultant/bartender, 1979 – 2008 (taught workshops at Waukesha County Technical Institute, Wi. and Madison Area Technical College, Wi.). Retired 2008 (part time teacher/blogger), AZ. Self educated economist/philosopher/theologian: http://kingdomecon.wordpress.com.
Who is aware of what our world has become since the death of Capitalism in 2008. With the financial crisis of 2008, our system changed from private control of our economy to Central Bankism (control of all economies by our Central Banks). This then evolved into this Agenda 2030 system with the approval of all nations to a series of goals promulgated by our United Nations. You can read all about this new system at the U.N. website.
In September of 2015, our global Pope, Pope Francis, blessed a new agenda for the world. This new agenda was voted upon by the 193 members of the United Nations and it passed as the new system for our world (including the U.S.). It was called Agenda 2030 and this agenda became official on January 1, 2016. Who is aware that the current blueprint for our world is this program called Agenda 2030?
The goals are gradually be implemented by all the 193 countries on our planet. By 2030 the goals will be mostly achieved and global Communism will be the new world system. The mindset of people like Bernie Sanders and Alexandria Ocasio-Cortez (AOC) represent the new thinking which is now prevalent for our global system. These politicians recognize that Capitalism is over and a new system is emerging.
Most Americans do not understand what has transpired since the financial crisis of 2008. They do not perceive the control which our Central Banks have assumed. Most do not understand the virtual money system which we now live with. The virtual money system and a cashless world is part of the Agenda 2030 goals. Every country is adopting this virtual (digital) money system. It is now ubiquitous globally.
Most financial pundits still talk as if Capitalism is prevalent. They do not want to learn about the Agenda 2030 goals and this new virtual/digital world of finance. Few write about this change which occurred on January 1, 2016. Yet the astute thinkers who follow the Deep State agenda recognize that Capitalism is over. Socialism is emerging with the new Agenda 2030 program. Take the time to check out these websites:
Our world is now under Agenda 2030 (a form of emerging Communism) and few comprehend what has happened. Capitalism is totally OVER. The new world of Socialism and Communism is emerging. I don't like this trend, but I notice it emerging daily. Soon we will witness the biggest financial crash of all history. All this will be a foundation for the coming global system of virtual reality and the final implementation of Agenda 2030.
Get yourself educated now as the next election in the USA (2020) will be all about these emerging trends. The BIG BOYS and the Deep State Operators will create this reality for all of us. Our only hope is to be educated and aware of these trends so each person can participate in accepting and/or rejecting this new AGENDA for the world. Capitalism is essentially OVER (were you aware of this)? Have a good day!
Mr. Trump is mostly accepting the Agenda of our Deep State. His economic policies tinker with change but the core of this agenda is being implemented in the U.S. and all of Western society. Money rules and our Central Banks do not come under the control of Mr. Trump or his policies. The Deep State is in control…not Mr. Trump. Think for yourself on this! Capitalism ended with the financial crisis of 2008.
STAY INFORMED! Receive our Weekly Recap of thought provoking articles, podcasts, and radio delivered to your inbox for FREE! Sign up here for the HoweStreet.com Weekly Recap.