May 7, 2019 | 5 Drivers of Big Profits for CBD Investors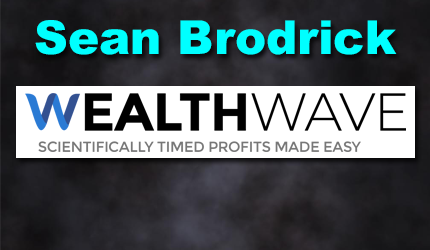 Sean is the natural resource analyst for Weiss Ratings. You can read his thoughts on gold, oil, cannabis, uranium and other natural resources at Wealth-Wave.com
Today's the last day to sign up for our Urgent Cannabis Investor Briefing, which we're holding online tomorrow at 2 PM.
It's free for readers of Wealth Wave.
All it takes is one quick click here.
And man, oh man, the timing is ideal!
Heck, just over the weekend, I volunteered for charity at Sunfest, a West Palm Beach music and arts festival. After my stint helping out a local high school, I wandered through the pop-up shops that populate the middle of the festival. And there was something different about this year's Sunfest. Shops selling CBD products. Three of them. All mobbed!
Two of the shops represented local stores opening up in Palm Beach County. One was a wholesaler looking for more customers. I tell you, nothing hammers home the CBD boom like seeing these shops appear faster than bunnies around Easter.
A merchant at one of the pop-up CBD stores at Sunfest
Will these shops soon be abandoned? Or are they the start of something far bigger … something long term that you can invest in with confidence?
Here are some facts …
First, CBD is derived from hemp and cannabis plants, and has been proven to have health benefits, with many more promised benefits in the pipeline. And unlike THC, CBD does not get you high.
Second, celebrities are lining up to use CBD for whatever ails them. And I'm not just talking stoners like Willie Nelson, or people who got hit in the head a lot like Mike Tyson. Yes, both endorse CBD. No surprise, right? But I'm also talking about  …
Dancer Mandy Moore, who uses CBD on her feet to help with pain caused by high heels.
Actor Morgan Freeman, who uses it to ease fibromyalgia and severe muscle pain.
Golden State Warriors basketball coach Steve Kerr, who uses CBD for chronic pain.
Actor Tom Hanks, who treats anxiety with CBD. He's also teamed up with Cornell University to study how CBD can help those with Type 2 diabetes.
Third, thanks in part to celebrity endorsements, the market for CBD is growing faster than the cannabis market. According to an estimate from analysts at the Brightfield Group, the hemp-CBD market alone could hit $22 billion by 2022.
Fourth, CBD is being seriously researched as a treatment for a wide range of ailments, including  …
Autoimmune diseases (rheumatoid arthritis, lupus and others)
Neurological conditions (Alzheimer's, dementia, Parkinson's, multiple sclerosis, epilepsy, stroke, traumatic brain injury)
Metabolic syndrome (not only diabetes, but also obesity)
Neuropsychiatric illness (autism, ADHD, PTSD)
Gut disorders (colitis, Crohn's disease)
Skin disease (acne, dermatitis, psoriasis)
There are even physicians who are experimenting with CBD in treating some forms of cancer.
Fifth, CBD is just the tip of the iceberg — just one of over 113 cannabinoids found in the cannabis plant. And MANY of them have medical properties. As you can see from the chart below, the known properties of different cannabinoids include everything from pain relief to fighting bacteria to suppressing muscle spasms to more.
So why are we only finding out about these now? Because for decades, scientists were prohibited from studying marijuana and hemp. Now, that's changing.
My take: There is a world of new health products coming down the pike from CBD and other cannabinoids. And there are biotech and pharmaceutical companies that are working furiously now to bring those new drugs and other products to market.
The investing opportunities are extraordinary.
Some of these future profit machines among the stocks included in the ETFMG Alternative Harvest ETF (NYSE: MJ). But for the best ones, you'd need to drill down and find the most innovative and undervalued stocks.
I'll name three exciting stocks in the cannabis and CBD space in our briefing urgent tomorrow at 2 PM Eastern. So, if you haven't done already, be sure to sign up with a single click here.
And remember: TODAY is your last day to do so.
All the best,
Sean
STAY INFORMED! Receive our Weekly Recap of thought provoking articles, podcasts, and radio delivered to your inbox for FREE! Sign up here for the HoweStreet.com Weekly Recap.