May 23, 2019 | 3 Things You Can Do While Gold Snoozes and the Greenback Goes Higher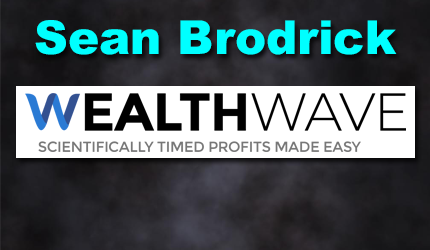 Sean is the natural resource analyst for Weiss Ratings. You can read his thoughts on gold, oil, cannabis, uranium and other natural resources at Wealth-Wave.com
The market is running scared. Trade wars … presidential temper tantrums … trouble in the Middle East. You name it. There is a lot to be scared about. So why isn't gold doing better?
This puzzles me a lot. I thought gold would do a lot better than it is now. But as traders and investors, our first duty is to be honest with ourselves. It's the true path to making bigger gains.
And — for now — it seems gold has ceded its safe-haven status to the greenback.
Let me emphasize, "for now." I think gold will come back. It always does. It's the money you can't print, and governments around the world are racking up debts they can't pay. Those chickens will come home to roost.
But for now? Well, let me show you three charts  …
Here's one I made on my Bloomberg terminal. It shows the recent action in gold and the U.S. dollar.
For most of this year, gold has trended lower, and the U.S. dollar has trended higher. In fact, gold hasn't posted more than three straight daily gains since March. The U.S. Dollar Index, meanwhile, has logged four months of gains.
Even rising odds that the Federal Reserve will ease monetary policy this year haven't been enough to fuel rallies in gold. And the U.S. dollar is going higher in the face of expectations for more rate cuts. That's just not right.
Part of that is that gold is losing appeal among "Mom and Pop" investors. How do we know this? Let me show you another chart I grabbed off Bloomberg …
Holdings in SPDR Gold Shares (GLD), the biggest physical gold ETF, are down about 6% this year. The iShares Gold Trust (IAU), the second biggest, has seen an even bigger outflow.
Traders and investors are scared, all right. But they aren't piling into gold. They're actually SELLING gold and piling into the U.S. dollar. "Cash is king," as the saying goes.
What does this mean for investors in gold, silver and miners?
It means that until things change, the easiest path is down.
You can still make money in metals and miners. Heck, my Supercycle Investor subscribers just banked more than 30% gains on Atlantic Gold (OTC Pink: SPVEF). But that was because the company was gobbled up by another miner. You can't count on that for every company.
Is there any hope for gold? For that answer, we should keep an eye on what money managers are doing. Here's another Bloomberg chart …
This chart shows an interesting fact: Money managers are piling into gold. Bullish bets in the week ended May 14 jumped by the most since 2007.
In fact, money managers have raised their long positions in gold futures and options for three straight weeks. That's according to the latest government data.
So, maybe money managers know something the broad market hasn't realized yet.
And then there are the central banks. Their purchases of gold in the first quarter were the highest in six years! And it continues. China's central bank took in more gold in April since 2016. Russia is a big buyer month after month, too.
These may reflect longer-term trends, though. And as the saying goes, "in the long run, we're all dead." In the shorter term, the gold market is snoozing. I don't know what will waken it.
So, I'm not bullish on gold. For now. If and when I see gold and silver make a significant turn higher, I will let you know. And on the bright side, when the turn does come, there will be bargains everywhere.
In the meantime  …
Hold only the best miners. Those that can ride out lower prices. And definitely hold some miners. You'll want them if the market turns sharply higher in a hurry.
Sell "junk" stocks. Maybe you bought something thinking higher gold prices would make it a winner. Maybe that will happen. But for now … it ain't.
Raise cash. For now, cash is king. And you'll want it on hand for the buying frenzy that will come, when gold reverts to its historical role and heads higher again.
All the best,
Sean
STAY INFORMED! Receive our Weekly Recap of thought provoking articles, podcasts, and radio delivered to your inbox for FREE! Sign up here for the HoweStreet.com Weekly Recap.