April 6, 2019 | Trading Desk Notes – April 6th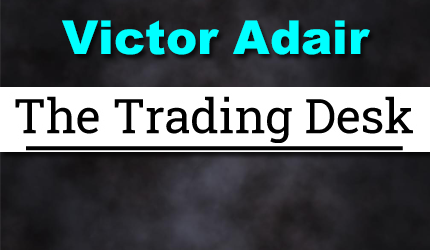 Victor Adair, author of The Trading Desk Notes, began trading penny mining shares while attending the University of Victoria in 1970. He worked in the mining business in Canada and the Western United States for the next several years and also founded a precious metals trading company in 1974. He became a commodity broker in 1977 and a stock broker in 1978. Between 1977 and his retirement from the brokerage business in 2020 Victor held a number of trading, analytical and senior management roles in Canada and the USA. Victor started writing market analysis in the late 1970's and became a widely followed currency analyst in 1983. He started doing frequent media interviews in the early 1980's and started speaking at financial conferences in the 1990's. He actively trades his own accounts from The Trading Desk on Vancouver Island. His personal website is www.VictorAdair.ca.
"Politics" is increasingly on a collision course with Central Banks…and  that may be become the "new" most important driver of world markets.
On July 7/18 I wrote:  Politics has replaced Central Banks as the most important driver of world markets according to Christopher Wood, financial analyst with CLSA, and I agree. It seems that for the last several years it was, "All about the Central Banks," but since Trump's election the markets have been buffeted at least as much by political developments as by Central Bank actions. The recent Italian "existential crisis" is a fine example of politics rattling the markets."
Today we have Trump constantly badgering Fed Chairman Powell, now calling for interest rate cuts and the resumption of QE…and proposing to nominate Stephen Moore and Herman Cain to the Fed board. (Not to mention Larry Kudlow calling for the Fed to cut interest rates by 50 bps.) Is this really a Republican President effectively calling for the Fed to begin monetizing government deficits?  We've come a long way from Fed Chair William Martin declaring that it was the Fed's job "to take away the punch bowl just as the party gets going."
The populist government in Italy is trying to seize control of the Italian Central Bank and its gold reserves…stepping up their confrontation by claiming that the bank is,  "A symbol of a technocratic elite aloof from the needs of ordinary Italians," according to the April 3/19 WSJ.  The 2,450 tonnes of gold at the central bank (currently worth ~USD $100 Billion) is surely a tempting target!
Global stock markets keep ripping higher. The benchmark S+P 500 Index (my bellwether for global risk appetite) had its best Q1 performance in over 20 years and is now only a few percentage points away from All Time Highs. Monetary conditions are easy, FOMO and TINA are the key words while DeMark technical indicators and sentiment measures are at extremes. Implied Volatility keeps falling as stocks rally…currently at one month lows.
I've been amazed at the strength of the rally off the Christmas lows. I bought  S+P puts 2 weeks ago as a limited risk way of betting against the rally. I was briefly money ahead on the trade but closed it out last week for a small loss. This was a classic case of risk management trumping my market calls. No matter "why" I think the market is going down I get out if it goes up.
A veteran Chicago trader told me the other day that, "stocks are bid because there are no alternatives to lower interest rates." He followed that up a few days later with, " The only people buying here are people not using their own capital."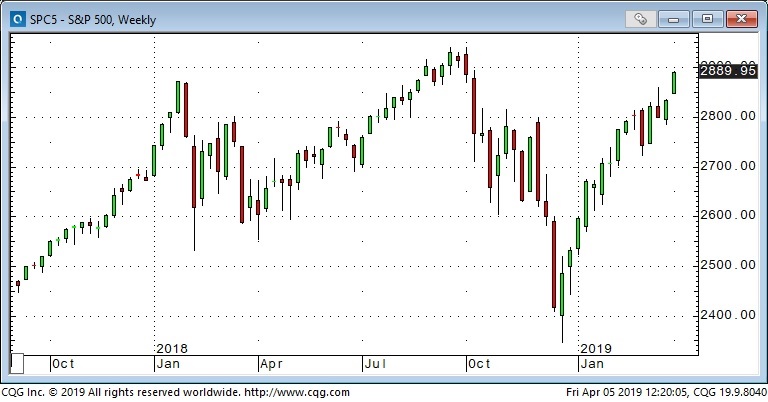 Crude oil keeps moving in sync with the stock market, up again this week with front month WTI above $63, its best level since early November, an increase of ~48% from the December lows.  The market is focused on supply shortages due to OPEC+ production cutback agreements, American sanctions on Venezuela and Iran (and new ones coming on Iran) and now military tensions in Libya.
Two weeks ago I thought WTI might fall along with the stock market ( I thought the crude market might even shift to seeing a global economic slowdown causing a demand shortage!) I never saw daylight on that trade. I came close to closing it out with a tiny loss last week when I cut my S+P put but I didn't…I made the classic mistake of thinking I needed to "give it a little more time."  I closed the trade first thing Monday morning…and was happy to do so!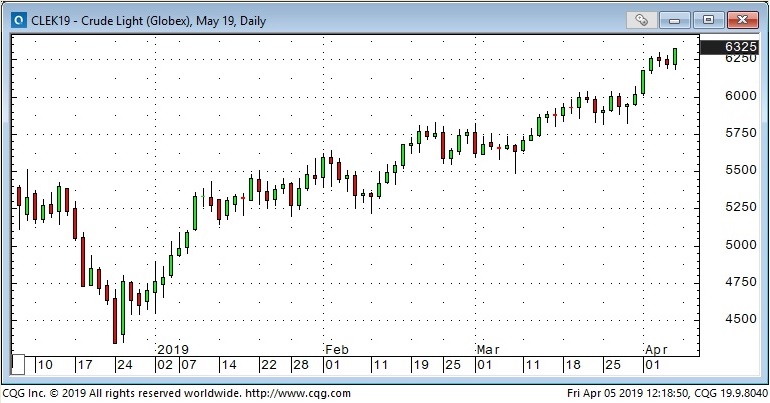 I bought gold puts around the same time I bought the S+P and WTI puts. On March 23/19 I wrote, "But I'm a little skeptical on gold short term…it may also be in the "as good as it gets" category…it broke a 3 month uptrend line at the beginning of March and if it now rolls over and falls below $1280 it could trigger a "head and shoulders" inspired drop to new lows for the year. A rising USD could be the catalyst for gold to roll over."
The USDX rallied and gold fell but I closed the trade this week (with a small profit) as gold found support near previous lows (~$1290 basis Comex June) and as US Dollar bullish sentiment rose to extreme levels. On Thursday's NY opening gold tumbled through this year's previous lows…no doubt taking out a ton of stops. The WSJ story about Italy's populist government looking to seize central bank gold may have inspired the selling but…gold rallied back to close higher on the day…a short term bullish signal…although the potentially bearish 3 month head and shoulders pattern still looms over the market like the proverbial sword of Damocles! The H+S target price for breaking the $1290 neckline would be ~$1225.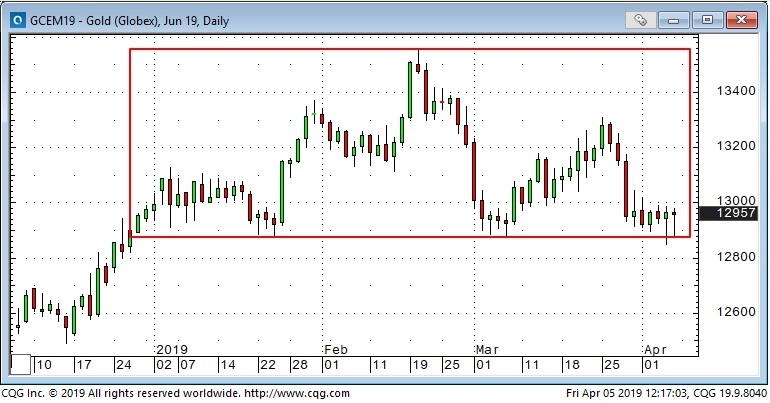 I'm flat at the end of the week and will be travelling for the next 10 days so risk management suggests I stay flat…even though markets feel as though they could "bust loose" at any moment!  Sometimes I think "missing a trade" feels  worse than losing money on a trade!
PI Financial Corp. is a Member of the Canadian Investor Protection Fund. The risk of loss in trading commodity interests can be substantial. You should therefore carefully consider whether such trading is suitable for you in light of your financial condition. In considering whether to trade or the authorize someone else to trade for you, you should be aware of the following. If you purchase a commodity option you may sustain a total loss of the premium and of all transaction costs. If you purchase or sell a commodity futures contract or sell a commodity option or engage in off-exchange foreign currency trading you may sustain a total loss of the initial margin funds or security deposit and any additional fund that you deposit with your broker to establish or maintain your position. You may be called upon by your broker to deposit a substantial amount of additional margin funds, on short notice, in order to maintain your position. If you do not provide the requested funds within the prescribe time, your position may be liquidated at a loss, and you will be liable for any resulting deficit in your account. Under certain market conditions, you may find it difficult to impossible to liquidate a position. This is intended for distribution in those jurisdictions where PI Financial Corp. is registered as an advisor or a dealer in securities and/or futures and options. Any distribution or dissemination of this in any other jurisdiction is strictly prohibited. Past performance is not necessarily indicative of future results
STAY INFORMED! Receive our Weekly Recap of thought provoking articles, podcasts, and radio delivered to your inbox for FREE! Sign up here for the HoweStreet.com Weekly Recap.