April 21, 2019 | Trading Desk Notes – April 20th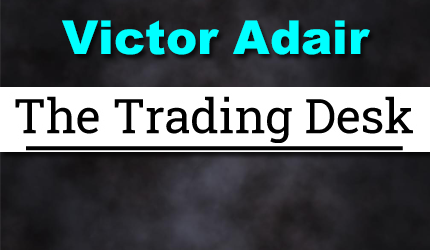 Victor Adair, author of The Trading Desk Notes, began trading penny mining shares while attending the University of Victoria in 1970. He worked in the mining business in Canada and the Western United States for the next several years and also founded a precious metals trading company in 1974. He became a commodity broker in 1977 and a stock broker in 1978. Between 1977 and his retirement from the brokerage business in 2020 Victor held a number of trading, analytical and senior management roles in Canada and the USA. Victor started writing market analysis in the late 1970's and became a widely followed currency analyst in 1983. He started doing frequent media interviews in the early 1980's and started speaking at financial conferences in the 1990's. He actively trades his own accounts from The Trading Desk on Vancouver Island. His personal website is www.VictorAdair.ca.
The US Dollar may be setting up to surge sharply higher.  The US Dollar Index (USDX) has been trending higher for the past year…a breakout above the recent highs around the 98 level could set up a challenge of the 14 year highs around 103 made over 2 years ago. The Swiss Franc closed at a 2 year low this week…perhaps foreshadowing broader US Dollar strength. Currency market volatility is now at a 5 year low as the USDX consolidates on the chart (forms a bullish rising wedge) below the 98 level. Over the years we've often seen explosive moves in the currency markets following periods of ultra-low volatility. US Dollar/Gold may also be foreshadowing US Dollar strength as it hit a 4 month low this week…down $75 from its February highs.
US Dollar bears may argue that being long the USD is a very crowded trade. And it is…so the bears may have a point…but on several occasions over the past decade positioning metrics show that speculators have been much more bullish the USD than they are now…so I wouldn't want to short the USD just because it seems to be "overbought". The bears may also argue that the repeated failure of the USDX to trade above last November's highs is a sign that the "path of least resistance" is down. Again…they may be right…if we see USDX fall below January's lows around 95 over the next month or two I'd have to agree that resistance around 97.5 had "turned the tide" and USDX was likely headed lower.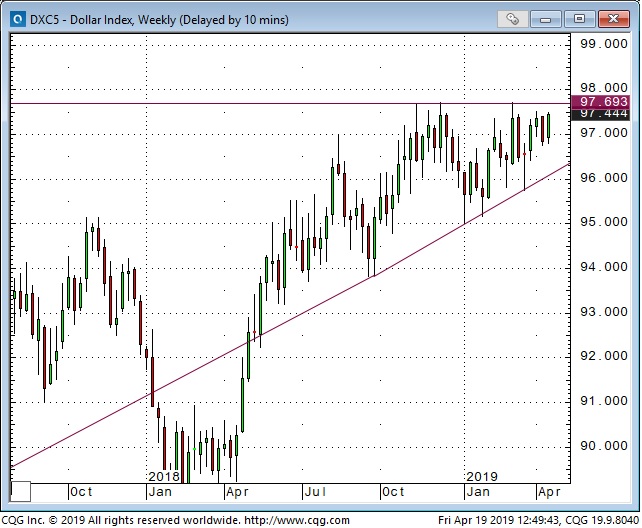 I've traded currencies since the 1970's and many, many times I've seen trends in the currency markets go WAY further than seemed to make any sense…and then turn on a dime and go the other way. So I'm doing 2 things,
1) I will be pre-positioning…taking positions that may benefit IF the US Dollar strengthens and
2) I will be ready to add more positions IF/WHEN the US Dollar starts to surge higher. In either case my risk management strategies will keep my losses small (relative to what I think I can make on the trades) in the event that I'm wrong.
My current positioning: I was traveling in early April and therefore had no positions. I've started to get back into the market and I'm now short gold, short CAD and long US T-Notes. My reasoning in all three markets is a combination of fundamental and technical opinions.
    Short gold – I've previously written about the 4 month bearish head and shoulders chart pattern projecting a target around $1225. A rising USD often pressures gold.
2) Short CAD – one of the biggest factors affecting CAD is the relative strength of the Big Dollar – if it strengthens CAD could fall through this year's lows around 7450 which could set up a test of last year's lows around 73.50. Relative interest rate levels favor the USD and CAD has "underperformed" relative to the advances YTD in crude and stocks. If those markets "roll over" CAD could weaken.
3) Long 10 year US T-Notes – I see the setback in prices over the past month as a buying opportunity…I'm looking for US Treasuries to get a bid relative to other sovereign bonds, in anticipation of slowing economic growth and as investors back away from their recent aggressive "risk on" sentiment.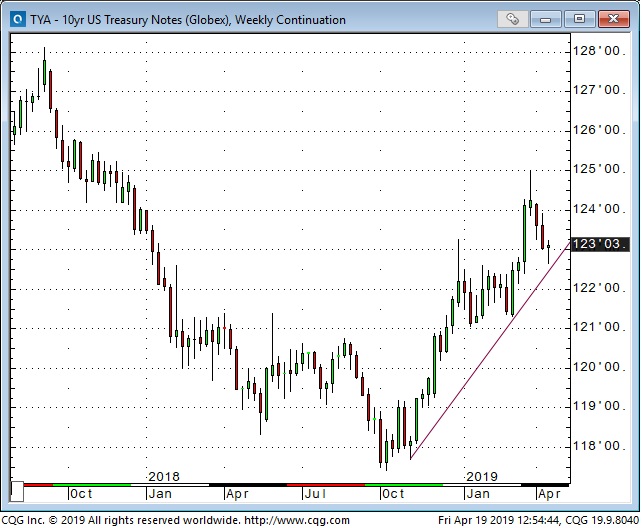 PI Financial Corp. is a Member of the Canadian Investor Protection Fund. The risk of loss in trading commodity interests can be substantial. You should therefore carefully consider whether such trading is suitable for you in light of your financial condition. In considering whether to trade or the authorize someone else to trade for you, you should be aware of the following. If you purchase a commodity option you may sustain a total loss of the premium and of all transaction costs. If you purchase or sell a commodity futures contract or sell a commodity option or engage in off-exchange foreign currency trading you may sustain a total loss of the initial margin funds or security deposit and any additional fund that you deposit with your broker to establish or maintain your position. You may be called upon by your broker to deposit a substantial amount of additional margin funds, on short notice, in order to maintain your position. If you do not provide the requested funds within the prescribe time, your position may be liquidated at a loss, and you will be liable for any resulting deficit in your account. Under certain market conditions, you may find it difficult to impossible to liquidate a position. This is intended for distribution in those jurisdictions where PI Financial Corp. is registered as an advisor or a dealer in securities and/or futures and options. Any distribution or dissemination of this in any other jurisdiction is strictly prohibited. Past performance is not necessarily indicative of future results
STAY INFORMED! Receive our Weekly Recap of thought provoking articles, podcasts, and radio delivered to your inbox for FREE! Sign up here for the HoweStreet.com Weekly Recap.