April 16, 2019 | The Stress Mess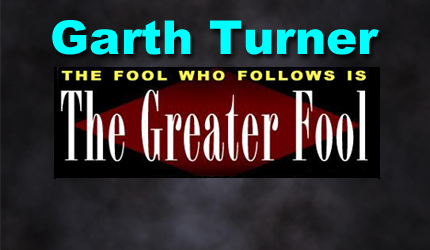 A best-selling Canadian author of 14 books on economic trends, real estate, the financial crisis, personal finance strategies, taxation and politics. Nationally-known speaker and lecturer on macroeconomics, the housing market and investment techniques. He is a licensed Investment Advisor with a fee-based, no-commission Toronto-based practice serving clients across Canada.
Once the smoke clears over Edmonton and Calgary it should be evident to the T2 gang that they're in trouble. Deplorables running Owetario and the oilfields. Four provinces suing over the carbon grab. Jody and Jane refusing to shut up and go away, like proper ladies. Worrisome poll numbers, even out of the Maritmies where every seat went beet red last time. And, of course, a nation of house-horny and unsated moisters. They already got the weed. So why endure more Justin?
Meanwhile the March 19th budget was a bust. Nobody cares about the fatter RRSP  homebuyer limit since the kids don't have seventy grand in their retirement plans. And the shared-equity mortgage, as innovative as it may be, won't start until September. Not soon enough, given a federal election come October.
So, the heat's on the feds to review the stress test. It's now the most fundamental issue for the core Liberal vote. And while B-20 (the technical term for the test) comes under the auspices of the bank regulator, OSFI, it's not immune to political pressure. And that pressure is mounting.
As you know, the industry has been squawking about this for months. Realtors are apoplectic. Get rid of it, TREB says, and bring back 30-year mortgages at the same time. Canada's biggest homebuildier (Mattamy) says Millennials have been punished unduly by the test. "It's time," the company's boss says simply, "for the test to go away."
Now one of the highest-profile bank economists is also dumping on B-20, saying between $13 billion and $15 billion in new mortgages were not taken out by frothy little first-timers as a result of the stress test. This has resulted in a sales decline impacting major markets and directly responsible for a drop in prices (oh, the horror…). BC is ground zero.
"B.C. home sales continue to be adversely impacted by federal mortgage policy," says the voice of the province's newly-unemployed realtors. "The erosion of affordability caused by the B-20 stress test has created near recession-level housing demand despite the province boasting the lowest unemployment rates in a decade."
As you might have heard, things have cratered in Vancouver, where the sales-to-listings ratio for detached homes is in single digits. More tumbles in the Fraser Valley, on the Island, in the Kootenays and up the Okanagan. In the GTA, it's a sea of flatness. Prices are down 20% from the peak and this spring market has been tepid. Given sub-3% mortgage rates plus a hundred thousand new residents a year, this is utterly abnormal. And now CIBC's rockstar economist Benny Tal is lining up with the stress test firing squad.
A new report says B-20 arrived at precisely the wrong moment, when the residential real estate market was buckling under its own inflated weight. The decline in new originations was propelled lower, with Tal figuring at least half the decline was the direct result of the stress test. During 2018 the value of new mortgages issued fell a withering $25 billion from the previous year – which is why you've been reading a lot lately about people thinking they should short the banks. (They shouldn't.)
The biggest impact of the test, adds Tal, has been to boot people out of the market, rather than make them buy a cheaper house. So nationally sales have declined 5%, with most of that happening in BC and the GTA.
Because real estate prices are sticky and vendors would rather wait than sell for a discount, there's a standoff between moisters who can't borrow what they want and owners who won't sell for less. Activity crashes. But values do not. Says CREA's economist: "Local market trends are largely in a holding pattern. While the mortgage stress test has made access to home financing more challenging, the good news is that continuing job growth remains supportive for housing demand and should eventually translate into stronger home sales activity pending a reduction in household indebtedness."
But job growth has now slowed. And households are more indebted than six months ago, not less. Logic dictates the stress test is working – putting the brakes on an inflated, speculative, unhealthy, bloated gasbag of a housing market, eliminating those who can't afford to buy, and eventually restoring affordability. After all, with 20% less credit and $15 billion not being loaned, the thing will eventually shudder to a halt. Houses will be homes, not investment strategies. Families can afford them without lifetime servitude.
But, alas, there's one big, gnarly, fuzzy fly in the ointment. It's called politics. So if Alberta goes all Silverado on us tonight (Jason Kenney says his peeps should be B-20 exempt) the odds of Ottawa caving on the stress test rise.
Someday we'll elect people with a long-term vision, dedicated to the public interest.
In the meantime, duck.
STAY INFORMED! Receive our Weekly Recap of thought provoking articles, podcasts, and radio delivered to your inbox for FREE! Sign up here for the HoweStreet.com Weekly Recap.