April 10, 2019 | The Loser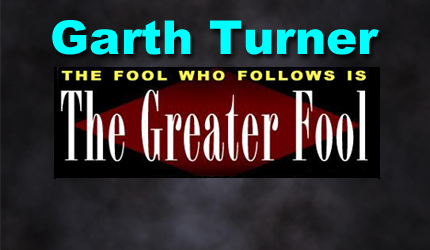 A best-selling Canadian author of 14 books on economic trends, real estate, the financial crisis, personal finance strategies, taxation and politics. Nationally-known speaker and lecturer on macroeconomics, the housing market and investment techniques. He is a licensed Investment Advisor with a fee-based, no-commission Toronto-based practice serving clients across Canada.
Matt's been a real estate agent for four years now. In one of those he sold no houses. Zero. Sadly, that was last year.
"Poverty is supposed to be the thing you try to get through early on," he says, "you kinda expect it then. Not after four years. This is a crisis in my house." You bet. He has yet to pay taxes owing on income from commission made in 2017 which were due on April 30th of last year. The typical realtor habit of financing a prior year's tax obligation from current year's income has been shattered. And the HST owing? "Don't even ask," he says. "I'm not returning phone calls from those guys.."
There are over 53,000 licensed realtors in Toronto. Another 14,000 in Vancouver. And 125,000 across the country. Since 2010 this has been one of the fastest-growing professions, relatively easy to enter and hugely appealing when the market booms. Of course, a real estate agent is 100% compensated by commission, and typically pays monthly overhead just to have a brand, a desk, access to MLS and a business card. So when the well runs dry, buyers retreat and FOMO becomes fear, all is lost.
So, fifty-three thousand agents in the GTA. Last month just over 7,000 sales happened. For the first quarter of 2019 the tally stood at 16,222 – down a little from a disastrous 2018. In fact last year as a whole saw a 16% tumble from 2017 – which was 18.3% lower than 2017. Yikes.
Here are some stats underlining Matt's depression: last year in the country's biggest (by far) housing market 37.7% of all realtors sold nothing. Zip. Another 47.6% did between one and six deals – subsistence income, since commission is typically split four ways – the listing agent and his broker, plus the buyer's agent and hers. So, 85% of agents starved, or worse. The number of achievers – handling 36 or more deals in those 52 weeks, was 0.63%. Talk about income inequality!
(By way of comparison, Metro Chicago has 9.5 million people – 50% larger than Toronto – and supports just 13,500 realtors, or 74% fewer than in the GTA. We are insanely house-horny.)
Of course skilled, smart, motivated, aggressive, well-marketed people excel in every profession, but one in which 85% of players are failing, living below the poverty line, is extraordinary. Eyebrows were hoisted days ago when a high-profile Toronto broker retweeted these words: "I know for a fact, in our small brokerage, a few of our agents – and outside a lot more – they did not pay their taxes, their HST. They have huge problems with CRA because they don't have income. Some are driving Uber because they can't make ends meet."
Well, here's the point: Mr.Market is unhappy, and it appears things are about to get  worse (if possible) for Matt. An RBC survey confirms what this pathetic blog has warned about for ages – people want to buy assets that go up and recoil from those that fall. We're herd animals. We desire what everyone else lusts after. And when others shun something, we do exactly the same – lacking the confidence to make an indie decision.
This recency bias almost always means we pay too much in a rising market, then buy nothing when prices fall. Just look at Vancouver for confirmation. Sales boomed and prices soared three years ago. Now detached houses have lost double-digits and sales are off 40%. People who said they'd pounce on anything that dropped in value have vanished. They'll only return when values reflate and affordability falls.
The bank found 56% of Canadians now believe they should wait until next year to consider buying a property. The main reason (of course) is they anticipate prices will decline further, followed by apprehension about the economy. Thus, human nature is on full display. When prices were rising 30% year/year buyers thought they'd rise forever, and rushed to offer. Now that a detached home in the GTA costs 20% less than in the spring of 2017 buyers think drops are the norm. They wait.
This is made all the more dramatic by cheap interest rates and five-year mortgages going for less than 3%. Ottawa has now responded – as reported yesterday – with a shared-equity mortgage deal and permission for a couple to raid $70,000 from their RRSPs for a house deposit. But it looks like that news was greeted with a giant yawn. Everybody in Matt's office, he says, thinks 2019 will be the year of the cardboard box under the bridge.
Safe to predict by Christmas there'll no longer be 53,544 registered realtors in the Six. To everything there is a season.
STAY INFORMED! Receive our Weekly Recap of thought provoking articles, podcasts, and radio delivered to your inbox for FREE! Sign up here for the HoweStreet.com Weekly Recap.