April 3, 2019 | Pooched Update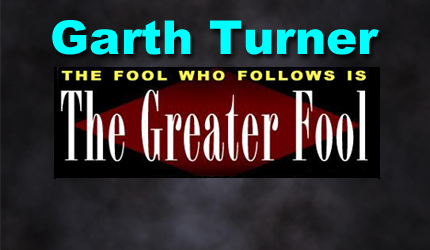 A best-selling Canadian author of 14 books on economic trends, real estate, the financial crisis, personal finance strategies, taxation and politics. Nationally-known speaker and lecturer on macroeconomics, the housing market and investment techniques. He is a licensed Investment Advisor with a fee-based, no-commission Toronto-based practice serving clients across Canada.
The scene of a recent armed abduction of some Chinese dude from a swishy condo parking garage, Markham currently has about 100 houses for sale priced at over $2 million. These two things probably have nothing to do with each other, but it just goes to show you what an altered and entertaining place it can be. Forever a sleepy burb on the far fringes of the Big Smoke, this is now an inner-905 mini-city which developers have done their best to pave over with McMansions.
So, here's the news (besides the abduction – they caught the guys). Last month two houses sold for more than two million, leaving the other ninety-odd languishing on the market. So if you're one of the sellers, you could be waiting ten years for a buyer to come along. This is a stark reminder that the mighty GTA real estate market is every bit as wobbly, unstable and corrupted as that of Van and the LM.
Things are grim in many parts of the GTA. Days-on-market has grown longer than Trudeau's nose. Price cuts are everywhere. Mortgage originations have plopped. Sales have fallen. Credit been diminished. FOMO fizzled.
This week the realtor cartel released its latest batch of stats, claiming sales and prices were flat overall. (Nothing to see. Move along.) However this is not the case. Most who bought in the last couple of years have shed equity.
Let's focus on the best-of-the-best in this market – a detached house in 416. Two years ago the average one was fetching $1.56 million. That increased in April and held steady in May. One year later, the March price was $1.3 million, rising a little to $1.42 million by the end of rutting season. This year (March), the same house fetched $1.26 million.
So the two-year decline is $294,400, or 19%. If the long-term average annual appreciation of housing in Canada is 3% (which it is), you can see the damage caused by this magnitude of decline. Meanwhile, the two-year return on a balanced portfolio has been about 14% (including last year's sell-off).
But it gets worse. Real estate (unlike financial assets) has huge transactional costs (plus big operating overhead – like property taxes). For example, to buy that average 416 detached property in 2017 at $1.5 million required $55,400 in land transfer tax alone. To sell for the standard 5% MLS commission would cost another $63,400. So on a two-year hold the loss is more than $413,000 – or 26.4%.
Of course if you leveraged this property (like everyone does) the losses would be amplified. And while most people don't buy and sell in a 24 or 30-month span, this provides a useful comparison with other asset classes – and a reminder never, ever, ever to put all your cadoodles in one place.
Yesterday we heard why YVR realtors think their market is crashing. Here's the view from Toronto: "The OSFI stress test continues to impact home buyers' ability to qualify for a mortgage. TREB is still arguing that the stress test provisions and mortgage lending guidelines generally, including allowable amortization periods for insured mortgages, should be reviewed."
But we now know neither of those things will happen in 2019. And there's more – Toronto is considering hiking its punitive land transfer tax to stratospheric levels on high-end homes, following Van politician's lust to eat the rich. To their credit, the realtors object: "The recently proposed increase to the Municipal Land Transfer Tax on higher priced properties is problematic. As the recent City budget process showed, the MLTT is not a sustainable revenue source from which to fund municipal programs. On top of this, additional MLTT on higher priced homes could have a trickle-down effect on the supply of homes throughout the housing price continuum."
So, in conclusion: in some areas of the metropolis, things are awful. In the heart of the core, not much better. A 20% price dip is big news, as are lower sales. To blame is the collision of ridiculous, lustful prices with political ineptitude. And while lower real estate values are a societal goal, they will come with copious middle class blood and guts.
We're now in Year Two of the process. No reason to think it's ending. Recall that real estate peaked in 1989, slid for half a decade (- 32%) then took 13 years to recover – not even counting inflation or transaction costs. In the States, average residential values didn't erase losses nationally for 11 years after a freefall – also of 32%.
By the way, condo sales fell 14% year/year in Toronto and 35% in YVR. First-time buyers are the fuel that stokes real estate's fires. They, like the speculators and amateur landlords – prime condo buyers – are vanishing into the herd.
That's it. A silent spring. And stay out of underground garages.
STAY INFORMED! Receive our Weekly Recap of thought provoking articles, podcasts, and radio delivered to your inbox for FREE! Sign up here for the HoweStreet.com Weekly Recap.