April 19, 2019 | One Final Flurry and Then Implosion!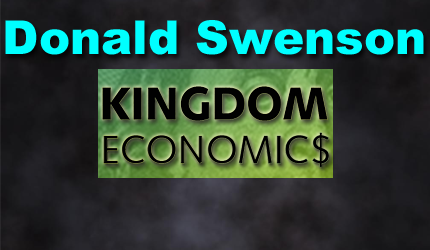 Donald B. Swenson: Born January 24, 1943, Roseau, Minnesota. Graduated H.S. 1961, Moorhead High, Minnesota. Graduated College 1968, Moorhead State University, Minnesota. Designated member of Appraisal Institute (MAI), 1974. Employed with Western Life Insurance Company, 1968 – 71; Iowa Securities Company, 1971 – 73; American Appraisal Company, 1974 – 81. Part-time teacher/valuation consultant/bartender, 1979 – 2008 (taught workshops at Waukesha County Technical Institute, Wi. and Madison Area Technical College, Wi.). Retired 2008 (part time teacher/blogger), AZ. Self educated economist/philosopher/theologian: http://kingdomecon.wordpress.com.
Our global stock markets may experience ONE final flurry upward and then the snow ball will descend from this mountain top (my view). 2019 has been historic as most of the major stock exchanges have increased from 15 – 20+%. Trade has slowed but the digits which represent our stocks have multiplied upward. Our leaders look at these digits as real wealth for the economy.
Over in Venezuela the Caracas General has increased some 543% YTD even as the general economy has declined by over 50%. There digits have not worked to increase real wealth. The people in Venezuela are desperate for basic goods and services (to survive) yet a few investors who buy stocks have become extremely wealthy. What a paradox. What does this mean for our world economy going forward?
What I witness is gross deception and fantasy within all our fake markets. Our authorities pump up trading digits (stock indices) and think this fake wealth will keep the house of cards from imploding. What deception and fantasy within all these fake markets. Mere trading digits are viewed as real wealth. But for now it all seems to work for the benefit of those who control the system.
Mr. Trump and his administration (and the West in general) desires more of this fantasy so as to grow their power over these markets and the world situation. Most of the other politicians (West and East) do likewise. The people of Yemen are dying and starving but America does not drop support of Saudi Arabia's war machine. The same goes for Venezuela, Syria, Libya, Sudan, Afghanistan, and many other nations. Our system has become so corrupted that few see any solution to these real-time trends.
My view is that the entire edifice is nearing its nadir. But our leaders have a contrarian views (so it seems). Our deceived politicians and some of the general public will desire more of the same until the evidence is overwhelming that the game must end. The fantasy of pumping imaginary digits (called money) up and up to benefit a few wealthy cronies must continue for now. Debt must grow (exponentially) with all the new digits inserted.
We could witness ONE more Ponzi explosion of money digits to pump up these fantasy stock markets before the FINAL implosion begins. Our Central banks trade our markets and these authorities (who have unlimited digits) will likely be the catalyst which creates the FINAL explosion upward. It will likely happen some time in 2019 as stress builds within the system. The blow-off must occur before our banking authorities apply the breaks (so it seems).
The Dow Index could explode up to 35,000 (or much higher) in 2019. Other indices around the globe might also explode upward as this FINAL attempt to salvage Capitalism plays out. It is obvious, to me, the real game of Capitalism is OVER. Digits in the computer screen are not real wealth. These digits are merely a 'tool' of the human mind. The 'tool' is now a fantasy and pure fakery (for those of us who discern economic reality).
Our world needs NEW leadership which can focus on reality as we live it. We need a NEW model for this planet going forward. What I witness today is sickning and very sad. The mindset of our elected leaders, who refuse to seek reality, is disappointing. Our world system is crumbling and collapsing. Yet, few desire to focus on the real PROBLEMS. The mindset (of our leaders is 'don't rock the boat'. Think positive. Accept the status quo!
Our thinking must change (dramatically) if the world situation is to change and become positive for the many. Problems must be addressed and core problems must be met with a strong conviction to resolve. Kicking the can 'down the road' is a sad and disappointing mindset. The game of Keynesian debt and fake money must be addressed. Who wants to get real on all these issues of reality? The FUTURE is always NOW!
Look at the images and websites below to discern the message of this missive. The images speak to our lack of resolve and our lack of vision for the future:
http://www.usdebtclock.org  (USA accounting records)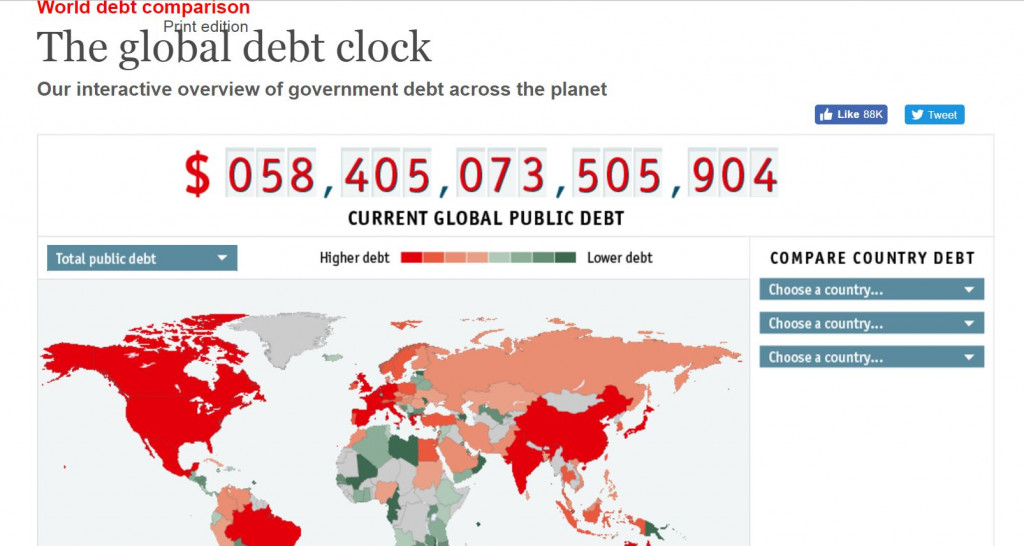 Conclusion: Money rules over all events on this planet. Mere inner money digits (invented units of consciousness) determine who gets what and when. Along with money are the guns and missiles (the military might of a few maestro's). Money and Might rule and no-one whats to give up POWER. What a game which we all must accept as reality. Any thinking person must dig a hole and ignore all this fantasy and corruption. Who can change the above situation? It's a sad situation as it appears NONE of us can change the situation (as of today). We must sit back and accept the chaos and corruption for now! Getting educated is about the best one can do. Does anyone have a final SOLUTION? Have a good day!
STAY INFORMED! Receive our Weekly Recap of thought provoking articles, podcasts, and radio delivered to your inbox for FREE! Sign up here for the HoweStreet.com Weekly Recap.