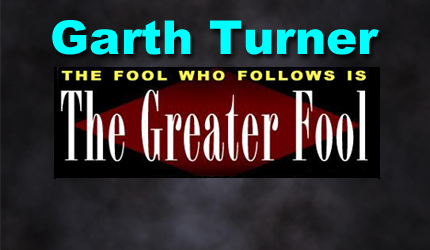 A best-selling Canadian author of 14 books on economic trends, real estate, the financial crisis, personal finance strategies, taxation and politics. Nationally-known speaker and lecturer on macroeconomics, the housing market and investment techniques. He is a licensed Investment Advisor with a fee-based, no-commission Toronto-based practice serving clients across Canada.
How are things going, you ask, during the height of the Spring housing mania?
Well, as polling day dawns in Calgary it's a mess. Sales year/year down again, prices have fallen and sellers are lonely. So far in 2019 there have been 8% fewer deals than last year (which was a disaster). Selling prices have fallen another 6% in the past 100 days and the time it takes to find a buyer has increased 26%. Hell, wags are now saying Cowtown is one of the most affordable markets in Canada when you compare incomes (at least for those still working) to house values.
But Alberta, as we detailed yesterday, is special. Any province that swings from Conservative majority to Socialist majority to bareback barbarians in the space of just two elections deserves special mention. More on that later this week.
The rest of the nation is merely anemic and confused. Actual home sales last month, says CREA, were almost 5% below those of 2018 – the lowest in six years. That's 12% under the ten-year average (and it was 20% under in BC and the flat provinces). Prices overall are down a couple of percentage points, and this is the worst showing since the lights went out in 2009.
National home sales dip to 2013 level

Inventory in the GTA is sparse, so good listings still spark interest and multiple bids. But the condo crush is gone and street prices are strangely lower than those the realtors like to publish. Lots of bargains in the 905 right now, a situation which will likely deepen as the summer months roll in and sales fall even further.
So prices and deals are lower at the same time mortgage rates have fallen – a reversal of the pattern seen for almost nine years. Normally any dip in rates caused a real estate feeding frenzy – even during the oil crisis of 2015-6. But now? Pffft. The cost of a home loan has tumbled, yet potential buyers shrug. It's driving the banks nuts.
For example, a three-year, locked-in mortgage is now available all over everywhere for as little as 2.8%. That's less than a 1.5% premium over the core inflation rate (and this will soon narrow, thanks to the carbon tax). Cheap money, in other words, and a big discount off the prevailing 5-year mortgage. Since we now know there's a zero chance of interest rates being cut by the Bank of Canada in the next year or two, this is an attractive option. But first you have to screw up the courage to buy a house.
What does all this tell us?
The world you lived in way back circa 2017 is so gone. This is what the accumulation of debt does. When FOMO goes and fear moves in cheap rates and falling house prices mean nothing. As your fellow beavers start worrying about debt and hiking their savings rate, it's a death rattle for realtors. (Remember those sales stats last week?)
There could be some fine vultching come August.
"Another random stranger from the internet soliciting free financial advice here. Gotta say, love your blog and the dog pics! I have been reading daily since 2013 (and commented once or twice under "Loonie Coder"). Is this suck up sufficient, or do you require more?."
Nope, that's good. Continue.
"The reason I'm writing is because I'm getting the boot from my employer. Yup, even tech has layoffs. Oh well, good thing I have been preparing for this day since I've started reading your blog in 2013 (and following its advice). Wife got the boot from her employer almost 3 years ago and seems to be digging early retirement. I'm thinking of joining her once I get my last pay check.  The question I have is, how do you determine if a household is suitable for what is basically leveraged investing?

"Here's some info to perhaps help you make a recommendation, please.

"Age: 43 (both). No Dependents but we have a 2.5 year old fur baby. Location: GTA suburbs. Net Worth: ~2.2M liquid + 800-900K (depends who you believe) for our primary residence, rest is in a B+D portfolio split between 2 RRSPs, 2 TFSAs, 1 Joint Non-registered, 1 spousal RRSP and soon to be 2 LIRAs. The ETFs in each account also tries to follow your advice as closely as possible for tax efficiency. HELOC: We have a 550K unused HELOC at prime. Monthly Expenses: Average 6-7K. This includes travel budget but I'm thinking it might go up since we both have more time now. Plus with the untouchable 300K in the LIRAs, this leaves us short assuming annual 4% withdrawals from the other accounts. Hence the question for increasing cash flow via the HELOC (at least until 55).

"If you've gotten this far, many thanks for your time! Even if you don't have time to respond and need to file this in your special pile for strangers from the internet, please keep blogging! I agree with some of the Noble winning economists that shows up in your comments section that says financial literacy in Canada is appalling and that your blog should be mandatory reading for the Canada high school curriculum! There, I ended this with some more sucking up – hope its enough to get a response 🙂 – Loonie Coder"
First, congratulations on the excellent attitude. There's more to life than work. Second, this is a great example of getting ready for the inevitable. Hopefully this blog helped you in the past six years not only with canine management but also investing advice. Your B&D portfolio has added quite a lot over that time and you're now a 1%er in terms of liquid wealth, if not income.
So what's the problem with financing cash flow of just $80,000? With almost two million in liquid assets (other than the LIRAs, which have to remain locked-in until age 55), generating over $100,000 annually should be no challenge for you. With zero employment incomes and no pensions this means (for example) you can collect up to $50,000 a year in dividends alone and pay no tax. Meanwhile capital gains on growing assets can be harvested at a ridiculously low tax rate since 50% of the profits are tax-free with the remainder taxed at your marginal rate.
Meanwhile a properly-weighted portfolio has advanced about 7% this year alone, and provided a similar annual return over the last eight. Yeah, that's no guarantee of future performance, but it's a worthy guidepost. Despite what the doomers say, the global economy will continue to expand, good companies will make money, and careful investors will reap. Stay invested. Never exit an asset class. Keep rebalancing back to the core weightings. Trim the winners and buy the losers. Split incomes.
And no HELOC leveraging. You've enough assets now to satisfy your cash flow needs. Don't walk into a pile of new debt just as you're being punted. Besides, borrowing at almost 4% means a thin margin and increased risk. If markets do correct – and you borrowed to invest – you might get all emotional and bail, triggering a loss.
Let's leave that to the pantywaists who read this blog. We beards know better.
STAY INFORMED! Receive our Weekly Recap of thought provoking articles, podcasts, and radio delivered to your inbox for FREE! Sign up here for the HoweStreet.com Weekly Recap.