April 14, 2019 | Bullish Frenzy Keeping Some Big Losers Aloft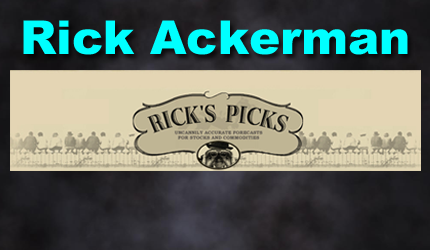 Rick Ackerman is the editor of Rick's Picks, an online service geared to traders of stocks, options, index futures and commodities. His detailed trading strategies have appeared since the early 1990s in Black Box Forecasts, a newsletter he founded that originally was geared to professional option traders. Barron's once labeled him an "intrepid trader" in a headline that alluded to his key role in solving a notorious pill-tampering case. He received a $200,000 reward when a conviction resulted, and the story was retold on TV's FBI: The Untold Story. His professional background includes 12 years as a market maker in the pits of the Pacific Coast Exchange, three as an investigator with renowned San Francisco private eye Hal Lipset, seven as a reporter and newspaper editor, three as a columnist for the Sunday San Francisco Examiner, and two decades as a contributor to publications ranging from Barron's to The Antiquarian Bookman to Fleet Street Letter and Utne Reader.
Investors have thrown caution to the wind as they bid up FAANG stocks to imprudent heights and provide overly generous bids for a few others that face serious jeopardy, including Tesla and Boeing. Even so, the herd evidently had second thoughts about one stock on Friday, pummeling the shares of Netflix when competitor Disney announced a new streaming service that will be bargain priced at $6.99 a month.  Apple was another story, however. After getting hit early in the session, the stock actually closed higher despite the fact that the company will soon be competing with Disney, Netflix and others in the well-saturated entertainment sector.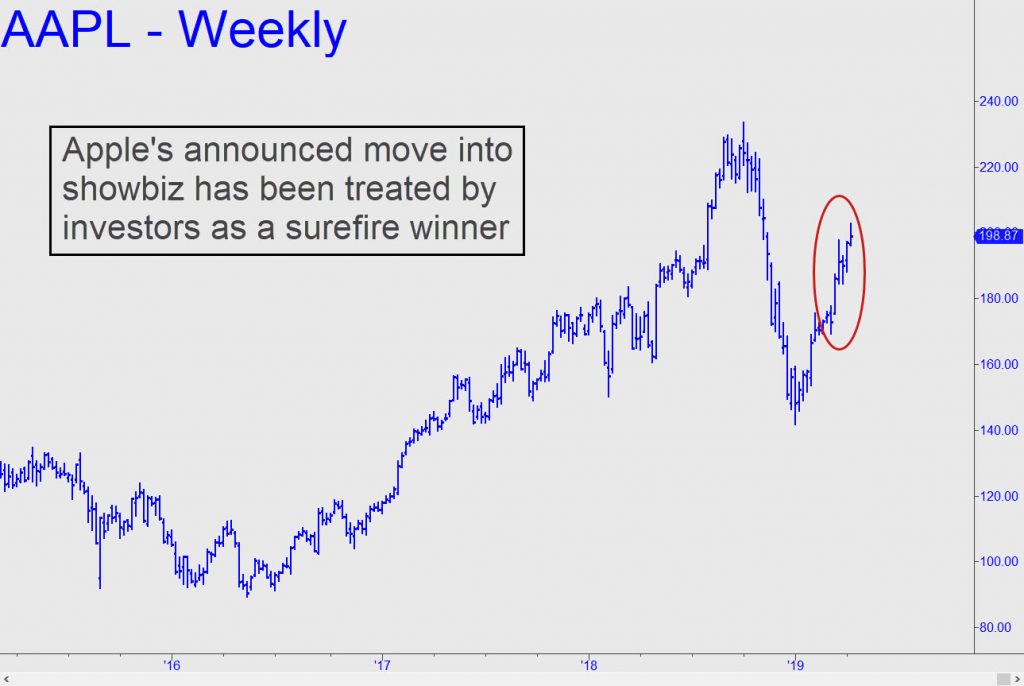 AAPL (click on chart inset) is arguably the most overpriced of the bunch, since the shares had already undergone a ballistic rejuvenation weeks ago after the company announced it would produce and stream movies and TV shows. Investors who have bid up Apple stock 42% since January are betting the company will be able to offset weakening iPhone sales with such fare, but this is unrealistic, to put it mildly. There are already far too many deep-pocketed players in the game, producing many more shows than any of us has the time or interest to watch. And even if Apple were to create TV good enough to steal viewers from Netflix, Disney et al., profit margins would not come close to what they've been from selling pricey mobile phones to iCult buyers.
Lotus-Eaters Love Uber
Uber is another company that lotus-eating investors and the supposedly smart money have got all wrong. Although Wall Street recently lowered its sights by 16%, to $100 billion, for the upcoming IPO, this is still an insane valuation for a business that may never turn a profit. A Wall Street Journal story published last week suggested the dimensions of the problem: Behind Uber's Slowing Growth: Onslaught of Global Competition Takes a Toll. But the article considered competition only from bonafide companies that are already visible in the ride-hailing field. The real competition will eventually come from every Tom Dick & Harry – i.e., your neighbors, acquaintances and their friends who are looking to make some spare change. All of them will soon be able to buy software that will enable them to create their own ride-hailing micro-companies practically overnight.
This could usher in a brave new world with no unemployment — only massive underemployment as millions of entrepreneurial drivers try to beat the pants off each other in order to survive. The ride-hailing concept pioneered by Uber is creative destruction at its most powerful and most consequential in dollar terms. In pricing the Uber IPO at a tulip-o-mania threshold of $100 billion, the Masters of the Universe — at least those who lack the good sense to dump their insider shares at the first opportunity — are headed for a fall.
Facebook Becoming Un-Cool
Facebook and Tesla are two other 'dead stocks walking' for reasons I've written about here before. Millennials are increasingly deserting Facebook, and even with two billion subscribers, the social-media platform could become un-cool faster than you can say "America Online". And check your own Facebook page if you need to be convinced that the firm's advertising-based model has run amok. These pages have come to literally run themselves for the benefit of Facebook and its advertisers. No wonder the company and its founder, Mark Zuckerberg, have become pariahs in the eyes of all who value privacy. At the same time, regulators have grown increasingly eager to rein in the company, and to fine it billions of dollars as Brussels' elites have been doing regularly to internet giants.  Facebook's solution? They've announced a pivot toward a business model that would emphasize paid services over laser-targeted advertising. But this is no more likely to sustain revenues than Apple's planned foray into television.
As for Tesla, it remains a bankruptcy bet, depending on which Model 3 sales data you believe. Is Tesla hitting its numbers? It would appear not; but even if they are, serious problems with the sales channel, quality control and long waits for repairs have been taking a heavy toll on the company's reputation. It won't help that generous tax credits to car buyers of up to $7500 are about to be halved. And whereas Tesla had no competitors just a couple of years ago, many auto manufacturers have recently entered the electric-car niche and more are coming.
Hubris Won't Save Boeing
Then there is Boeing. The company may be too big and too important to America's manufacturing prowess to fail, but investors appear to be incautiously underestimating the difficulties the aircraft maker will face as a result of two fatal collisions involving its best-selling 737 Max.  The stock, which has held its ground lately, gained 2.5% on Friday, bolstered by a deftly managed PR campaign that has spun the impending fix for the 737 as a potential big winner globally. Hubris aside, click here to understand why the jet-maker,s problems are only likely to grow, along with a sales-killing taint of scandal. Would you go out of your way to book a 737 Max flight if alternatives were available? Of course not; and neither should we expect airlines to order 737s with the same enthusiasm as before when attractive alternatives are available from Airbus. Look for cancellations of Boeing orders in the future, even if investors seem for the moment to be ignoring this risk.
The heedless buying that has helped prop up Boeing shares is of a piece with the wafting rallies in other dead-man-walking stocks such as the ones mentioned above, and with the $100 billion valuation for Uber. This behavior reflects malinvestment and misjudgment on an epic scale. In the securities world, the folly of this age has become as obvious as a billboard in Times Square.
STAY INFORMED! Receive our Weekly Recap of thought provoking articles, podcasts, and radio delivered to your inbox for FREE! Sign up here for the HoweStreet.com Weekly Recap.