April 2, 2019 | All Aboard the Trump Trampoline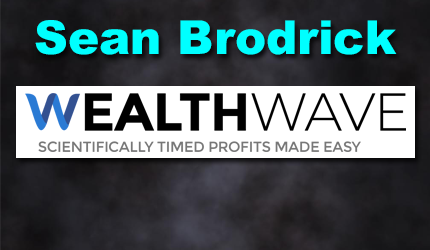 Sean is the natural resource analyst for Weiss Ratings. You can read his thoughts on gold, oil, cannabis, uranium and other natural resources at Wealth-Wave.com
In the shorter term, I'm quite bullish on U.S. markets. That's because President Trump is tying his success as a president — and his case for a second term — to the success of the stock market.
Now, there are fundamental reasons to be bullish on stocks. We should get a trade deal with China eventually. Economic growth, while not great, is pretty good. And S&P 500 companies repurchased $223 billion of their own shares in the fourth quarter, up 63% from a year earlier. As companies gobble up their own stock, it improves per-share earnings.
These are all good reasons to be bullish. Importantly, I believe President Trump "trumps" any fundamentals that might otherwise turn bearish.
Both CNBC and Bloomberg report that President Trump is pushing hard for a trade deal with China as a fresh catalyst for the markets. He's keen to use any means available to extend a stock market run-up that could become a record-setter.
This is why President Trump was such a vocal critic of the Federal Reserve's rate-hike policy last year. And that's why, in December, the Fed changed course and became extremely dovish. The Fed canceled the series of rate increases the Federal Open Market Committee previously planned for 2019. And it acknowledged that changes in markets and financial conditions would affect its actions going forward.
More recently, we have Larry Kudlow, President Trump's Director of the National Economic Council, calling for an "immediate" 50-basis-point rate cut.
"I am echoing the president's view — he's not been bashful about that view — he would also like the Fed to cease shrinking its balance sheet," Kudlow told CNBC.
This is even though Kudlow says the economy is "fundamentally healthy." Kudlow did say the eurozone is "virtually in a recession" and China is "very, very, very soft."
This is the same China that just released a manufacturing Purchasing Managers' Index that was at a six-month high.
On Wall Street, there is a widespread belief in "The Fed Put" — that the Fed will rescue the economy, if necessary, by decreasing interest rates.
I believe we've gone beyond the Fed Put. Now, we have the "Trump Trampoline." President Trump wants to use an accommodative Fed to put support under the stock market AND send it higher. Much higher.
It's a powerful force that can't be ignored. Sure, there can be pullbacks and corrections. In fact, I expect one sooner than later. But if the market gets in trouble, I expect the Fed to ride to the rescue with all sorts of financial engineering.
It's a powerful force we can't ignore. One that could support the markets for quite some time … until other powerful forces overwhelm it.
So, even though the earnings forecast for the S&P 500 looks like this  …
Wow! A 7.2% drop in projected Q1 earnings! That looks terrible.
Normally, that would be quite bearish. But you should probably pay more attention to this —  the "Golden Cross" signal we just got in the S&P 500  …
This is a weekly chart of the S&P 500. You can see the major index gapped higher this week, and is pushing above recent highs. Those are both bullish in themselves.
But there is also a "Golden Cross." That's when the 50-day moving average crosses above the 200-day moving average. This is generally a reliable predictor that the market has room to run to the upside.
For investors, this means simply that pullbacks can be bought. President Trump has Wall Street's back. It is a plan that should work very well … until it doesn't work anymore.
WHY, and importantly, WHEN this will stop working is another story. And one I'll tell you about in the future. For now, the next time there is a dip, hop aboard the Trump Trampoline.
All the best,
Sean
STAY INFORMED! Receive our Weekly Recap of thought provoking articles, podcasts, and radio delivered to your inbox for FREE! Sign up here for the HoweStreet.com Weekly Recap.