March 28, 2019 | Welcome To The Third World, Part 28: Medieval Diseases "Flare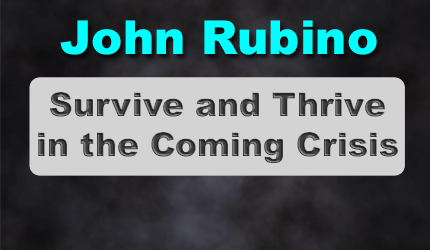 John Rubino is a former Wall Street financial analyst and author or co-author of five books, including The Money Bubble: What To Do Before It Pops and Clean Money: Picking Winners in the Green-Tech Boom. He founded the popular financial website DollarCollapse.com in 2004 and sold it in 2022.
A driving trip down the Pacific Coast normally involves prioritizing a long list of great views and spectacular hiking/biking trails to fit the allotted (never sufficient) time.
But now there's a new element to consider: Homelessness. Go to, say, Trip Advisor, and read the reviews of California attractions and you'll find a disturbing number along the lines of "It's gorgeous, but don't go alone because of all the homeless people" or "The homeless outnumber the tourists!"
This obviously changes the nature of such a trip – and no doubt the nature of everyday life for locals. But apparently it's just the beginning of the changes taking place out here. With homelessness is coming a new crop of exotic diseases. From Scientific American:
Jennifer Millar keeps trash bags and hand sanitizer near her tent, and she regularly pours water mixed with hydrogen peroxide on the sidewalk nearby. Keeping herself and the patch of concrete she calls home clean is a top priority.

But this homeless encampment off a Hollywood freeway ramp is often littered with needles and trash, and soaked in urine. Rats occasionally scamper through, and Millar fears the consequences.

"I worry about all those diseases," said Millar, 43, who said she has been homeless most of her life.

Infectious diseases—some that ravaged populations in the Middle Ages—are resurging in California and around the country, and are hitting homeless populations especially hard.

Los Angeles recently experienced an outbreak of typhus—a disease spread by infected fleas on rats and other animals—in downtown streets. Officials briefly closed part of City Hall after reporting that rodents had invaded the building.

People in Washington state have been infected with Shigella bacteria, which is spread through feces and causes the diarrheal disease shigellosis, as well as Bartonella quintana, which spreads through body lice and causes trench fever.

Hepatitis A, also spread primarily through feces, infected more than 1,000 people in Southern California in the past two years. The disease also has erupted in New Mexico, Ohio and Kentucky, primarily among people who are homeless or use drugs.

Public health officials and politicians are using terms like "disaster" and "public health crisis" to describe the outbreaks, and they warn that these diseases can easily jump beyond the homeless population.

"Our homeless crisis is increasingly becoming a public health crisis," California Gov. Gavin Newsom said in his State of the State speech in February, citing outbreaks of hepatitis A in San Diego County, syphilis in Sonoma County and typhus in Los Angeles County.

"Typhus," he said. "A medieval disease. In California. In 2019."

The diseases have flared as the nation's homeless population has grown in the past two years: About 553,000 people were homeless at the end of 2018, and nearly one-quarter of homeless people live in California.

The diseases spread quickly and widely among people living outside or in shelters, fueled by sidewalks contaminated with human feces, crowded living conditions, weakened immune systems and limited access to health care.

"The hygiene situation is just horrendous" for people living on the streets, said Dr. Glenn Lopez, a physician with St. John's Well Child & Family Center, who treats homeless patients in Los Angeles County. "It becomes just like a Third World environment where their human feces contaminate the areas where they are eating and sleeping."

Those infectious diseases are not limited to homeless populations, Lopez warned. "Even someone who believes they are protected from these infections are not."

The diseases sometimes get the "medieval" moniker because people in that era lived in squalid conditions without clean water or sewage treatment, said Dr. Jeffrey Klausner, a professor of medicine and public health at UCLA.

People living on the streets or in homeless shelters are vulnerable to such outbreaks because their weakened immune systems are worsened by stress, malnutrition and sleep deprivation. Many also have mental illness and substance abuse disorders, which can make it harder for them to stay healthy or get health care.
A big part of this isn't California's fault, of course, since its climate makes it a magnet for marginal people. If you're in danger of becoming homeless, better to have it happen in a warm, sunny place than, say, Chicago in the winter.
But this decline in living standards is happening in an economic expansion when booming tech stocks are funneling huge amounts of money into California's economy. The obvious question is what happens in the next downturn, when today's working poor lose their jobs and the torrent of tech money dries up. The answer isn't pretty.
Other posts in this series are here.
STAY INFORMED! Receive our Weekly Recap of thought provoking articles, podcasts, and radio delivered to your inbox for FREE! Sign up here for the HoweStreet.com Weekly Recap.