March 13, 2019 | Washington's Big Wednesday Will Crash on America's Shores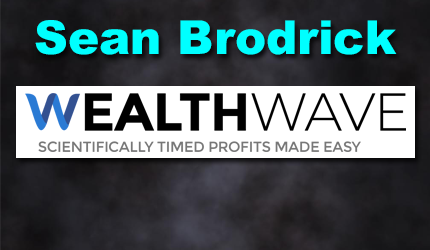 Sean is the natural resource analyst for Weiss Ratings. You can read his thoughts on gold, oil, cannabis, uranium and other natural resources at Wealth-Wave.com
Did you ever see the surfer film "Big Wednesday?" It stars the late, great Jan-Michael Vincent as one of three surfers who experience the ups and downs of life — and surfing — over the years. The story comes to a head in 1974, when enormous waves crash onto their beach. By then, their innocence is gone with the tide.
There are "Big Wednesday"-sized waves headed for U.S. shores. Waves of debt and financial ruin that are just stirring on foreign shores right now.
They will slam into America soon enough. You'd better be getting ready. Because you can ride these waves to new fortunes — or get sucked under.
One week from today, I'm sitting down for an exclusive interview where I will lay out several shocking forecasts for the economy that our cycles research has identified.
I'll show viewers what I'm doing to protect myself and my loved ones … position myself to profit from what's coming … and show viewers how they can do the same.
As an investor, you do not want to miss this interview. Just click here to RSVP, and you'll be given free access.
Today, I have an urgent development for you in three charts. The charts are about numbers, which can be abstract sometimes, and make people's eyes glaze over.
But this affects you, me and every taxpayer in America …
Let's start with the trade deficit.
Chart #1: Trade War is Costly for Consumers
The White House imposed higher tariffs on about $200 billion worth of Chinese goods. The Trade War is winding to a close, which is good, because it's an expense Americans can't afford.
Here's an important fact most folks just don't seem to grasp: The Chinese don't pay higher tariffs. Consumers — you and I — do.
Image credit: @SteveRattner on Twitter
We're paying more all the time. By the end of 2018, tariffs were costing consumers and importers a total of nearly $4.5 billion a month. That's according to a study by economists at the Federal Reserve Bank of New York, Princeton University and Columbia University.
Another study found that tariffs reduced business investment in the United States by 1.2% — or $32.5 billion — in 2018.
But it seems like the White House is close to working out a deal with China's leaders on trade. Good thing, too. Take a look at my next chart …
Chart #2: Trade Balance Going in the Wrong Direction
You probably know the trade deficit hit a 10-year high. That's the exact opposite of what the tariffs were supposed to achieve.
The deficit jumped nearly 19% in December to a seasonally adjusted $59.8 billion. That's the single biggest monthly gap since October 2008.
This is important in many ways. For example, did you know that the balance of trade is one of the key components in determining a country's gross domestic product?
In fact, the higher the trade gap goes, the lower GDP goes.
And that brings me to chart #3, on GDP forecasts.
Chart #3: White House GDP Forecast is Pie in the Sky
The White House recently published a budget. GDP forecasts are important in a budget, because how fast the economy is growing dictates how much you can spend without going too deep in the red.
This chart compares GDP forecasts in the new White House budget to forecasts from Morgan Stanley, the Congressional Budget Office, the Federal Reserve and more.
Image credit: Jared Bernstein
You can see that White House GDP assumptions are much higher than anyone else's. It projects 3.2% growth this year, 3.1% in 2020 and then 3% going forward.
The math of the White House budget also assumes interest rates on T-bills hold steady through 2029, and unemployment hovers at or just above 4% over the next decade.
I don't know what will happen with T-bills and unemployment. But GDP growth at the projected level seems very unlikely.
Especially because last year, when we hit 2.9% growth, the economy got a boost from a big corporate tax cut and a jump in government spending. Those may be hard to repeat.
Meanwhile, we're already running deep in the red. The deficit in the last fiscal year was $779 billion. That's 3.9% of GDP. That's unusually high for a country not mired in recession or a full-blown war.
Now let's add in that the sky-high trade gap makes it very hard for GDP to grow anywhere near the budget goal.
I'd say we're headed for a day of financial reckoning.
If it's any consolation, other countries are going to get there first. That, in turn, will drive investment dollars into U.S. markets. But this tsunami of financial pain will thunder toward our shores eventually.
I'm preparing my subscribers for what's coming. We'll surf the coming tsunami to potential fortunes. If you're doing this on your own, get ready. Surf's up. And it's going to be a doozy!
If you haven't already done so, go here to get free access to the online interview I will be giving one week from today. I'll lay out all the shocking proof about the coming tsunami, and show you how you can ride it for life-changing profits.
All the best,
Sean
STAY INFORMED! Receive our Weekly Recap of thought provoking articles, podcasts, and radio delivered to your inbox for FREE! Sign up here for the HoweStreet.com Weekly Recap.