March 30, 2019 | Trading Desk Notes – March 30th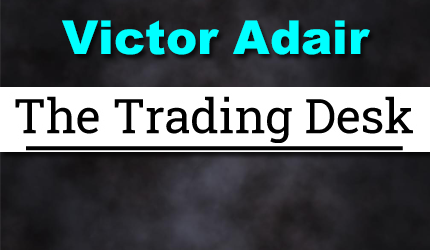 Victor Adair, author of The Trading Desk Notes, began trading penny mining shares while attending the University of Victoria in 1970. He worked in the mining business in Canada and the Western United States for the next several years and also founded a precious metals trading company in 1974. He became a commodity broker in 1977 and a stock broker in 1978. Between 1977 and his retirement from the brokerage business in 2020 Victor held a number of trading, analytical and senior management roles in Canada and the USA. Victor started writing market analysis in the late 1970's and became a widely followed currency analyst in 1983. He started doing frequent media interviews in the early 1980's and started speaking at financial conferences in the 1990's. He actively trades his own accounts from The Trading Desk on Vancouver Island. His personal website is www.VictorAdair.ca.
The 4 month trend to lower interest rates accelerated last week and again this week…super-charged by a more-dovish-than-expected Fed with markets now pricing in a good chance that the Fed will CUT interest rates this year. There is now ~US$ 11 Trillion worth of Sovereign debt around the world trading at a negative yield.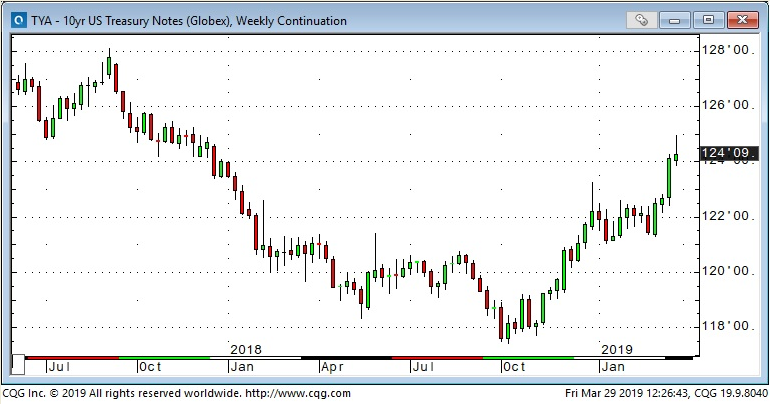 The major American stock indices have traded both higher and lower since the Fed news and are ending this week pretty much right where they were before the Fed news. I bought S+P puts ahead of the Fed date…saw their value trade both up and down since then but sold them for a small loss at the end of this week. A jump in implied volatility had helped the price but the clock was working against me and the market wasn't taking a tumble like I had expected…so exit stage left, preserve capital and wait for another opportunity.
The US Dollar Index fell to 6 week lows (9575) immediately after the Fed news but has rallied >2% since then…closing this week near the high end of the choppy range it's been in for the past 6 months. I'm biased to the US Dollar going higher, and if it breaks out of its recent range it could have an extended move.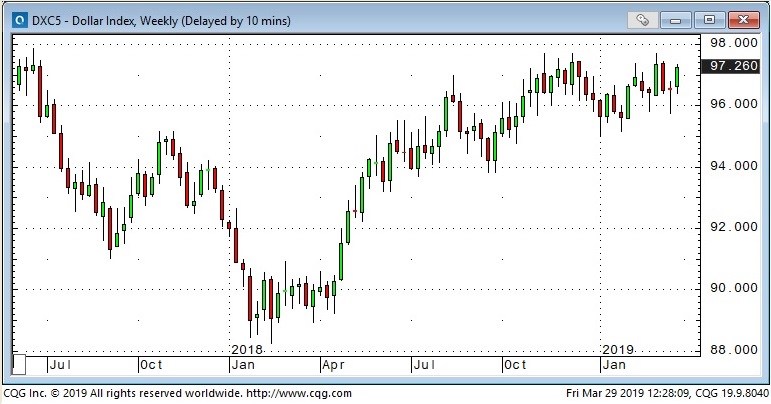 Gold rallied on the Fed news…perhaps sniffing a revival of "monetary profligacy"…to hit a high of ~$1330 this Monday but that was the high for the week and over the next few days prices fell to just above the 2019 lows (~$1290 basis June)…creating a Weekly Key Reversal Down on the chart. I've owned gold puts since before the Fed date and I'm ahead on the trade  but I'm looking for gold to possibly take out this year's lows…the catalyst could be a stronger USD. If gold does fall through $1290 the target price for breaking the neckline of the 3 month Head and Shoulders pattern would be ~$1225.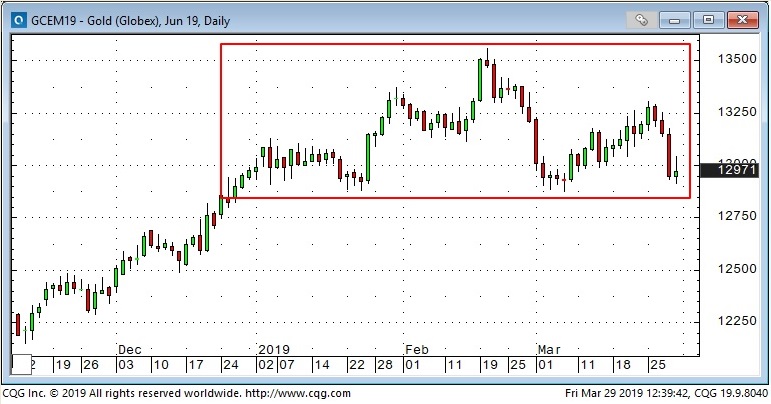 The Canadian dollar was near 7450 on Thursday's close but rallied back to ~7500 Friday morning on a stronger-than-expected January GDP report. Interest rate spreads continue to favor the USD but firmer crude oil and a steady-to-higher S+P (the bellwether for risk sentiment) support CAD even though the USD has rallied this week against nearly all currencies.
Front month Crude Oil closed above $60 this week…its highest close since last October…up >40% from its December lows. I bought longer dated OTM puts on WTI ahead of the Fed and I'm a little under water on the trade. I've been thinking that the slowing global economy story might shift the crude oil focus from "supply shortages" (production cutbacks, sanctions) to "demand shortages" but so far that isn't happening. If price keep rising next week I'll throw in the towel on the trade.
Risk on / Risk off: Last week risk on sentiment was based on lower interest rates…while risk off sentiment was based on the prospect that a slowing global economy could morph into a recession. This week risk on sentiment seemed to prevail…the Lyft IPO was aggressively bid…there was optimism  on the China/USA trade talks…US economic reports were ok on balance…China's reflationary efforts are expected to start kicking in and the Fed (and other CB's) are expected to add to the reflationary efforts by cutting rates this year. If the risk on sentiment prevails into the weeks ahead that would likely result in a weaker USD while EM equities out-perform US equities.
Capital drawn to America: I have often written in this blog that capital flows to America for safety and opportunity. This has the effect of boosting the USD and US assets…creating a virtuous circle which draws in even more capital. I wonder if we aren't seeing that now with American stock indices out-performing many other country benchmarks…with American treasury yields higher than most other DM's.
PI Financial Corp. is a Member of the Canadian Investor Protection Fund. The risk of loss in trading commodity interests can be substantial. You should therefore carefully consider whether such trading is suitable for you in light of your financial condition. In considering whether to trade or the authorize someone else to trade for you, you should be aware of the following. If you purchase a commodity option you may sustain a total loss of the premium and of all transaction costs. If you purchase or sell a commodity futures contract or sell a commodity option or engage in off-exchange foreign currency trading you may sustain a total loss of the initial margin funds or security deposit and any additional fund that you deposit with your broker to establish or maintain your position. You may be called upon by your broker to deposit a substantial amount of additional margin funds, on short notice, in order to maintain your position. If you do not provide the requested funds within the prescribe time, your position may be liquidated at a loss, and you will be liable for any resulting deficit in your account. Under certain market conditions, you may find it difficult to impossible to liquidate a position. This is intended for distribution in those jurisdictions where PI Financial Corp. is registered as an advisor or a dealer in securities and/or futures and options. Any distribution or dissemination of this in any other jurisdiction is strictly prohibited. Past performance is not necessarily indicative of future results
STAY INFORMED! Receive our Weekly Recap of thought provoking articles, podcasts, and radio delivered to your inbox for FREE! Sign up here for the HoweStreet.com Weekly Recap.