March 23, 2019 | Trading Desk Notes – March 23rd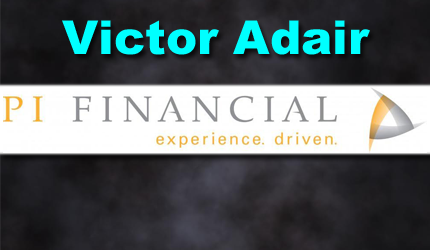 Senior Vice President and Derivatives Portfolio Manager. Victor began trading financial markets over 45 years ago and has held a number of senior executive positions during his career as a commodity and stockbroker. Over the years he has provided considerable market analysis via radio and television and at financial conferences. His primary brokerage business is providing corporate accounts with risk management services using exchange traded derivatives. He actively trades currencies, interest rates, precious metals, stock indices and commodities for his own accounts.
As Good As It Gets? The Fed was even-more-dovish-than-expected Wednesday…signaling that they would not raise interest rates again this year and that they would slow their balance sheet runoff in May…then stop it in September. Stocks, bonds and gold jumped on the news while the US Dollar tumbled.
But then things began to change and volatility ramped up across markets.   The major US stock indices, with the exception of the tech heavy Nasdaq 100, reversed their post-Fed rally and closed lower on Wednesday…but then rallied on Thursday with the Nasdaq 100 hitting 5 month highs…with an extreme 95% bullish sentiment reading. The US Dollar roared back on Thursday and Friday and stocks tumbled on Friday with the DJIA down nearly 500 points intraday and the Russell small cap index hit a one month low. Talk about Choppy!
Volatility across asset classes was very low at the beginning of the week with bond and currency volatility measures near 5 year lows…but volatility jumped sharply with the extremely choppy price action.
Stocks: I believe that the huge rally since the December lows was led by the "Powell pivot" and was accelerated by a record level of corporate share buybacks. People were "chasing" this rally (FOMO) and "nobody" was short. I absolutely underestimated the momentum power of this rally but was not surprised to see that "retail" has piled into the market the past couple of weeks….after running for the exits in December. Talk about buying the highs and selling the lows.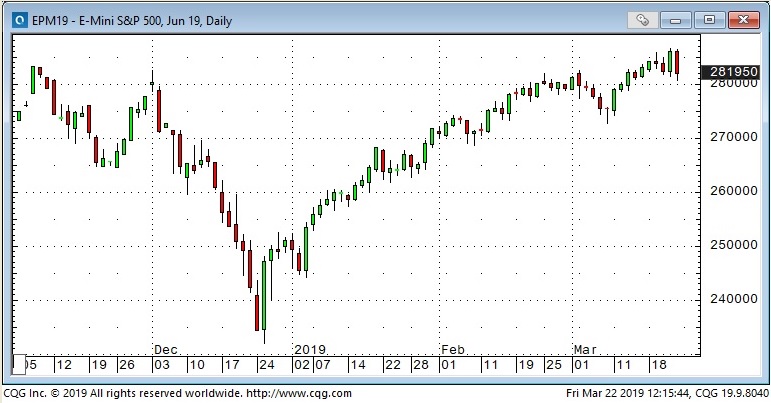 I thought that the global economic slowdown (which inspired the "Powell pivot") would have put a damper on the stock market rally. I still think it will, and with stocks precariously high right now ( in part BECAUSE of the "Powell pivot") I think the risks of a sharp setback are that much higher. I think the extremely choppy price action this week and the ramp-up in volatility…together with a slew of upside exhaustion technical signals…may signal a reversal.
FedEx earnings and guidance were a major red flag this week. Corporate buybacks are about to be scaled back big time ahead of earnings reports. The US Gov't yield curve is inverted…the bond market sees a recession ahead and the forward market is already pricing at least one CUT from the Fed in 2019. The German 10 year Gov't yield has dropped below zero in response to the very weak Eurozone economy. The difference between how the bond market sees the "world" and how the stock market sees it has been getting wider and wider…I think the stock market is going to get a "wake up" call and take a tumble…we'll see if the old saying that the bond market is WAY smarter than the stock market has any validity!
Currencies: The USDX hit a 20 month high 2 weeks ago and fell to its 50 week EMA (and 10 month uptrend line) Wednesday on the Fed news and has since bounced back a bit. I think the FX market may see the Fed "leading the way" and that other Central Banks will also become more "accommodative" thereby maintaining and extending USD strength. If this is the case EM FX and comdols may be most vulnerable to USD strength…and the Yen may be bid on its safe haven status especially if stocks fall. I'm keeping a close eye on the Chinese currency (CNH) which has been trending higher Vs. the USD since November. If it starts to weaken that will be another indication of "risk off."
Crude oil: Front month WTI has rallied ~$19 (~44%) from its December lows to this week's highs with the focus very much on "reduced supply" given OPEC+ production cuts (voluntary and otherwise.) Crude oil prices have also moved very much in sync with broad moves in the US stock market (risk sentiment) for the past 2 years. I'm wondering if we will see crude prices fall if stock prices fall…if the oil market focus switches from "reduced supply" to "shrinking demand" if the global economy continues to slow.
Copper is influencing my thinking about crude. Copper hit an 8 month high a couple of weeks ago at $2.98, up 13% from its December lows. It jumped 5 cents on Wednesday's "Fed is easing" news but then fell 12 cents over the next 2 days (creating a Weekly Key Reversal Down on the chart) perhaps as the market began to price in less demand from a slowing global economy.
Gold jumped on the Fed news. I've noted in this blog many times that "monetary profligacy" is bullish for gold. Gold also rallied on Wednesday because the USD fell and (later in the week) as real interest rates tumbled to their lowest in months. But I'm a little skeptical on gold short term…it may also be in the "as good as it gets" category…it broke a 3 month uptrend line at the beginning of March and if it now rolls over and falls below $1280 it could trigger a "head and shoulders" inspired drop to new lows for the year. A rising USD could be the catalyst for gold to roll over.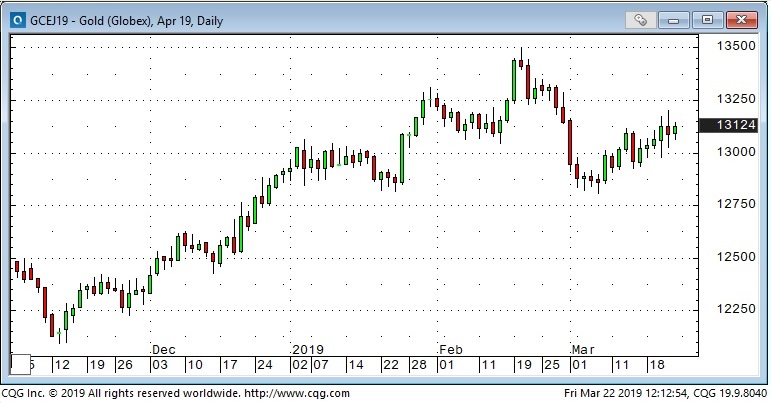 My short term trading: I bought volatility this week. I bought puts on the S+P, WTI and Gold.  These are cautious positions with limited risk but if the markets go my way I hope to get more aggressive. I missed buying calls on bonds and the USD this week…those markets burst out of the gate so fast I just couldn't find a good place to pull the trigger. I've tried reminding myself that trading is not a game of perfect…that you miss more good moves than you catch but I'm still disappointed. It's a bit like golf…I know I'm a better player than I am!
PI Financial Corp. is a Member of the Canadian Investor Protection Fund. The risk of loss in trading commodity interests can be substantial. You should therefore carefully consider whether such trading is suitable for you in light of your financial condition. In considering whether to trade or the authorize someone else to trade for you, you should be aware of the following. If you purchase a commodity option you may sustain a total loss of the premium and of all transaction costs. If you purchase or sell a commodity futures contract or sell a commodity option or engage in off-exchange foreign currency trading you may sustain a total loss of the initial margin funds or security deposit and any additional fund that you deposit with your broker to establish or maintain your position. You may be called upon by your broker to deposit a substantial amount of additional margin funds, on short notice, in order to maintain your position. If you do not provide the requested funds within the prescribe time, your position may be liquidated at a loss, and you will be liable for any resulting deficit in your account. Under certain market conditions, you may find it difficult to impossible to liquidate a position. This is intended for distribution in those jurisdictions where PI Financial Corp. is registered as an advisor or a dealer in securities and/or futures and options. Any distribution or dissemination of this in any other jurisdiction is strictly prohibited. Past performance is not necessarily indicative of future results​
STAY INFORMED! Receive our Weekly Recap of thought provoking articles, podcasts, and radio delivered to your inbox for FREE! Sign up here for the HoweStreet.com Weekly Recap.