March 16, 2019 | Trading Desk Notes – March 16th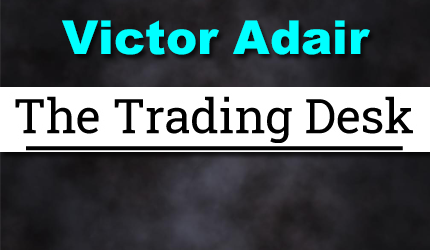 Victor Adair, author of The Trading Desk Notes, began trading penny mining shares while attending the University of Victoria in 1970. He worked in the mining business in Canada and the Western United States for the next several years and also founded a precious metals trading company in 1974. He became a commodity broker in 1977 and a stock broker in 1978. Between 1977 and his retirement from the brokerage business in 2020 Victor held a number of trading, analytical and senior management roles in Canada and the USA. Victor started writing market analysis in the late 1970's and became a widely followed currency analyst in 1983. He started doing frequent media interviews in the early 1980's and started speaking at financial conferences in the 1990's. He actively trades his own accounts from The Trading Desk on Vancouver Island. His personal website is www.VictorAdair.ca.
The key global bellwether for market risk sentiment the past few months has been the S+P 500 stock index and it has rallied ~20% from its December 2018 lows as Central Banks around the world signal a dramatic policy shift in response to the global economic slowdown. The S+P 500 is on track for its best Q1 performance since 1998 while the Atlanta Fed Q1 GDP forecast is 0.4%.
The S+P registered a bearish Weekly Key Reversal Down last week but has blown that away this week with a rally to new highs. The index is now only ~4% away from All Time Highs made last October.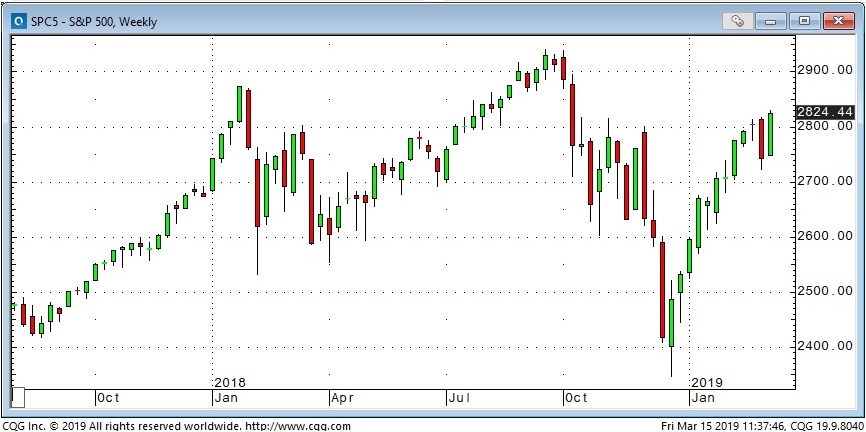 The December 2019 Eurodollar futures contract shows that from mid-2017 to November 2018 the market was pricing higher and higher forward rates (the Eurodollar contract trades as a discount to par so falling prices mean higher interest rates) BUT the market turned dramatically in November as it sensed the slowing global economy. The market obviously turned well before the Fed…because the Fed RAISED rates at its mid-December meeting…precipitating the stock market plunge into the late December lows as the market feared the Fed was "tightening right into a recession."
In a nutshell, since October the market has gone from anticipating at least 2 bumps from the Fed in 2019 to now starting to price in a cut.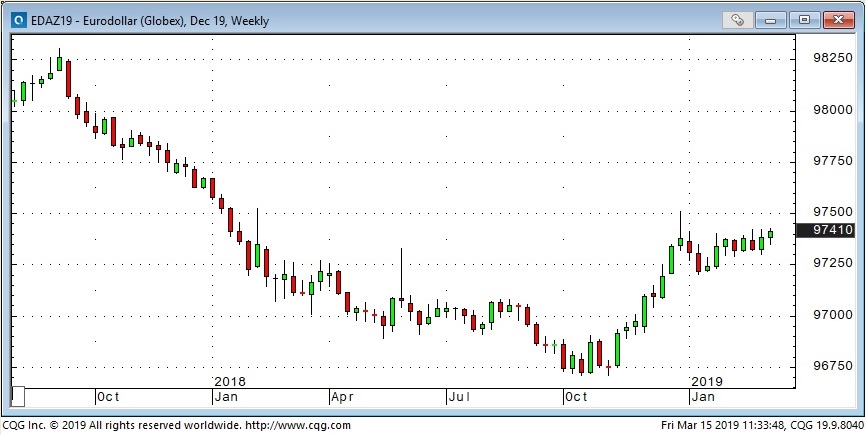 The US Dollar Index hit a 20 month high last week but reversed lower this week with currency markets chopping around in relatively narrow ranges.
The Canadian Dollar dropped ~2 cents the last 2 weeks but rallied a bit this week to just over 75 cents. Relative Central Bank policy favors the USD (higher interest rates) while rising oil prices, rising stock markets and a softer USD against most currencies gave the CAD a bit of a lift this week. The Federal gov't presents a budget next week.
WTI crude oil hit a 4 month high ~$59 this week (up ~39% from the December lows) as the market focuses on OPEC+  production cuts (Saudi, Iran, Venezuela, Russia) even as American production keeps hitting new All Time Highs.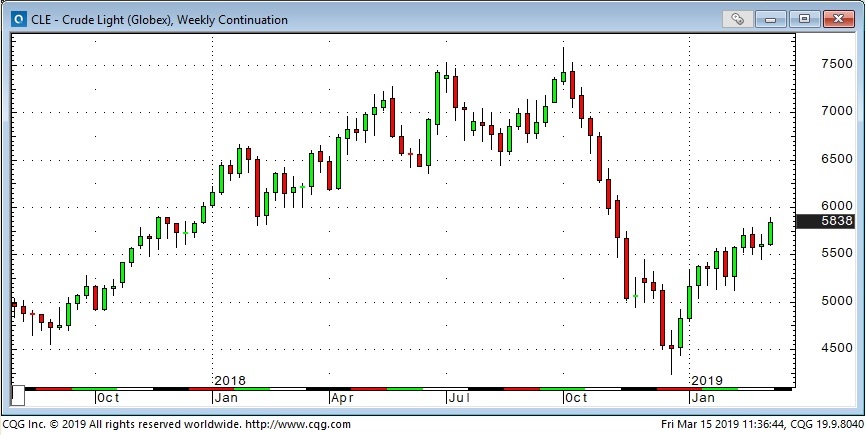 The gold market rally that started last November may have been in anticipation of the Central Banks' dovish reaction to slowing economies. Gold made its low for the year in August 2018  (~$1160) exactly as the USD made its YTD high, but the rally to $1340 didn't begin in earnest until November.
My short term trading: I've been travelling/on vacation the past 2 weeks and haven't felt "plugged in" enough to do much trading. I'd been patiently waiting for the stock market rally to run out of steam and I though last week's Weekly Key Reversal Down might have signaled a "top." The market bounced back from last week's lows early this week and then seemed to roll over…possibly creating a "lower high." I got short with a tight stop but was stopped the next morning for a small loss. In hindsight I should have waited for the market to 1) create a "lower high" and then, 2) take out the previous week's lows. I'm flat at the end of the week…watching a number of markets but not seeing anything that makes me want to take a position.
PI Financial Corp. is a Member of the Canadian Investor Protection Fund. The risk of loss in trading commodity interests can be substantial. You should therefore carefully consider whether such trading is suitable for you in light of your financial condition. In considering whether to trade or the authorize someone else to trade for you, you should be aware of the following. If you purchase a commodity option you may sustain a total loss of the premium and of all transaction costs. If you purchase or sell a commodity futures contract or sell a commodity option or engage in off-exchange foreign currency trading you may sustain a total loss of the initial margin funds or security deposit and any additional fund that you deposit with your broker to establish or maintain your position. You may be called upon by your broker to deposit a substantial amount of additional margin funds, on short notice, in order to maintain your position. If you do not provide the requested funds within the prescribe time, your position may be liquidated at a loss, and you will be liable for any resulting deficit in your account. Under certain market conditions, you may find it difficult to impossible to liquidate a position. This is intended for distribution in those jurisdictions where PI Financial Corp. is registered as an advisor or a dealer in securities and/or futures and options. Any distribution or dissemination of this in any other jurisdiction is strictly prohibited. Past performance is not necessarily indicative of future results​
STAY INFORMED! Receive our Weekly Recap of thought provoking articles, podcasts, and radio delivered to your inbox for FREE! Sign up here for the HoweStreet.com Weekly Recap.