March 28, 2019 | The Upside of Falling Bond Yields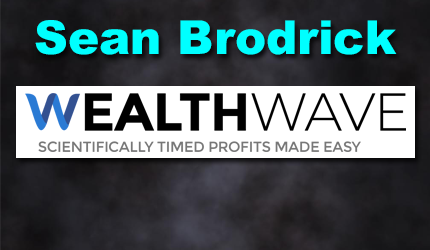 Sean is the natural resource analyst for Weiss Ratings. You can read his thoughts on gold, oil, cannabis, uranium and other natural resources at Wealth-Wave.com
There is a tidal wave of trouble washing around foreign markets, and it will send cash surging into my favorite sectors in the U.S.
It promises all sorts of profit potential if you catch that wave. And it's just the first phase of a crisis that's going to last five years.
In my Supercycle Investor, subscribers have already seen gains of 119%, 126%, 207% and 259% — just at the beginning of our five-year journey.
(That's why I'm offering five years of my Supercycle Investor for the price of two. Click here if you want to check it out. But beware: It all ends tomorrow!)
The Latest Big Warning is from Bonds!
U.S. bond yields are dropping like lead balloons, with the 10-year U.S. Treasury yield recently trading at 2.39% after tumbling as low as 2.36% yesterday.
Bond yields go down as prices go up. So, this means someone is bidding up the price of U.S. bonds.
Now, why would they do that, when the U.S. Federal Reserve has all but ruled out rate hikes for the rest of this year, and money is now even on whether (and when) the Fed will CUT rates?
I'll tell you why. Because foreign investors are getting LESS THAN NOTHING on bond yields at home. This chart from Charlie Bilello at Pension Partners shows that sad story:
Switzerland, Germany and Japan — three of the biggest bond issuers — now all have negative yields out to 10 years along the bond timeline. For Germany, that's the first time since 2016 that it's had a negative yield on its 10-year bond. And Denmark, the Netherlands, France and Sweden aren't far behind.
In fact, the only country on this list that doesn't have some kind of negative bond yield is the U.S.
So sure, falling bond yields are worrisome. But we have a lot less to worry about than our overseas counterparts.
The $10T Dilemma
It's not like we haven't seen this coming. German 2-year federal notes have been in negative territory for five years!
Worse news: The stockpile of global bonds with negative-yielding debt just hit TEN TRILLION DOLLARS. That was just $7.9 trillion as recently as December.
This increase in negative-yielding debt is a clear sign of trouble.
What's happening? Weak economic data in China, despite that country throwing rivers of stimulus money at the problem. Weak economic data in Europe, and the European Central Bank has ruled out a rate hike in 2019. In fact, the ECB is proceeding with more quantitative easing.
And there are MORE disasters brewing.
Britain's struggle with Brexit, or its exit from the European Union, is getting worse. I gave you my latest analysis on this on March 16. This will negatively impact the economies of every single one of Britain's European trading partners. (I repeat, all of them.)
Many people know about Brexit. But they don't know about …
The xenophobia, Mussolini-worship and euro-skepticism of Italy's ruling party, the Northern League. They're marching toward Italy's own version of Brexit.
Hungary is also spiraling into euro-skepticism and authoritarianism. France and Germany have also birthed their own "Brexit-type" movements.
In China, industrial production growth fell to its lowest since 2009, to 5.3% year-on-year. Auto output is down 15% … telecom equipment production fell 12% … home sales fell 3.6% year on year … PMI export orders also fell to their lowest level since 2009.
Venezuela's economy has gone from crisis to outright collapse. It's now being compared to the utter collapse suffered by Zimbabwe. GDP was cut in half last year and should fall another 30% this year.
Turkey's President Recep Erdogan just threw a stick of dynamite into its markets. He clamped down on the free flow of funds out of the country. This sent borrowing costs soaring, stocks tumbling, and is dragging on an already weak economy.
So, with all these things, you can see why the safety of U.S. markets, and U.S. bonds, would shine like a beacon for foreign investors.
Especially when you consider how the tax laws have changed to favor investment. In fact, this triggered a rush of American corporate money, long held overseas, back to U.S. shores. Last year, foreign profits brought back by U.S. companies surged to a record $664.9 billion. That's more than four times the $155.1 billion in 2017 and more than twice the previous record in 2005.
And we know that foreign buyers are already piling into U.S. real estate. According to research firm Real Capital Analytics (RCA), foreign acquisitions of U.S. commercial real estate surged to $94.9 billion last year. That's a jump of 73% over the $55.3 billion reported in 2017.
Investors are attracted to the stability and growth factors surrounding the U.S. economy, as well as predictable cash flow and strong fundamentals.
This is EXACTLY what Martin Weiss and I warned you about in our recent series of videos. And there's more to come.
How You Can Protect Yourself and Profit
There are actually plenty of good investments when North America is the envy of the world. All that foreign money flows into our assets, pushing them higher.
This will work for a while … until it doesn't anymore. So, you need to invest in one group of stocks, and keep your eyes on the NEXT good investments.
It's a bit more complicated. But I'll refer you to one investment that is working now, and should continue to work as these pigeons come home to roost.
I'm talking about gold. I explained why gold miners are looking so good in my article Gold Miners Make a Break for It.
If you're doing this on your own, please be careful. But whatever you do, don't sit on your hands. Hiding under your desk is not an option. You should be making money now … and preparing for what's to come.
All the best
Sean
STAY INFORMED! Receive our Weekly Recap of thought provoking articles, podcasts, and radio delivered to your inbox for FREE! Sign up here for the HoweStreet.com Weekly Recap.