March 14, 2019 | The Fed Is a Threat to Growth! Why?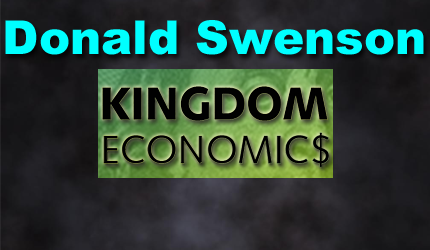 Donald B. Swenson: Born January 24, 1943, Roseau, Minnesota. Graduated H.S. 1961, Moorhead High, Minnesota. Graduated College 1968, Moorhead State University, Minnesota. Designated member of Appraisal Institute (MAI), 1974. Employed with Western Life Insurance Company, 1968 – 71; Iowa Securities Company, 1971 – 73; American Appraisal Company, 1974 – 81. Part-time teacher/valuation consultant/bartender, 1979 – 2008 (taught workshops at Waukesha County Technical Institute, Wi. and Madison Area Technical College, Wi.). Retired 2008 (part time teacher/blogger), AZ. Self educated economist/philosopher/theologian: http://kingdomecon.wordpress.com.
The Eccles building is where our central planners work and decide economic policies for our nation and the world.
Our unelected policy-makers think and act within this venue (located within the Eccles building) in Washington D.C.
Today's Wall Street Journal had an article by Stephen Moore and Louis Woodhill which described our Fed as a threat to growth. I would fully agree but with additional logic. As I write our economy is slowing and the global economy is also slowing. The Baltic Dry Index is now at 654 indicating that world trade is slowing significantly.
Other areas of slow growth are retail, real estate, and the auto sector. Our stock indexes continue to increase giving many the impression that our overall economy is growing. The reality, however, is that our real economy is slowing and this will continue until it ends. My sense is that our Fed will soon act to try to reverse this slowing trend.
Steven Moore and Louis Woodhill think that 4% growth is possible. They advocate a rule where our dollar is tied to a commodity index to stabilize its value. As the commodity prices decrease the Fed would lower interest rates and then raise interest rates as commodity price increase. The Fed's goal, according to these pundits, is to avoid excessively loose or tight money by seeking stable commodity prices.
My view is that our Fed can not change investor psychology (automatically) when a full business cycle has run its course. We have now had 10 years of pump-priming by our Fed. All this manipulation and rigging has created unstable markets and this has now reached the point where investors recognize this instability as chronic. Confidence is waning as a result.
Our Fed will likely recognize the slowing economy soon and then lower interest rates to spur borrowing. This will happen within the next couple of months as the slowing trend is now becoming evident to most investors. We could also witness more QE so as to increase liquidity within the overall system.
A recession is obviously coming to America and the world economy later in 2019. Central Bank policies will create this recession and this will lower confidence further. Our real problem is our central planning system which is now controlled by a few elites operating within the Eccles Building in Washington D.C. These unelected elites will scramble to change their policies as the real economy tanks from their prior policies.
Personally, I recognized this dire situation when our Fed administrators started their policy of increasing interest rates (back in September, 2018). Our markets had become accustomed to near zero interest rates and a minor increase in rates slows down the entire market. We live with excessive debt and this means that continuing new borrowing is necessary to keep the economy growing.
Expect a major change in the policies coming from the Eccles Building (our Fed) in the next couple of months. Our Fed is our central planner and they will likely change to an accommodative policy within the next couple of months to avoid a recession. This change will signal that their prior polices have been ineffective and this could further lower investor confidence in the overall system.
A recession is coming IMO and I don't think this can be reversed with new Fed policies. Watch the markets for further evidence of slowing growth and increasing unemployment. My sense is that the Baltic Dry Index is giving us a strong message that our global markets are slowing and heading for a recession. The index is now 654 (much below a normal measure of growing trade activity). That is my perception as of today! Enjoy!
STAY INFORMED! Receive our Weekly Recap of thought provoking articles, podcasts, and radio delivered to your inbox for FREE! Sign up here for the HoweStreet.com Weekly Recap.