March 15, 2019 | The Coming Wave Of Junior Gold Miner Buyouts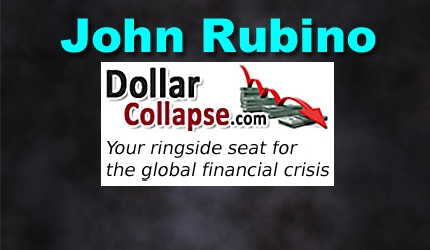 John is author or co-author of five books, including of The Money Bubble, The Collapse of the Dollar and How to Profit From It, Clean Money: Picking Winners in the Green-Tech Boom and How to Profit from the Coming Real Estate Bust. A former Wall Street analyst and featured columnist with TheStreet.com, he currently writes for CFA Magazine.
Spend a little time researching gold mining stocks and you'll notice that once you get past a handful of familiar names there's a long list of companies you've never heard of. Most of these are the proverbial "hole in the ground with a liar standing next to it." But a fair number are real miners with legitimate properties, but too little capital to achieve "familiar name" status.
Gold mining, in other words, is ripe for consolidation.
But so far, despite a handful of big recent deals, that's not happening. Here's a chart from yesterday's Wall Street Journal showing mergers and acquisition activity in oil and gas, mining generally, and gold mining specifically. At this level of resolution gold mining M&A is almost invisible. In part this is due to gold being so much smaller than those other two. But other factors are at work.
The Wall Street Journal article cites a Catch-22 that's keeping buyers and sellers apart:
The vast majority of the world's gold miners have yet to join the wave of mergers reshaping the top of their sector, even as investors say more tie-ups are necessary amid poor returns and depreciating gold reserves.

Since the bursting of the commodity bubble in 2011, bankers and investors have predicted the thousands of small and midsize gold miners that populate this sector would merge.

This week, the sector's largest companies, Barrick Gold and Newmont Mining said they would form a Nevada joint venture that, if a separate company, would be the third-biggest producer of gold in the world. Last fall, Barrick also bought Randgold Resources and in January Newmont bought Goldcorp.

But the rest of the sector has yet to join in. The industry feels burned by past mergers and acquisitions where purchasers overpaid for assets. Many companies are unwilling to sell with share prices so low and, according to investors, because entrenched management doesn't want to put its well-paying jobs and lofty positions at risk.

Even with the recent burst of M&A, last year's gold-mining deals totaled $12.4 billion, almost half the peak in 2010, according to Dealogic. For mining as a whole, 2018's tally, at $59.6 billion, was 55% lower than the 2011 peak. For oil and gas, the total was $340 billion, the highest value in the past decade.

Miners and bankers give a variety of reasons for why the gold mining merger wave hasn't come. The poor performance of gold miners' shares means that sellers want to hold out for better valuations and buyers are reluctant to use shares they believe are undervalued for acquisitions.

The S&P TSX Global Gold Index is down 51% since its 2011. The S&P 500 has doubled in value in that time.

The industry as whole has a poor record in M&A. Miners overspent during the decade long bubble that ended in 2011. That put off investors and made some executives wary of doing deals.

In 2016, PwC calculated that big miners had written off $200 billion of the value in acquisitions and projects over the previous five years.

Investors' lack of interest is a factor pushing for consolidation, with miners needing to bulk up to get attention. For smaller miners, the ascendance of index funds has made it harder to attract money, because they aren't in the markets that these investment vehicles track.

In Canada alone, there were 1,184 miners listed on the Toronto Stock Exchange and TSX Venture Exchange as of this January, with a combined market cap of just C$271 billion.

Tom Palmer, the chief operating officer of Newmont, said smaller players are waiting to see what the bigger miners sell once they have completed their mergers before they start their own M&A.

"Fast forward two or three years, there will be countless more" mergers, he said.
To cook story down to a single sentence, there's nothing wrong with gold mining's M&A situation that can't be cured by a rising gold price.
Once that happens, the result will be a positive feedback loop in which miner valuations rise to levels that make deals increasingly attractive for both buyers and sellers. In that world the best junior miners will be worth multiples of today's prices.
STAY INFORMED! Receive our Weekly Recap of thought provoking articles, podcasts, and radio delivered to your inbox for FREE! Sign up here for the HoweStreet.com Weekly Recap.