March 31, 2019 | The Bear Tax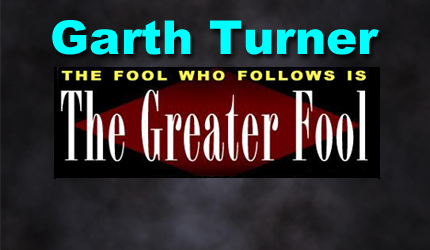 A best-selling Canadian author of 14 books on economic trends, real estate, the financial crisis, personal finance strategies, taxation and politics. Nationally-known speaker and lecturer on macroeconomics, the housing market and investment techniques. He is a licensed Investment Advisor with a fee-based, no-commission Toronto-based practice serving clients across Canada.
April Fool's, fellow beavs. Monday brings a fat little tax increase that most of us will be powerless to avoid. Unless you stop driving. Or flying. Or heating your house. Or taking hot baths. Showers. Or cooking your food. Or buying food, for that matter. In fact anything involving energy will cost more if you live in Manitoba, Ontario, Saskatchewan and NB. (In the other provinces you're already coping with this, in stages.)
Yes, the carbon tax. Set at $20 a tonne, it means 4.6 cents more per litre of gas, plus a jump in your natgas or propane bill. This is just the start, as the T2 gang plans on jacking it up 150% over the next three years.
Why?
So you'll use less energy and save the polar bears. It's the centrepiece of Ottawa's climate change strategy. And it's not simple. The idea is to penalize activities people cannot avoid (especially if you live outside of a city with transit, or have a furnace), then rebate about 80% of the extra tax by means of credits, which must be applied for. Those rebates start at $128 per year, and the cost of tabulating and processing them is unknown.
Proponents stridently argue this is progress. Global temperatures have risen to the point where weather's changing in ways that will affect food production, make some places uninhabitable and create millions of climate refugees. The science, they claim, is irrefutable. Without political action, we're doomed. Crispy critters.
Deniers say weather has changed for millennia, there's no clear evidence man has caused this phase, and for all we know a new ice age could be next. Layered over this is the sauce of populist politics. Taxing energy or curtailing activities allowing people to survive, care for their families and earn a living is an assault on liberty, they allege. It's part of the globalist, one-world agenda to make everyone subservient to governments and the elites controlling them. Resist at all costs.
Practical opponents include the premiers of the provinces about to be whacked. They may not deny climate change, but they argue this is no way to run a country. And so there are court challenges. In Alberta they're fighting an election, with this as a centrepiece. Lots of people wonder in a country where citizens have to spend big money just to stay thawed for half the year if this is the straw that will break us.
Recall what this pathetic blog told you last week about household debt (epic) and savings rate (disaster). When four in ten people consistently say they're one missed paycheque from crisis, and a third are retiring with no money or pension, is taxing their heat, food and gas in the name of Al Gore and David Suzuki justified?
Doug Ford (Ont) claims it will hasten recession. Blaine Higgs (NB) says it nails rural folks who must drive. Brian Pallister (Man) argues his province has spent billions on clean power infrastructure, and should be exempted. Scott Moe (Sask) maintains the feds have no constitutional authority to tax citizens like this, and has asked the courts to rule. The city of Regina says the carbon tax will add $1 million in costs this year (gas, diesel, natgas) – and going forward property taxes will reflect it. Imagine what the added overhead will be for the GTA.
What are the economic consequences? Unknown for now. But in BC, where carbon's already being taxed and households bleeding, you know what's happened to buyer confidence and the housing market. The squeeze is on. How a national carbon tax will hit small businesses, airlines, the agrifood sector, municipalities, rural communities or overall consumer spending is yet to be seen. For sure the cost of owning and operating a home is set to rise. And with the economy stalled out, many wonder if this is the worst possible time.
Meanwhile there's no carbon tax in the US. Without a level playing field, our input costs are higher and our ability to compete lower. Already we're running an historic trade deficit. Does Ottawa factor that in? Or are all consequences justified when you're Doing The Right Thing?
Full disclosure: More than a decade ago I was special advisor to the Leader of the Opposition and helped develop a plan called the 'Green Shift.' It, too, proposed a tax on carbon. But at its core was a significant across-the-board income tax cut. The idea was simple – move taxation more towards what people do, away from what they earn.
But that made too much sense.
STAY INFORMED! Receive our Weekly Recap of thought provoking articles, podcasts, and radio delivered to your inbox for FREE! Sign up here for the HoweStreet.com Weekly Recap.