March 26, 2019 | Real Money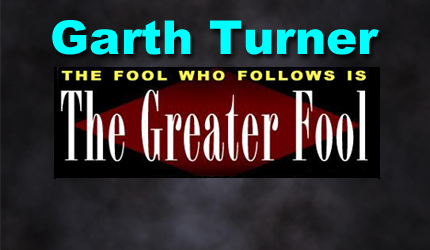 A best-selling Canadian author of 14 books on economic trends, real estate, the financial crisis, personal finance strategies, taxation and politics. Nationally-known speaker and lecturer on macroeconomics, the housing market and investment techniques. He is a licensed Investment Advisor with a fee-based, no-commission Toronto-based practice serving clients across Canada.
Dorothy lusted for three ginger cookies. 'Make it six," I said, feeling flush and manly. And six it was.
"That's eight dollars," said Amy, the pigtailed woman who stood on the other side of the folding, groaning card table at the farmer's market. A twenty was presented. "Wow," she said flatly. "it's paper." And so it was, not the plastic kind, and not what she wanted. "I can square that," she said sweetly but firmly. Amy handed me her iPhone with a card reader stuck on the top. "It's safer."
We swiped.
Money, the folding kind, is endangered. It gets lost. People steal it. Currency is a medium for the exchange of germs, dirt and even wee bugs. It tears, burns and melts. It costs money to take the money to a bank. They don't want it, either. You have to count it, separate it, record it, bundle it and worry about it. Get too much of it, and you're accused of being a criminal. Money launderer. Dealer.
No doubt about it. Cash money's déclassé. The stuff rubbies and day workers convert from cheques at a payday loan store so they can drink, smoke and womanize. The rest they waste.
I mean, have you ever seen a Millennial with a pocket full of cash? Or entering a bank to get some? Folding money is generational, paleo and disparaged. These are the PayPal, ApplePay, tap-and-go, e-transfer, debt/credit card times when the whole notion of money is changing. Normal people don't get paid with cash or cheques, but by direct deposit, from which bills are dispensed online. It's possible to go days, weeks and years never touching an actual bank note. In fact, cashless is now a retail thing.
It's getting more common (especially in the US) for stores to refuse cash, coins or hard currency of any kind. Nobody can rob them at night or wear a balaclava and demand, 'Empty that till.' There's no employee time spent counting bills or making change. No armoured truck or guys with holsters showing up to cart it away. No staffer is endangered by having to carry a bag of it to the bank. No safe. No temptation for a worker to Hoover off a few twenties. No counterfeit bills. No cash registers or drawers.
In the States there are cashless stores, toll roads, stadiums and airlines – plus the exploding online marketplace which is 100% digital-pay. Folding money grows unloved, unused and actually controversial.
Cashlessness is being banned in a growing number of places. New Jersey and Philly, plus (soon) NYC and Washington.  The argument is that replacing hard money with the virtual kind makes life tougher for lower-income folks who may not have a bank card, credit card or smart phone with apps. Apparently 17% of black households in the US lack a bank account, for example.
But Canada seems ripe to go completely cashless. The Canadian Bankers Association says only 1% of us don't have a bank account. Over 90% claim banking is better now because of new technologies. And 76% of us do our banking online. In fact the CRA doesn't even want you to pay your outstanding taxes at the bank anymore. This country leads the world when it comes to embracing cashless technology, with Sweden at No. 2.
So, do you carry cash? Do you have a shoebox of it at home? In a freezer bag? Toilet tank?
Besides being fragile, dirty and dangerous, cash has big advantages. It's still there when the lights go off or the servers crash. Bank of Canada official Tim Lane puts it this way: "Cash works even when the systems are down, when the power goes out and people can still make payments using bank notes. Second, bank notes offer privacy for your transactions. You can use them without giving anyone your personal or your banking information. Using cash avoids the risk of being hacked or having your card compromised."
Exactly. This could get dangerous.
When you can't buy six damn cookies with a bill, we're halfway there
STAY INFORMED! Receive our Weekly Recap of thought provoking articles, podcasts, and radio delivered to your inbox for FREE! Sign up here for the HoweStreet.com Weekly Recap.